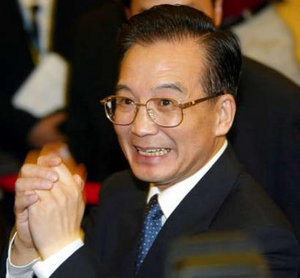 Chinese Premier Wen Jiabao's extended family has controlled assets worth at least $2.7 billion, the New York Times reported, citing corporate and regulatory records and unidentified people familiar with the family's investments.
Among them is a holding in the name of Wen's mother, Yang Zhiyun, in Ping An Insurance Co. (2318) that was valued at $120 million in 2007, the newspaper reported, citing public records, government-issued identity cards and an ownership trail to three investment entities. Cecile Zhang, a public relations official at Ping An, said she couldn't immediately comment, and Ping An spokesman Sheng Ruisheng didn't answer a call to his mobile phone.
Wen's son, Winston, founded private equity firm New Horizon Capital, which has returned about $430 million to investors, a fourfold profit, since it began operations in 2005, the newspaper reported, citing SBI Holdings, a unit of Softbank Corp. (9984) Winston Wen has handed over day-to-day operations of the fund, according to the report. Horizon Capital didn't immediately respond to an e-mail seeking comment.
"Relevant press reports are intended to tarnish China's image and have ulterior motives," Foreign Ministry spokesman Hong Lei said at a briefing in Beijing today.
Diamond Companies
Wen's wife, Zhang Beili, has through her management of state diamond companies helped relatives build a billion-dollar portfolio of investments in insurance, technology and real estate ventures, the newspaper reported.
Wen's wife, Zhang Beili,  is the executive vice president of the Chinese Gems and Jewelry Trade Association, and president and CEO of Beijing Diamond Company.
http://www.wantchinatimes.com/news-subclass-cnt.aspx?id=20120510000005&cid=1601
The New York Times (NYT) found no holdings in Premier Wen's name and no evidence that he used his political clout to influence the holdings, the report said.
After the story was published the Chinese government blocked access to the New York Times's Chinese-language website in China and intermittently to its English-language website, the newspaper reported in a separate article.
Asked why the newspaper's websites were blocked, Hong said China governs the Internet "according to laws and regulations."
Above: In this March 11, 2012 file photo, then Chongqing party secretary Bo Xilai attends a plenary session of the National People's Congress at the Great Hall of the People in Beijing. Bo's wife Gu Kailai who is accused of murdering Bo family associate, British businessman Neil Heywood, went on trial Thursday, Aug. 9, 2012 at the Hefei Intermediate People's Court in eastern China. Bo's name was not mentioned at the trial of Gu, who confessed to killing Heywood following a financial dispute and what she said were threats to her son. (AP Photo/Andy Wong, File)
Related:
Bo Xilai case a tricky matter for China's leaders
China expels Bo from legislature, set for trial
Above: Bo Xilai
Bo Xilai was an aggressive self-promoter who left monuments to his achievements all over the center of his power, the southwestern city of Chongqing (population 28 million). Bo's fall from power was embarrassing for the senior leadership of China because the incident put the spotlight on corruption and misbehavior at the highest levels of government. Nearly all the senior Chinese officials are, well, "dirty" as are many of their kin and the Bo situation led to more Chinese discussing, on the Internet, other dirty leaders. At the highest levels of power the discussion is more about hanging onto power, and preventing the military from getting politically ambitious.
http://www.strategypage.com/qnd/china/articles/20120810.aspx
From Business Week
China, Bo Xilai, Admirals and Generals Wanting More Power, and The South China Sea
Tags: "Bird's Nest" main stadium, aggressive deal-making, billion-dollar portfolio, Bloomberg News, Bo Xilai, China, China's Communist Party, China's main Twitter-like microblog, Chinese, Chinese Premier Wen Jiabao, Communist China's Premier, corruption, culture, Foreign Ministry and State Council, Great China Internet Wall, Gu Kailai, heavy and rapid censorship, insurance, massive wealth, netizens, New York Times, News, news block in China, Peng Liyuan, Ping An Insurance, politics, profited from the Olympics, real estate, technology, Weibo, Wen, Wen Jiabao, Xi Jinping, Zhang Beili