China: The CCP has been claiming that trial of Bo Xilai trial shows transparent   justice and that the country is ruled by law but it has been "hugely   damaging to the idea that Chinese politics is clean in anyway" says   Telegraph's Beijing correspondent Malcolm Moore.
By Malcolm Moore
A court upheld ousted politician Bo Xilai's conviction and life sentence for  corruption and abuse of power in the final decision of one of China's   most politically charged trials in decades.
Bo, a former Politburo member and party boss in Chongqing, was convicted last   month for embezzlement, bribery and abuse of power and sentence to life in   prison.
The conclusion of Bo's case bolts the door closed on a vexing scandal for the   Communist Party leadership that included embarrassing revelations that Bo's  wife murdered a British businessman Neil Heywood and that his former aide   made a failed attempt to defect to the US. 
Telegraph correspondent Malcolm Moore said trial has been "hugely   damaging to the idea that Chinese politics is clean in anyway".
"What we've seen aired is a real look into the gory way Chinese politics   operates. Not only in terms of what Bo himself did and what his wife did and   lead to the murder of Neil Heywood but also the sort of general everyday   corruption that plagues the party and the way in which political decisions   are made within the party."
Includes video:
http://www.telegraph.co.uk/news/worldnews/asia/c
hina/10404449/Bo-Xilai-trial-exposes-gory-way-Chin
ese-politics-operates.html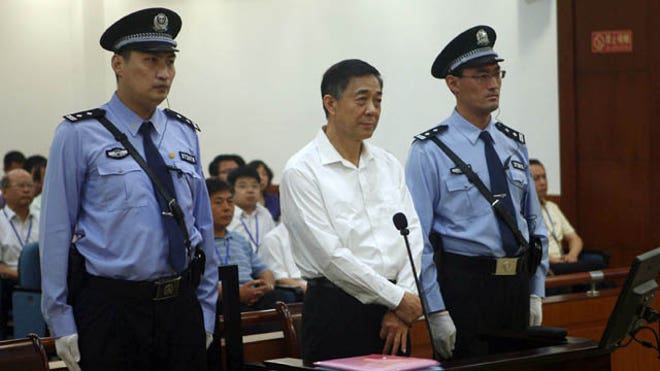 In this Aug. 22, 2013 file photo released by the Jinan Intermediate People's  Court, former Politburo member and Chongqing city party leader Bo Xilai, center,  stands on trial at the court in eastern China's Shandong province.  (AP  Photo)
**********************
A Chinese   court has rejected Bo Xilai's appeal against his corruption conviction and   confirmed his life sentence as authorities looked to draw a line under a   damaging scandal.
Until 2012 Bo headed the southwestern megacity of Chongqing and was one of the   highest ranked politicians in the ruling Communist party, but was engulfed   by a lurid controversy that saw his wife convicted of murdering a British   businessman.
He was condemned to life imprisonment on charges of bribery, embezzlement and   abuse of power last month, and analysts said that Friday's decision meant   there was no comeback for a man once tipped for the very top echelons of   Chinese power.
"The facts of the first instance verdict are clear, the evidence is   reliable, sufficient, and the sentence is appropriate," the Shandong   province high court said in its ruling, which it released to the media and   posted on its website.
"The court rules as follows: reject the appeal, uphold the original   verdict. This verdict is the final ruling."
Bo had presented 11 grounds for appeal, it said, including that his   confessions in custody were "produced under pressure from officials   handling the case, and as illegal evidence should be disregarded".
State broadcaster CCTV showed Bo handcuffed in court, wearing a black jacket   and smiling as he was flanked by two towering policemen in white gloves.
AFP
Related:
China's Corruption Trial of The Century (So Far) Exposes China's Flawed Justice System
Bloomberg: Wen Jiabao Family Linked to Billions in Assets, NYT Reports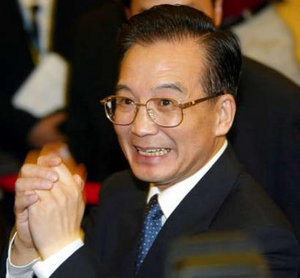 Former Chinese Premier Wen Jiabao's extended family has controlled assets worth at least $2.7 billion, the New York Times reported, citing corporate and regulatory records and unidentified people familiar with the family's investments.
Family of Communist China's Premier has massive wealth: NYT report
China's Xi Jinping is also considered a "princeling"
China's New Leader Xi Jinping; A "Princeling" and A Product of his Own PR Genius
Gu Kailai and Bo Xilai
His beautiful and successful second wife, Gu Kailai, gradually became impatient. She too saw herself on the way to becoming a superstar. As an attorney, she won a spectacular civil case in the United States on behalf of several Dalian-area companies. Using the pseudonym "Horus," the Egyptian god of the sun, she wrote a book called "Uphold Justice in America." There is one sentence in the book that haunts her to this day: "In America, there are these endless stays of execution. We don't dither for long in China. We execute them."
Murder, Sex and Corruption: The Battle for China's Most Powerful Office
With special thanks to the professor in China who assists us in our understanding….
Tags: "princeling", abuse of power, Bo Xilai, bribery, CCP, China, Chinese, Chinese government, Chinese politics, corruption, embezzlement, free media, free speech, freedom of the press, Gu Kailai, human rights, justice, Neil Heywood, one-party, Politburo, princelings, pro-democracy, rule of law, transpa, transparent justice, Xi Jinping