By Ben Blanchard
BEIJING |          Mon Oct 28, 2013 12:43am EDT
BEIJING (Reuters) – Three Chinese anti-graft activists who agitated for officials to disclose their assets went on trial on Monday in the first case of its kind, underscoring the limits of government tolerance of challenges to its authority.
Despite an official drive against corruption, China has detained at least 15 activists in recent months who were involved in a campaign pushing for officials to disclose their wealth.
Rights groups describe the detentions as the first major crackdown against activists by the new government. The trial of Liu Ping, Li Sihua and Wei Zhongping is the first prosecution of anti-graft activists.
The three were detained in late April in Xinyu, in the poor, landlocked southern province of Jiangxi, and accused of illegal assembly. They face a maximum of five years in prison if convicted.
Officials in Xinyu could not be reached for comment.
Three Chinese anti-graft activists who agitated for officials to disclose their assets went on trial on Monday in the first case of its kind, underscoring the limits of government tolerance of challenges to its authority.
Zhang Xuezhong, one of two lawyers defending Liu, said police had tried to prevent the legal defense teams from entering the court in the morning, though the court intervened and they were eventually allowed in.
"All three are pleading not guilty," Zhang told Reuters by telephone from outside the court, adding he was not optimistic about the case given its sensitivity.
The three are involved in the New Citizens Movement, which advocates working within the system to press for change. Its founder, the prominent activist Xu Zhiyong, was arrested in August.
Wang Cheng, a lawyer friend of the three who is not directly involved in the case, said he believed the government was trying to send a message that it would not tolerate the activities of rights groups.
"They're using this case to warn others, to bring these activities under control," Wang said. "It shows how nervous they are."
"CANARIES IN THE COAL MINE"
The ascendancy of Xi Jinping as Communist Party chief in a once-in-a-decade leadership transition last November had given many Chinese hope for political reform, spurring citizens to push officials to disclose their wealth in several movements throughout the country.
But the charges against the activists are a strong indication that the Communist Party will not tolerate any open challenge to its rule under Xi, even as it claims more transparency.
Xi, who became president in March, has called for a crackdown on graft, warning, as many have before him, that the problem is so severe it could threaten the party's survival.
Encouraged by Xi's calls for more transparency, the activists took photographs of themselves holding banners and placards that said: "Strongly urge officials to disclose their assets" and "Xi Jinping, immediately end dictatorship".
The pictures were widely circulated online.
"Liu, Wei, and Li are canaries in the coal mine for how the government intends to treat this influential group of anti-corruption activists," said Sophie Richardson, China director at Human Rights Watch.
"Anything short of acquittal will seriously undermine the credibility of the government's claims to be cracking down on corruption."
There have been a few pilot schemes for low-level officials in China's southern Guangdong province to disclose their assets, but the efforts have made little progress and discussion of the wealth of senior leaders such as Xi remains firmly off limits.
(Additional reporting by Sui-Lee Wee in BEIJING and John Ruwitch in SHANGHAI; Editing by Robert Birsel)
Is China turning into 'giant North Korea' ?
China's Communist Party Exposed — No Transparency and No Real Rule of Law
China's Xi Jinping
China's New Leader Xi Jinping; A "Princeling" and A Product of his Own PR Genius
China's Corruption Trial of The Century (So Far) Exposes China's Flawed Justice System
Bloomberg: Wen Jiabao Family Linked to Billions in Assets, NYT Reports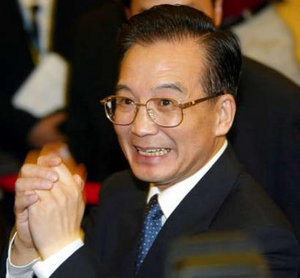 Former Chinese Premier Wen Jiabao's extended family has controlled assets worth at least $2.7 billion, the New York Times reported, citing corporate and regulatory records and unidentified people familiar with the family's investments.
Family of Communist China's Premier has massive wealth: NYT report
China Embroiled In South China Sea, East China Sea Disputes
***********************
Activists fear the trial of three activists from southeast China is likely to   be the first of many as Beijing accelerates campaign against dissenters
.
Among those currently under arrest are two of the movement's key figures – its founder, the legal scholar, Xu Zhiyong and Wang Gongquan (pictured), a wealthy entrepreneur and outspoken rights activist. Photo: GETTY
Beijing's intensifying campaign to snuff out any form of coordinated   opposition will enter a new phase on Monday as three Chinese   activists go on trial in what rights groups fear will be the first in a wave   of politically-motivated cases against Communist Party critics.
Liu Ping, Wei Zhongping and Li Sihua – three civil rights campaigners from the   southeastern province of Jiangxi – will go on trial in the city of Xinyu, at   around 8.30am, according to Zhang Xuezhong, a rights lawyer involved in the   case.
All three activists are expected to face charges of "illegal assembly"   while Ms Liu and Mr Wei will also be accused of "gathering crowds to   disturb public order" and "using a cult organisation to undermine   the law".
Rights activists believe the accusations are groundless and say the verdict   will provide an indicator as to the harshness with which Beijing will move   against its critics in the future.
"I believe that they are not guilty. The government also knows that,"   said Mr Zhang. "The government just wants to take one case to trial to   see what will be the reaction from society. They believe [this] case is   maybe the most suitable because it is in a little place. It would be much   more difficult to get a guilty verdict in a city like Shanghai or Beijing."
Eva Pils, a legal scholar and human rights expert from the Chinese University   of Hong Kong, said Beijing was likely "experimentally trying"   lesser-known activists in order to test the waters before rolling out   further criminal trials against higher-profile targets.
"Lots of people are ready to be tried. The overall impression is that the   temperature has really risen," she said.
The Jiangxi three are the first activists linked to China's so-called New   Citizens' Movement (NCM) to face trial since the start of a renewed   government offensive against dissenters in March.
The NCM is an informal civil rights group made up of like-minded lawyers,   petitioners, campaigners and teachers that was founded in May 2012.
The group has called for greater government transparency, echoing a   high-profile anti-corruption campaign being waged on the Communist by Xi   Jinping, the Chinese president.
However, observers say Mr Xi and other senior leaders fear the NCM will mutate   into some form of organised political opposition that could challenge the   Communist Party's monopoly on power.
At least 18 people with ties to the movement have been arrested since April,   according to Human Rights Watch, although some activists in China claim the   number is closer to 60.
Among those currently under arrest are two of the movement's key figures – its   founder, the legal scholar, Xu Zhiyong and Wang Gongquan, a wealthy   entrepreneur and outspoken rights activist.
But lesser-known activists have also been caught up in the dragnet and their   relatives are now fearful of what might happen next.
"My husband was taken away by the police on March 31 after displaying   banners [in Beijing] demanding the disclosure of officials' wealth,"   said Zhu Ruichun, the wife of activist Yuan Dong who was formally arrested   in May for "unlawful assembly". "I haven't seen him for over   seven months now."
Ms Zhu said she had not been allowed to visit her husband but had recently   sent him 800 yuan (around £80) and some undergarments to keep warm in prison.
"Our daughter is 13. She is too young to have an opinion on this matter   but she misses her father very much," added Ms Zhu.
Liu Xiaodong, whose husband, Zhao Changqing, was arrested in May said: "I   have not been feeling well. We have a baby boy who was only 10-months-old   when his father was taken away. I just hope my husband will get out soon."
Sui Miqing, a lawyer for two other jailed activists, said: "The extent   and intensity of this crackdown is quite strange. Normally a new leadership   would take softer action and be more lenient and tolerant. Yet this   crackdown is more serious than anything that happened during the ten years   that Hu [Jintao] and Wen [Jiabao] were in power."
The Jiangxi trial was "the prelude" to a wider push back against   activists, Mr Sui predicted.
The Jiangxi three were detained by police in April after they published an   online photograph in which they appeared holding banners calling for the   release of jailed activists and for officials to publish their finances.
They were initially charged with "inciting subversion of state power",   according lawyers, although those charges were later downgraded for reasons   that are not clear.
Liao Minyue, Liu Ping's daughter, told The Telegraph she had not seen her   mother for six months and questioned whether Monday's trial would be "open   and free". "I just don't understand it," she said.
"Why is it that when government officials talk about disclosing assets   they are regarded as upstanding officials but when ordinary people do it, it   becomes a crime?"
Mr Zhang said the accusations were baseless and a sign that while China's last   administration preferred "deceiving [its people], this government   prefers threatening [them]."
"I think most of those [now under arrest] will be judged guilty and sent   to prison because it's not a matter of law – it is political," he   said.
Eva Pils, who has observed New Citizens' Movement gatherings, said: "There   is no reason at the moment to think that the rhetoric will change or that   the attitude will become less heavy-handed or harsh."
"I would expect the repression to continue or even to get worse. I don't   think the government feels it has things under control now."
Tags: campaign against dissenters, China, Chinese, corruption, cult organisation to undermine the law, dissent, dissenters, Freedom of Assembly, freedom of speech, freedom of the press, full discosure, government tolerance, human rights, Li, Li Sihua, Liu, Liu Ping, officials to disclose their wealth, Premier Li Keqiang, President Xi Jinping, rule of law, Wang Gongquan, Wei, Wei Zhongping, Xi, Xi Jinping, Xu Zhiyong