No drone strikes since 25 December, but lull puts onus on Sharif government to act, as on-off Taliban talks illustrate
By Jon Boone
The Guardian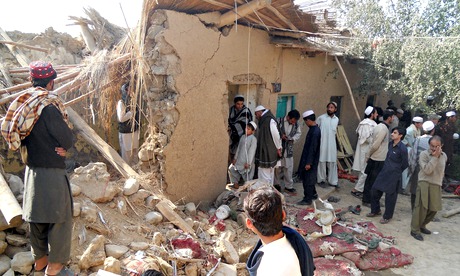 Aftermath of US drone strike on madrasa in Pakistan on 21 November 2013. Photograph: Basit Gilani/EPA
The US government has agreed to greatly limit attacks by unmanned drones in Pakistan's restless North Waziristan while the country's politicians struggle to reach agreement on whether to send the army to clear out a region almost entirely controlled by militant groups.
There have been no known drone strikes in Pakistan since 25 December, and January was the first full month in two years without any attacks at all, according to the Bureau of Investigative Journalism, which closely monitors media reports about drones.
A campaign to assert state control over North Waziristan, home to all manner of al-Qaida linked groups, has been a longstanding demand of the US, which is particularly concerned by the presence of the Haqqani network – an Afghan insurgent group capable of highly effective attacks against US troops.
US diplomats have at times had major rows with their CIA colleagues over the havoc drone strikes can play with US foreign policy objectives.
Cameron Munter, the previous US ambassador in Pakistan, left his post in Islamabad early after furious disagreements with the CIA, which was exclusively focused on counter-terrorism rather than broader US foreign policy goals.
Many observers in Pakistan have noted the recent downturn in drone strikes, which US officials quoted in the Washington Post confirmed was a deliberate response to requests by prime minister Nawaz Sharif's government.
Security analyst Zahid Hussain said the lull in attacks had helped shift the political debate in Pakistan away from forlorn efforts to engage the Pakistani Taliban, Tehreek-e-Taliban Pakistan (TTP), in peace talks and towards the sort of military operations against them  the US has long pushed Pakistan for.
"It has put more pressure on Pakistan because by not using drones then you have to do something else about it," he said. "And it takes away any further excuse not to act from the Pakistani government and apologists for the Taliban."
The problem was highlighted on 1 November when a drone strike killed Hakimullah Mehsud, the ruthlessly aggressive chief of the TTP.
The interior minister described the killing of a man regarded as public enemy No 1 for his attacks on the Pakistani state as "the murder of all efforts at peace". The leader of an extremist religious party, the Jamaat-e-Islami, described Mehsud as a martyr.
It also energised the campaign of Imran Khan, the charismatic opposition politician strongly opposed to military operations in North Waziristan.
After a US drone attack on a madrasa just outside the tribal areas on 21 November, Khan's Pakistan Tehreek-e-Insaf (PTI) party launched a blockade against Nato supply convoys travelling into Afghanistan through the Khyber pass.
US restraint is not unlimited, however. It is understood the CIA will still launch attacks if the opportunity to kill a senior target becomes available.
The government's gingerly move towards military operations in North Waziristan has faltered however – despite the lack of drone strikes.
It had been widely assumed that a surge in deadly militant attacks, particularly on army targets, had led the government to finally back military operations, with senior Pakistani officials confirming as much to western officials.
However, Sharif had a last minute change of mind, announcing last week a four-man committee to try once again to kickstart peace talks.
An initial meeting between the government team and intermediaries who had agreed to represent the TTP was cancelled on Tuesday at the last minute.
There is little agreement on what exactly triggered Sharif's sudden decision to give peace talks another try, with analysts suggesting an ongoing fear of political attacks by Khan, deep concern over deadly retaliation by the TTP in the cities of Punjab and the dragging on of the trial of former dictator Pervez Musharraf, which has raised tension between Pakistan's politicians and generals.
"There is still reluctance because Sharif's entire policy is to somehow protect Punjab province," Hussain said. "It cannot work, however. They can postpone the inevitable but for not very long."
It is not the first time the US has reined in the drones. There was a six-week hiatus in 2011 following the accidental killing by US aircraft of 24 Pakistani troops near the Afghan border.
In the early days Pakistan enjoyed a veto over drone strikes, although that changed in mid-2008 when President George Bush became fed up with being unable to attack militants responsible for the death of US troops in Afghanistan.
A dramatic rise in drone strikes continued and increased under Barack Obama, although they have fallen off again in the past 18 months.
In a rare speech on drone policy last May, Barack Obama hinted US strikes in Pakistan would tail off over the long-term as US troops would require less "force protection" provided by drones as they withdraw from Afghanistan.
Pakistan denies it has any involvement in the drone programme, regularly lodging formal complaints when strikes occur.
But US officials familiar with the programme say the strikes would be impossible without some level of Pakistani consent.
Some senior officials in Pakistan regard them as a necessary evil but rarely say so in public.
Last month Rana Sanaullah, one of Sharif's closest aides, told the Guardian that "drone attacks damage the terrorists, very much."
"Inside, everyone believes that drone attacks are good; but outside, everyone condemns because the drones are American."
******************************
.
US Drone plane test flight Photo: Northrop Grumman
By Karen DeYoung and Greg Miller
The Washington Post

The Obama administration has sharply curtailed drone strikes in Pakistan after a request from the government there for restraint as it pursues peace talks with the Pakistani Taliban, according to U.S. officials."That's what they asked for, and we didn't tell them no," one U.S. official said. The administration indicated that it will still carry out strikes against senior al-Qaeda targets, if they become available, and move to thwart any direct, imminent threat to U.S. persons.

Concern about Pakistani political sensitivities provides one explanation for the absence of strikes since December, the longest pause in the CIA's drone campaign since a six-week lull in 2011, after an errant U.S. air assault killed 24 Pakistani soldiers at a border post, triggering a diplomatic crisis.

The current pause follows a November strike that killed Pakistani Taliban leader Hakimullah Mehsud just days before an initial attempt at peace talks was scheduled to begin. Prime Minister Nawaz Sharif's government accused the United States of trying to sabotage the talks, and the Taliban canceled the meeting.

Since then, the Obama administration has worked to improve relations with Sharif, who took office last June in the first democratic transfer of power in Pakistani history. Administration officials have praised his efforts to address serious structural problems in Pakistan and to promote peace in the region.

A senior administration official, in response to queries, denied that any informal agreement had been reached, saying that "the issue of whether to negotiate with the Pakistani Taliban is entirely an internal matter for Pakistan."

The administration is "continuing to aggressively identify and disrupt terrorist threats in the Afghan war theater and outside areas of active hostilities in line with our established CT [counterterrorism] objectives and legal and policy standards. . . . Reports that we have agreed to a different approach in support of Pakistani peace talks are wrong," said the senior official, one of several interviewed for this article who spoke on the condition of anonymity about the sensitive matter.

Relations with Pakistan have warmed even as U.S. tensions have worsened with Afghan President Hamid Karzai, who has accused the administration of plotting against him, both with Pakistan and with the Pakistan-based Afghan Taliban, a separate but allied organization with which he has said he is trying to start his own peace negotiations.

The new round of Pakistan-Taliban talks, which was due to begin Tuesday, was postponed by the government after two members of a Taliban-named delegation declined to participate.

Disclosure of a pause in the drone campaign in Pakistan came as a senior Republican lawmaker assailed the Obama administration for tightening the guidelines under which lethal drone strikes are permitted.

Rep. Mike Rogers (Mich.), the chairman of the House Intelligence Committee, said Tuesday that policy changes made by President Obama last year to the drone program "are an utter and complete failure, and they leave Americans' lives at risk."

Rogers cited the spread of al-Qaeda offshoots in Yemen, Syria and Africa, and said that "individuals who would have been previously removed from the battlefield by U.S. counterterrorism operations for attacking or plotting to attack against U.S. interests remain free because of self-imposed red tape."

The chairman did not mention the CIA program in Pakistan. His comments came during a House hearing on security threats and referred to new targeting criteria imposed by Obama last May that are supposed to allow strikes only against al-Qaeda operatives who pose a continuing and imminent threat to U.S. persons, and only in cases when there is a "near certainty" of no civilian casualties.

The nation's intelligence director signaled his disagreement with Rogers later in the hearing. Asked whether he thinks the country is at greater risk because of Obama's counterterrorism policies, Director of National Intelligence James R. Clapper Jr. said, "No, I do not."

"I don't think it has anything to do with the policies of this administration or any other," Clapper said. "What I think it has more to do with is the transformation, if you will, of the terrorist threat, its diffusion, its globalization and its franchising."

While strikes in Pakistan appear to have temporarily halted, they have continued in Yemen, including recent attacks that have reportedly killed civilians.

White House officials also disputed Rogers's characterization, saying Obama's constraints on the drone program are meant to allow the continuation of strikes against terrorist groups, but under rules that are less likely to incite hostility toward the United States.

"The president has made clear that even as we aggressively pursue terrorist networks — through more targeted efforts and by building the capacity of our foreign partners — America must move off a war footing," said White House spokeswoman Caitlin Hayden. "We will not be safer if people abroad believe we strike within their countries without regard for the consequence."

Asked after the hearing what people or countries he was referring to when he talked about "individuals" who "remain free," Rogers said that "terrorists who are in the crosshairs and would be removed from the battlefield under the old policy are still in the crosshairs, but are still actively planning attacks because of the policy change."

The counterterrorism policies adopted last year were also supposed to lead to greater transparency — a goal that has been largely unfulfilled. Rep. Adam B. Schiff (D-Calif.) urged intelligence officials at Tuesday's hearing to release aggregate data each year on how many people the United States had killed in counterterrorism operations and how many might be civilians.

Officials showed scant enthusiasm for the proposal. CIA Director John Brennan said it was a "worthwhile recommendation" that the administration could consider, but he declined to comment on it further.

Sharif gained an endorsement for peace talks from an all-party conference shortly after he took office. Since then, he told Parliament last week, militants have continued killing innocent civilians and Pakistani soldiers.

While "the government is doing what it can to stop drone attacks," which have bolstered extremism and anti-Americanism, "we can no longer allow the massacre of innocent civilians" by terrorists, he said. "The situation is not acceptable anymore."

Sharif also said that "the whole nation will stand behind" a military offensive against the extremists if peace efforts fail. The administration has pressed Pakistan for years to launch a full-scale military assault against the Haqqani network, a branch of the Afghan Taliban that is headquartered in the same tribal area along the Pakistani-Afghan border as the Pakistani group.

But the lines dividing the groups are often hard to draw. In late 2009, seven CIA officers and contractors were killed in Khost, Afghanistan, in a suicide attack that al-Qaeda claimed as revenge for a CIA drone strike that year that killed Pakistani Taliban leader Baitullah Mehsud. He was replaced by his clansman, Hakimullah Mehsud, who appeared in a subsequently released video along with the bomber.

The strike that killed Hakimullah Mehsud was believed to be CIA retaliation for the Khost attack.

Julie Tate contributed to this report.