BEIJING Thu Jul 10, 2014
(Reuters) – China and the United States agreed on Thursday to boost military ties and counter-terrorism cooperation during high-level annual talks in Beijing, but there was little immediate sign of progress on thorny cyber-security or maritime issues.
The two-day talks, led by Secretary of State John Kerry and Treasury Secretary Jack Lew for the United States and Vice Premier Wang Yang and top diplomat Yang Jiechi for China, were never expected to achieve great breakthroughs.
The Strategic and Economic Dialogue, now in its fifth year, is more about managing an increasingly complex and at times testy relationship.
After discussions on topics ranging from the value of China's currency to North Korea, Yang said the two sides agreed to strengthen cooperation in counter-terrorism, law enforcement and military-to-military relations.
He gave few details.
On two of the most sensitive issues – maritime disputes and cyber-spying – Yang largely restated Beijing's position on both.
"The Chinese side will continue to steadfastly protect its territorial and maritime rights" in the South and East China Seas, Yang told reporters as the talks wrapped up.
"China urged the U.S. side to adopt an objective and impartial stance and abide by its promise to not take sides and play a constructive role in safeguarding regional peace and stability."
Washington insists it has not taken sides but has criticized China's behavior in the potentially energy-rich South China Sea, where the Philippines, Vietnam, Malaysia, Brunei and Taiwan have overlapping territorial claims with China.
Beijing, however, views the United States as encouraging Vietnam and the Philippines to be more assertive in the dispute, and of backing its security ally Japan in the separate spat over uninhabited islands in the East China Sea.
China's Foreign Ministry criticized the Philippines on Thursday for extending by one year a drilling permit for London-listed Forum Energy Plc for a natural gas project in the disputed Reed Bank area of the South China Sea.
"Any foreign companies carrying out development of oil or gas in China's territorial waters without obtaining permission from China are breaking the law," ministry spokesman Hong Lei told a daily briefing.
CYBER TALKS FRANK
On Internet security, Kerry told reporters that discussions were frank, and both sides agreed it was important to keep talking.
It was unclear if any progress was made in resuming the activities of a cyber working group that Beijing suspended in May after the United States charged five Chinese military officers with hacking.
"The loss of intellectual property through cyber has a chilling effect on innovation and investment. Incidents of cyber theft have harmed our businesses and threatened our nation's competitiveness," Kerry said.
Chinese hackers broke into the computer networks of the United States government agency that keeps the personal information of all federal employees in March, the New York Times reported this week, citing senior U.S. officials.
Yang said China wanted cooperation on cyber issues on the basis of mutual respect and trust.
"China believes cyber-space should not become a tool to harm other countries' interests. China hopes the U.S. side can create the conditions to carry out U.S.-China dialogue and cooperation on the Internet," he said.
China sees the United States as being hypocritical on the subject following revelations about Washington's own spying by former U.S. intelligence contractor Edward Snowden.
Kerry also repeated his earlier message that Washington wanted a strong, prosperous and stable China.
"And we mean what we say when we emphasize that there's no U.S. strategy to try to push back against or be in conflict with China," he told Chinese President Xi Jinping in Beijing's Great Hall of the People.
(Writing by Ben Blanchard; Editing by Dean Yates)
Experts that participated in the Beijing talks told Peace and Freedom, "Don't get your hopes up. Nothing will change."
Related:
East China Sea Tensions Continue: Japan Scrambles Jets To Respond to Russia, China Aircraft at Alarming Rate
Standing Up To China: Japan Offers Official Development Assistance To Help Vietnam Build Maritime Patrol Ships for South China Sea
Secretary of State John Kerry spoke with Yang Jiechi, a state councilor who deals with foreign policy, on Wednesday in Beijing. Credit Pool photo by Jim Bourg 
This conversation between the U.S. and China has been ongoing — with little progress.  Above: U.S. Secretary of State Hillary Clinton and Chinese Foreign Minister Yang Jiechi exchange views on the South China Sea at a news conference in Beijing Sept. 5, 2012. Photo: AP/Feng Li, Pool
Related:
Secretary of State John Kerry urges China to help defuse tensions in the East and South China Seas
U.S. Expected To "Make Presence Known" in Disputed South China Sea — To Deter China's slow but steady territorial advances
U.S. Should Act Unilaterally To Protect The Smaller Nations Of The South China Sea (Forbes, Commentary)
China, U.S. say committed to managing differences
China's oil rigs won't deter Vietnam's oil projects: official
Vietnam in a Quandary: China's Aggression, America's Seduction
China's rise and Asian tensions send U.S. relations into downward spiral
China's Military Base on Mabini Reef Violates International Law, Philippine Constitution
Vietnamese fishing association asks China to release fishermen, boat
U.S. To Discuss Sea Sovereignty With China — Japan, Vietnam, Philippines All Feel Exploited, Harassed By China
.
.
Photo: Chinese and Vietnamese ships keep watch on each other in the South China Sea
.
David and Goliath ? A China Coast Guard ship (top) and a Philippine supply boat engage in a stand off as the Philippine boat attempts to reach the Second Thomas Shoal, a remote South China Sea reef claimed by both countries, on March 29, 2014 (AFP Photo/Jay Directo)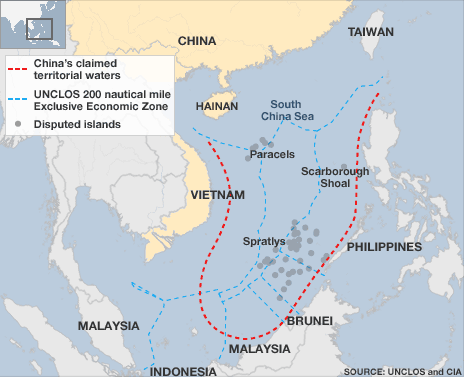 China says about 90% of the South China Sea is Sovereign Chinese property. Fishermen from the Philippines, Vietnam and other nations that have been working these waters for centuries question the logic. Then there is the small matter of international law.
.
On May 1, 2014, China moved its biggest China National Offshore Oil Corporation (CNOOC) oil rig HD-981 into position in what Vietnam claims as its exclusive economic zone off the Hoang Sa (Paracel) Islands. China deployed some 80 ships to guard the rig, leading to several tense encounters between Chinese and Vietnamese ships.  Several Vietnamese maritime law enforcement officers were injured when China used water cannons on the smaller Vietnamese ships to chase them away.
.
A Chinese steel boat (left) sails close to a Vietnamese wooden boat in the latter's water off Da Nang. China has sent numerous boats to guard an illegal oil rig it placed in Vietnamese waters on May 1, 2014 – and to attack any local fishing or coast guard boats
A Chinese ship rams and collides with a Vietnamese vessel in contested waters of the South China Sea. Photo: AFP photograb
.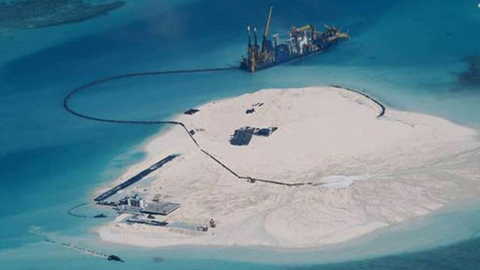 This undated handout photo shows the alleged reclamation by China on what is internationally recognised as the Johnson South Reef in the South China Sea, otherwise known as the Mabini Reef by the Philippines and Chigua Reef by China. Now the Philippines have found China doing similar reclamation efforts on other South China Sea reefs.
'EARTHMOVING ACTIVITIES' A backhoe attached to a Chinese vessel is apparently scooping up some filling materials in a reclamation project while at the same time harvesting endangered species, giant clams. PHOTO COURTESY OF THE ARMED FORCES OF THE PHILIPPINES
The chart below shows the area declared by China on 1 January 2014 as "an area under China's jurisdiction." China says "foreign fishing vessels" can only enter and work in this area with prior approval from China. Vietnam, the Philippines and others have said they will not comply with China's law.