Citizen Four is the shocking doc about Edward Snowden made by Glenn Greenwald and Laura Poitras. Just screened tonight was the two hour film will be released by the Weinstein Company this month. It doesn't paint the Obama administration in a very good light as Snowden explains how the government has violated privacy rights on a massive scale.
.
Also the filmmakers clearly inducate that all roads lead to POTUS, a fairly serious accusation. There may be serious repercussions.
Then there's the Hollywoodization of Snowden. The detail of how and why Snowden went about this is pretty surprising considering how the 29 year old former NSA employee says he wants his own privacy and not to be a celebrity. It's instructive to see his evolution from eyeglass wearing nerd to contact lenses and moussed up hair sporting hero of his own thriller. It's all very Tom Cruise. Even the beautiful girlfriend sets up housekeeping with him in Moscow. Nevertheless as the details of the NSA's programs are revealed Snowden says, "This isn't science fiction. It's really happening.".
http://www.showbiz411.com/2014/10/10/edward-snowden-doc-premieres-shocking-inside-look-at-how-he-did-it
********************************
.
At the end of the Laura Poitras doc, the famed informant registers shock over another who outranks him
By Seth Abramovitch, Chris O'Falt
The Hollywood Reporter
A second National Security Agency whistleblower exists within the ranks of government intelligence.
That bombshell comes toward the end of Citizenfour, a new documentary from filmmaker Laura Poitras about NSA informant Edward Snowden that had its world premiere on Friday at the New York Film Festival.
In the key scene, journalist Glenn Greenwald visits Snowden at a hotel room in Moscow. Fearing they are being taped, Greenwald communicates with Snowden via pen and paper.
While some of the exchanges are blurred for the camera, it becomes clear that Greenwald wants to convey that another government whistleblower — higher in rank than Snowden — has come forward.
The revelation clearly shocks Snowden, whose mouth drops open when he reads the details of the informant's leak.
Also revealed by Greenwald is the fact that 1.2 million Americans are currently on a government watch-list. Among them is Poitras herself.
And the surprises don't end there. Near the end of the film, which received a rousing standing ovation, it is revealed that Lindsay Mills, Snowden's dancer girlfriend of 10 years, has been living with Snowden in Moscow.
When Poitras went to Moscow in July to show Snowden an early cut of the film, she shot footage of the two cooking dinner together, which appears in the final cut.
Snowden fled to Russia after the U.S. government revoked his passport and put pressure on other governments not to grant him asylum.
After spending 39 days in a Moscow airport, Snowden was granted a one-year asylum from President Vladimir Putin. He is now in the country on a three-year residency permit.
Poitras took the stage at Lincoln Center's Alice Tully Hall following the screening, flanked by Greenwald, with whom she partnered on a pair of explosive stories in The Guardian and Washington Post about Snowden's surveillance disclosures in June 2014.
Also joining them was Jeremy Scahill, their partner on the website The Intercept, and Snowden's father and stepmother. Snowden's father thanked Poitras for having made Citizenfour, which he deemed a "wonderful piece of work."
Poitras kept her comments following the screening to a minimum, and thanked her crew and Snowden. Instead it was Greenwald and Scahill who did most of the talking, with Scahill at one point describing Poitras as "the most bad-ass director alive, period."
Before the screening, Poitras told The Hollywood Reporter that she will never forget the moment when Snowden — who was so young Greenwald initially doubted his authenticity — said he was willing to go on the record with his allegations.
"One of the most intense moments was when Snowden told us his identity would not remain anonymous, and I knew that somebody was really, really putting their life on the line," Poitras said.
http://www.hollywoodreporter.com/news/nyff-edward-snowden-doc-citizenfour-740060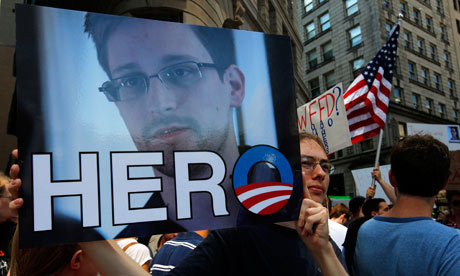 A demonstrator holds a sign with a photograph of Edward Snowden during 4 July celebrations in 2013 in Boston, Massachusetts. Photograph: Brian Snyder/REUTERS
*****************************
From The Guardian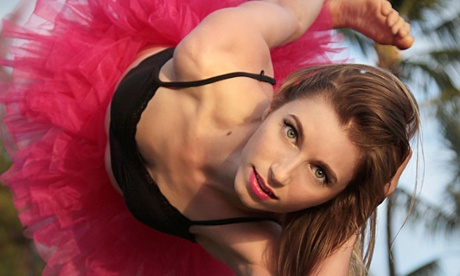 Photograph: Splash/Luis Silos III
The mystery of the whereabouts of Edward Snowden's long-time girlfriend is solved in a documentary that premiered in New York on Friday night: she has been living with the national security whistleblower in Russia since July.
The surprise revelation in the documentary, filmed by Laura Poitras, upends the widespread assumption that Snowden had deserted Lindsay Mills and that she, in a fit of pique, fled Hawaii where they had been living to stay with her parents in mainland US.
Since Snowden, a former NSA contractor, outed himself last year as being behind the biggest leak in US intelligence history, Mills has remained silent, giving no interviews or any hints of her feelings on the subject of her boyfriend or his actions.
The two-hour long documentary, Citizenfour, shows Mills living in Russia with Snowden.
When the Guardian met Snowden in Moscow in July, Snowden suggested the relationship was more complex than the view constantly recycled in the media of a woman abandoned and hinted that the two were not in fact estranged.
Citizenfour offers a fly-on-the wall account of Snowden. Poitras filmed him at the Mira hotel in Hong Kong last year during interviews with journalists that resulted in a series of stories in the Guardian about the extent of surveillance by the US and British intelligence agencies as well as the internet and telecom companies. The revelations started a worldwide debate about the balance between surveillance and privacy.
Poitras captures the tension in his room at the Mira – where then-Guardian columnist Glenn Greenwald and I interviewed him – and in his final minutes at the hotel before he fled after being tipped off that hordes of media were about to arrive. She also filmed at the Guardian in London ahead of publication of one of the most explosive of the stories arising from Snowden's revelations, and in Moscow, where Snowden is now in exile.
Snowden has been reluctant to talk about his personal life, preferring the media focus to be on wider debate about surveillance rather than him. But Poitras's portrayal is both personal and sympathetic.
In his first comment about the documentary, which Poitras had shown to him in advance, Snowden told the Guardian: "I hope people won't see this as a story about heroism. It's actually a story about what ordinary people can do in extraordinary circumstances."
Snowden was working as an NSA contractor in Hawaii where Mills joined him. A dancer, she posted many details and photographs about herself and him on the web.
She was still in Hawaii when news broke from Hong Kong that he was the whistleblower. Days earlier, authorities, suspicious about his prolonged absence from work, had visited their home.
On her blog, subtitled, 'Adventures of a world-travelling, pole-dancing superhero,' she wrote that she felt "sick, exhausted and carrying the weight of the world". Shortly afterwards, she took the blog down.
The two appear to have been together since at least 2009, living part of the time near Baltimore before moving to Hawaii in 2012.
http://www.theguardian.com/us-news/2014/oct/11/edward-snowden-girlfriend-moscow-documentary-poitras