Hussein Hussein al-Laqis, a Hizbollah commander, killed as he returned home from work,   Lebanese group claims
.
Hizbollah, which has fought several wars against Israel, has been fighting alongside Syrian President Bashar Assad's forces Photo: AFP/Getty Images
Shi'ite organization says Hassan al-Laqqis has been targeted in past by Israel.
Reuters
Lebanon's militant Shi'ite group Hezbollah said on Wednesday one of its commanders was killed outside his Beirut home overnight in an attack it blamed on Israel.
The group said in a statement that Hassan al-Laqqis, "who served the resistance his entire life," was killed at around midnight in the southern Hadath district of the Lebanese capital.
A previously unknown group, Ahrar al-Sunna Baalbek brigade, claimed responsibility for the attack in a message on Twitter. The group's name suggested it had Lebanese Sunni Muslim links.
Al-Laqqis was on his way home when he was killed, the official Hezbollah television station Al-Manar said. It gave no detail of the operation but said "the accusation is directed at the enemy, Israel."
Hezbollah described Laqqis, who will be buried in the Bekaa Valley town of Baalbek later in the day, as "one of the leaders of the Islamic resistance" against Israel who had been frequently targeted by the Jewish state.
He had been with Hezbollah since its first days in the 1980s, when it was set up with Iranian support to fight Israeli troops occupying south Lebanon, and his son was killed in the 2006 war, Hezbollah said in a statement.
"The Israeli enemy tried to get to our martyr brother several times, in more than one location, but these attempts failed until this repugnant assassination," it said.
Israel would "bear full responsibility and all the consequences for this heinous crime", it said.
But Israel denied involvement. "This has strictly nothing to do with Israel," foreign ministry spokesman Yigal Palmor said.
"Hezbollah has made a fool of itself in the past with these automatic and groundless accusations against Israel … If they are looking for explanations as to what is happening to them, they should examine their own actions."
The open role of Hezbollah fighters in the Syrian civil war, combined with a steady flow of Lebanese Sunnis joining the anti-Assad rebels, has fueled sectarian strife in Lebanon.
Car bombs killed dozens of people in Beirut in August and a twin suicide attack on the Beirut embassy of Hezbollah's patron Iran killed at least 25 people last month.
An Iranian foreign ministry spokeswoman blamed Israel for that attack, but responsibility was claimed by a Lebanon-based Al Qaida-linked group, the Abdullah Azzam brigades.
Hezbollah leader Sayyed Hassan Nasrallah said he believed the group had support from Saudi Arabia, Iran's main regional rival whose backing for Assad's foes has pushed it deeper into a proxy conflict in Syria against Tehran.
Abdullah Azzam "is not a fictitious name," Nasrallah said in an interview broadcast on Lebanese television on Tuesday night.
"This group exists … It has its leadership … and I am convinced it is linked to Saudi intelligence," he said. "Saudi Arabia is the one who runs these kinds of groups in several places in the world."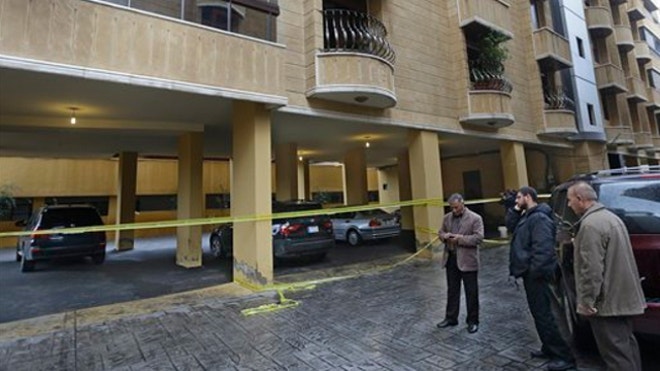 Dec. 4, 2013: Lebanese residents gather near the scene where Hassan al-Laqis, a senior commander for the Lebanese militant group Hezbollah, was gunned down outside his home, some two miles southwest of Beirut, Lebanon. (AP)
.