The "Way of The Cross" or the Via Crucis has allowed Christians to participate in the Suffering of Christ for two thousand years. We don't need to be in the Holy Land or in Rome to participate and re-live the agony of the cross; many of can relate from wherever we are whenever we choose.
This "Stations of the Cross" is a compilation of dozens of sources, art and photographs in hopes that we can better relate to how others have interpreted the Suffering of Christ for you through time….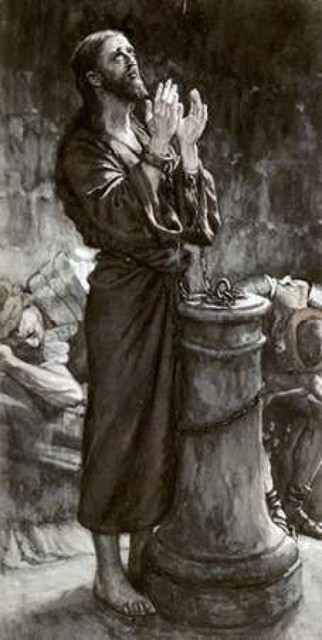 Jesus on Good Friday Morning, In Chains, By James Tissot
Art: Antonio Ciseri's depiction of Pontius Pilate presenting a scourged Christ to the people Ecce homo! (Behold the man!).
Jesus about to be struck in front of the High Priest Annas, as in John 18:22, depicted by Madrazo, 1803.
Station I: Jesus is Condemned to Death
My Jesus, the world still has You on trial. It keeps asking who You are and why You make the demands You make. It asks over and over the question, If You are God's Son, why do You permit the world to be in the state it is in? Why are You so  silent?
Though the arrogance of the world angers me, I must admit that silently, in the depths of    my soul, I too have these questions. Your humility frustrates me and makes me    uncomfortable. Your strength before Pilate as You drank deeply from the power of the    Father, gives me the answer to my question – The Father's Will. The Father permits many    sufferings in my life but it is all for my good. If only I too could be silent in the face of worldly prudence – steadfast in the faith when all seems lost – calm when accused    unjustly – free from tyranny of human respect – ready to do the Father's Will no matter  how difficult.
Silent Jesus, give us all the graces we need to stand tall in the face of the ridicule of    the world. Give the poor the strength not to succumb to their privation but to be ever  aware of their dignity as sons of God. Grant that we might not bend to the crippling  disease of worldly glory but be willing to be deprived of all things rather than lose Your  friendship. My Jesus, though we are accused daily of being fools, let the vision of Quiet Dignity standing before Monstrous Injustice, give us all the courage to be Your followers.
Amen
Video Station of the Cross Number I:
http://www.youtube.com/watch?v=apAb4HAW3c8
Jesus Christ Leaving the Praetorium By Gustave Gore.
**********************************
Station II: Jesus Starts To Carry His Cross
By El Greco, c. 1602
How could any human impose such a burden upon Your torn and bleeding body, Lord Jesus? Each movement of the cross drove the thorns deeper into Your Head. How did You keep the hatred from welling up in Your Heart? How did the
injustice of it all not ruffle your peace?  The Father's Will was hard on You –  Why do I complain when it is hard on me?
I see injustice and am frustrated and when my plans to alleviate it seems futile, I despair. When I see those burdened with poverty suffer ever more and cross is added to cross my heart is far from serene. I utterly fail to see the dignity of the cross as it is carried with love. I would so much rather be without it.
My worldly concept is that suffering, like food, should be shared equally. How ridiculous I am, dear Lord. Just as we do not all need the same amount of material food, neither do we need the same amount of spiritual food and that is what the cross is in my life, isn't it – spiritual food proportional to my needs.
Amen
***************************
Station III: Jesus falls the first time
We adore you, O Christ, and we praise you.  Because by your holy cross You have redeemed the world.
.
Jesus, the cross you have been carrying is very heavy.  You are becoming weak and almost ready to faint, and you fall down.  Nobody seems to want to help you.  The soldiers are interested in getting home, so they yell at you and try to get you up and moving again.
.
As a child, sometimes I start to do something, but then get tired of it.  I hurry to get finished and sometimes don't do my work well.  Sometimes I don't pay attention to what I should be doing.   When things get hard for me, sometimes I give up.
.
As an adult, I sometimes put things off.  I give up too easily, and sometimes don't do my work as well as I know I can.
.
My Jesus, the heavy burden of my sins is on Thee, and bears Thee down beneath the cross. I loathe them, I detest them; I call on Thee to pardon them; may Thy grace aid me never more to commit them.
*****************************
Station IV: Jesus Meets His Mother
We adore you, O Christ, and we praise you.   Because by your holy cross You have redeemed the world.
.
Jesus, you feel so alone with all those people yelling and screaming at you.  You don't like the words they are saying about you, and you look for a friendly face in the crowd.  You see your mother.  She can't make the hurting stop, but it helps to see that she is on your side, that she is suffering with you.  She does understand and care.
.
As a child, sometimes I feel like too many things are going on.  Sometimes other kids pick on me and call me names.  I need to look around me for a friendly face, and for the help I need.   I need to share my troubles with those who truly care about me.
.
As an adult I sometimes feel overwhelmed by many things.  Life is so competitive, and I worry so much about my future and those who have some control over it.  I need to remember that being an adult does not mean having to solve every problem all by myself.  I need to look around me for a friendly face, for the help I need.
.
Jesus most suffering, Mary Mother most sorrowful, if, by my sins, I caused you pain and anguish in the past, by God's assisting grace it shall be so no more; rather be you my love henceforth till death.
.
Jesus Meets His Mother, by James Tissot
.
(Jésus rencontre sa mère)
.
Although this episode cannot be found in the Gospel accounts, Tissot presents a scene traditionally included as one of the Stations of the Cross, a series of images, venerated chiefly by Catholics, that trace the events of Jesus' final hours. At the fourth station, he meets his mother, Mary, after he falls while carrying his cross to Calvary. Her arms extended toward her son, Mary rushes to his side, accompanied by John the Evangelist and Mary Magdalene. Her compassion stands in marked contrast to the cruelty of his tormentors, who whip him and brandish the nails that will be used to affix him to the cross.
.
********************************
.
Station V: Simon Helps Jesus Carry His Cross
.
My Jesus, Your tormentors enlisted a Simon of Cyrene to help You carry Your cross. Your humility is beyond my comprehension. Your power upheld the whole universe and yet You permit one of Your creatures to help You carry a cross. I imagine Simon was reluctant to take part in Your shame. He had no idea that all who watched and jeered at him would pass into oblivion while his name would go down in history and eternity as the one who helped his God in need. Is it not so with me, dear Jesus?
.
Christ carrying the Cross with Simon of Cyrene – (after) Giovanni Francesco Guercino (BARBIERI)
Even when I reluctantly carry my cross as Simon did, it benefits my soul..If I keep my eyes on You and watch how You suffered, I will be able to bear my cross with greater fortitude. Were you trying to tell all those who suffer from prejudice to have courage? Was Simon a symbol of all those who are hated because of race, color and creed?.Simon wondered as he took those beams upon his shoulders, why he was chosen for such a heavy burden and now he knows. Help me Jesus, to trust your loving Providence as you permit suffering to weave itself in and out of my life. Make me understand that You looked at it and held it fondly before You passed it on to me. You watch me and give me strength just as You did Simon. When I enter Your Kingdom, I shall know as he knows, what marvels Your Cross has wrought in
my soul..Amen
.
.
 Sebastiano del Piombo, Christ Carrying the Cross, c. 1532-5
.
Station V and Simon of Cyrene have very special meaning for me. Once, while keeping vigil with a sick friend in the hospital, I quietly tried to pray while half-asleep.  I thought my friend was in a coma and about to die. I asked God for the Strength to do His Will: whatever that might be that day. To my shock and surprise, my friend reached out, grabbed my arm and said, "YOU are my Simon of Cyrene."
.
Another time I took a small cross into the church while the priest was getting into his vestments before daily Mass. I wanted to ask him to bless a small cross for a sick friend. As I explained to the priest, I began to cry, and he said, "But you must help him Carry His Cross."
.
Related:
.
**************************************
Station VI: Veronica Wipes The Face of Jesus
.
.
.
We adore you, O Christ, and we praise you.  Because by your holy cross You have redeemed the world.
.
Jesus, suddenly a woman comes out of the crowd.  Her name is Veronica.  You can see how she cares for you as she takes a cloth and begins to wipe the blood and sweat from your face.  She can't do much, but she offers what little help she can.
.
As a child, sometimes I know someone could use a little help and understanding.  They may be picked on or teased by others, or just sad or lonely.  Sometimes I feel bad that others don't step in to help, but I don't help either.
.
As an adult, I notice the needs around me.  Sometimes my own family members crave my attention, and I don't even seem to notice.  Sometimes a co-worker, friend, or family member could use help or understanding, but I don't reach out to help lest I be criticized, or that they demand more of me than I'd like to give.
.
My tender Jesus, Who didst deign to print Thy sacred face upon the cloth with which Veronica wiped the sweat from off Thy brow, print in my soul deep, I pray Thee, the lasting memory of Thy bitter pains.
.
Saint Veronica
, by
Hans Memling
.
.
My Jesus, where were all the hundreds of peoples whose bodies and souls were healed by you? Where were they when You needed someone to give You the  least sign of comfort? Ingratitude must have borne down upon Your heart and made the cross nearly impossible to carry. There are times I too feel all my efforts for Your Kingdom are futile and end in nothingness. Did your eyes roam through the crowd for the comfort of just one individual – one sign of pity -one sign of grief?
.
My heart thrills with a sad joy when I think of one woman, breaking away from fear and human respect and offering You her thin veil to wipe Your bleeding Face. Your loving heart, ever watching for the least sign of love, imprinted the Image of your torn Face upon it! How can You forget Yourself so completely and reward such a small act of kindness?
.
I must admit, I have been among those who were afraid to know You rather than like Veronica. She did not care if the whole world knew she loved You. Heartbroken Jesus, give me that quality of the soul so necessary to witness to spread Your Word – to tell all people of Your love for them. Send many into Your Vineyard so the people of all nations may receive the Good News. Imprint Your Divine Image upon my soul and let the thin veil of my human nature bear a perfect resemblance to your loving Spirit.
Amen

St. Veronica Holding the Holy Shroud By Simon Vouet
.
Video Station VI:
******************************
.
Station VII: Jesus Falls a Second Time
.
My Jesus, one of  the beautiful qualities the people admired  in You was Your strength in time  of ridicule – Your ability to rise above the occasion.    But now, You fall a second time – apparently conquered by the pain of the Cross. People    who  judged You by appearances made a terrible mistake. What looked like weakness was  unparalleled strength!I often judge by appearances and how wrong  I am most  of the time. The world judges entirely by this fraudulent  method of  discerning. It looks down upon those who apparently have given their best and  are now in need. It judges the poor as failures, the sick as  useless and the  aged as a burden.
.
How wrong that kind of judgment is in the light of your second fall! Your greatest moment was Your weakest one. Your greatest triumph was in  failure. Your greatest act of love was in desolation. Your greatest show  of power was in  that utter lack of strength that threw You to the  ground.
.
Weak and powerful Jesus, give me the grace to see beyond  what  is visible and be more aware  of Your Wisdom in the midst of weakness. Give  the aged, sick, handicapped, retarded, deaf  and blind the fruit of joy so  they may ever be aware of the Father's gift and the vast difference between  what the world sees and what the Father sees that they may glory in their weakness so the power of God may be manifest.Amen
.
.
Jesus falls the second time
.
.
We adore you, O Christ, and we praise you.  Because by your holy cross You have redeemed the world.
.
This is the second time you have fallen on the road.  As the cross grows heavier and heavier it becomes more difficult to get up.  But you continue to struggle and try until you're up and walking again.  You don't give up.
As a child, sometimes things get me down.  Others seem to find things easier to do or to learn.  Each time I fail, I find it harder to keep trying.
.
As an adult, sometimes I think I should know more than I do.  I become impatient with myself and find it hard to believe in myself when I fail.  It is easy to despair over small things, and sometimes I do.
.
Help me when things seem difficult for me.  Even when it's hard, help me get up and keep trying as you did.   Help me do my best without comparing myself with others.
.
My Jesus, often have I sinned and often, by sin, beaten Thee to the ground beneath the cross. Help me to use the efficacious means of grace that I may never fall again.
********************************
Station VIII: Jesus meets the women of Jerusalem
.
.
.
We adore you, O Christ, and we praise you.   Because by your holy cross You have redeemed the world.
.
Jesus, as you carry your cross you see a group of women along the road.  As you pass by you see they are sad.   You stop to spend a moment with them, to offer them some encouragement.   Although you are have been abandoned by your friends and are in pain, you stop and try to help them.
.
As a child, sometimes I think a lot about myself.  I think about what I want and would like people to spend their lives pleasing me.
.
As an adult, sometimes I act like a child.  I become so absorbed in myself and what I'd like that I forget about the needs of others.  I take them for granted, and often ignore their needs.
.
Help me think more about others.  Help me remembers that others have problems, too.  Help me respond to them even when I'm busy or preoccupied with my own problems.
.
My Jesus, Who didst comfort the pious women of Jerusalem who wept to see Thee bruised and torn, comfort my soul with Thy tender pity, for in Thy pity lies my trust. May my heart ever answer Thine.
********************************
.
Station IX:  Jesus falls a third time
.
.
.
We adore you, O Christ, and we praise you.  Because by your holy cross You have redeemed the world.
.
Jesus, your journey has been long.  You fall again, beneath your cross.  You know your journey is coming to an end.  You struggle and struggle.  You get up and keep going.
.
As a child, sometimes I fail time and time again.  I find it hard to get along with my sisters and brothers, sometimes I'm not honest, sometimes I'm lazy.  I'm tempted to stop trying.  It's just too hard sometimes.
.
As an adult, I often feel I should have conquered my weaknesses by now.  I become discouraged when I'm confronted by the same problems over and over again.  Sometimes I get weary.  When I have health problems, I can become discouraged and depressed.
.
Help me think of the cross you carried.  Help me continue to hope that I can make the changes in my life I need to.   You didn't give up.  I can have the strength to get up again as well.
.
My Jesus, by all the bitter woes Thou didst endure when for the third time the heavy cross bowed Thee to the earth, never, I beseech Thee, let me fall again into sin. Ah, my Jesus, rather let me die than ever offend Thee again.
.
.
Jesus Collapses Under The Weight of the Cross, engraving,
Gustave Doré 1832 – 1883
.
**************************
.
Station X:  Jesus is stripped of his clothes
.
.
 We adore you, O Christ, and we praise you.  Because by your holy cross You have redeemed the world.
.
The soldiers notice you have something of value.  They remove your cloak and throw dice for it.  Your wounds are torn open once again.  Some of the people in the crowd make fun of you.   They tease you and challenge you to perform a miracle for them to see.   They're not aware that you'll perform the greatest miracle of all!
.
As a child, sometimes I'm tempted to repeat stories I know are unclean and disrespectful.  I sometimes try to act grown up by using crude and bad words.
.
As an adult, sometimes I repeat stories that are disrespectful of others.  I can entertain thoughts that are not clean.  Sometimes I give the young people around me a bad example to follow.
.
Help me to keep myself pure and clean.  Help me say things that build up the people around me.  Help me overcome worldly desires that I may become more like Jesus.  Help me set a good example for others to follow.
.
My Jesus, stripped of Thy garments and drenched with gall, strip me of love for things of earth, and make me loathe all that savors of the world and sin.
.
.
Jesus Stripped of His Clothing (Jésus dépouillé des ses vêtements)
.
.
From the Gospel according to Matthew. 27:33-36: And when they came to a place called Golgotha (which means the place of a skull), they offered him wine to drink, mingled with gall, but when he tasted it, he would not drink it. And when they had crucified him, they divided his garments among them by casting lots; then they sat down and kept watch over him there.
MEDITATION
Jesus is stripped of his garments. Clothing gives a man his social position; it gives him his place in society, it makes him someone. His public stripping means that Jesus is no longer anything at all, he is simply an outcast, despised by all alike. The moment of the stripping reminds us of the expulsion from Paradise: God's splendour has fallen away from man, who now stands naked and exposed, unclad and ashamed. And so Jesus once more takes on the condition of fallen man. Stripped of his garments, he reminds us that we have all lost the "first garment" that is God's splendour. At the foot of the Cross, the soldiers draw lots to divide his paltry possessions, his clothes. The Evangelists describe the scene with words drawn from Psalm 22:19; by doing so they tell us the same thing that Jesus would tell his disciples on the road to Emmaus: that everything takes place "according to the Scriptures". Nothing is mere coincidence; everything that happens is contained in the Word of God and sustained by his divine plan. The Lord passes through all the stages and steps of man's fall from grace, yet each of these steps, for all its bitterness, becomes a step towards our redemption: this is how he carries home the lost sheep. Let us not forget that John says that lots were drawn for Jesus's tunic, "woven without seam from top to bottom" (Jn 19:23). We may consider this as a reference to the High Priest's robe, which was "woven from a single thread", without stitching (Fl. Josephus, a III, 161). For he, the Crucified One, is the true High Priest.
PRAYER
Lord Jesus, you were stripped of your garments, exposed to shame, cast out of society. You took upon yourself the shame of Adam, and you healed it. You also take upon yourself the sufferings and the needs of the poor, the outcasts of our world. And in this very way you fulfil the words of the prophets. This is how you bring meaning into apparent meaninglessness. This is how you make us realize that your Father holds you, us, and the whole world in his hands. Give us a profound respect for man at every stage of his existence, and in all the situations in which we encounter him. Clothe us in the light of your grace.
.
http://www.catholicnewsagency.com/resources/pr
ayers/stations-of-the-cross/tenth-station-jesus-i
sstripped-of-his-garments/
********************************
.
Station XI: Jesus is nailed to the cross
.
.
.
We adore you, O Christ, and we praise you.  Because by your holy cross You have redeemed the world.
.
You are stretched out on the cross you have carried so far.  The soldiers take big nails and drive them into your hands and feet.  You feel abandoned by the people you loved so much.  People seem to have gone mad.  You have done nothing but good, yet they drive nails through your hands and feet.
.
As a child, sometimes I hurt others.  Sometimes I join with friends and decide not to like another.  We gang up against another and cause them hurt and pain.  Sometimes I say or do hurtful things to my brothers and sisters.  I can wonder what they'd think about themselves if they believed everything I told them about themselves.
.
As and adult, sometimes I discriminate against others.  Even without thinking, I judge others because of their color, intelligence, income level or name.  I forget that I am to live as a brother or sister to all people.  Sometimes I use harsh words when I speak to my children and family members.  I can find it easy to look for something that isn't very important and make it very important.
.
Help me look again at the people around me.  Help me see the hurt and pain I have caused in others.  Be with me to help me make amends for the harm I have done.
.
My Jesus, by Thine agony when the cruel nails pierced Thy tender hands and feet and fixed them to the cross, make me crucify my flesh by Christian penance.
.
*********************************************
Station XII: Jesus Dies on the Cross
.
.
.
Jesus dies on the cross
.
.
.
We adore you, O Christ, and we praise you.   Because by your holy cross You have redeemed the world.
.
As Jesus hung on the cross, he forgave the soldiers who had crucified him, and prayed for his mother and friends.   Jesus wanted all of us to be able to live forever with God, so he gave all he had for us.
.
Jesus, let me take a few moments now to consider your love for me.  Help me thank you for your willingness to go to your death for me.  Help me express my love for you!
.
My Jesus, three hours didst Thou hang in agony, and then die for me; let me die before I sin, and if I live, live for Thy love and faithful service.
.
Above: Jesus Crist did not suffer and die alone. His Mother, the Apostle who loved him most (perhaps John) and the other Mary (possibly Mary Magdalene) were there. But Mainly, Jesus was in communion with His Father throughout His agony. We can do the same. What we cannot do is to turn our back on Him and His suffering…..
.
Who Is At "The Foot Of The Cross" When Jesus Dies?
.
Mary Magdalene, in a dramatic 19th-century popular image of penitence painted by Ary Scheffer
.
.
.
.
.
.
There are vast riches of crucifixion art:
.
.
Painting of Mary Magdalene, meditating on a skull by Jan Boeckhors
Also called the "deploration of Mary."
Here deploration is used as a synonym of  lamentation.
.
.
.
************************************
.
Station XIII: The body of Jesus is taken down from the cross
.
.
We adore you, O Christ, and we praise you.  Because by your holy cross You have redeemed the world.
.
Jesus, how brutally you were put to death.  How gently your are taken from the cross.  Your suffering and pain are ended, and you are put in the lap of your mother.  The dirt and blood are wiped away.  You are treated with love.
.
As a child, sometimes I treat others better when they're sad or in pain.  When somebody dies, I become very gentle and kind.  I notice the good and kind things people say about those who have died.
.
As an adult, I seem to be kinder when someone dies.  If only I could learn to see the good things about them while they were alive.  If only I would tell those around me how much I love them, while I still have the opportunity to do so.
.
Help me look for the good in those around me, especially those I love the most.  Help me live this day as if it were the last.  Help me become a more gentle and loving person through my greater appreciation for those around me.
.
O Mary, Mother most sorrowful, the sword of grief pierced thy soul when thou didst see Jesus lying lifeless on thy bosom; obtain for me hatred of sin because sin slew thy Son and wounded thine own heart, and grace to live a Christian life and save my soul.
.
********************************
.
Station XIV: Jesus is laid in the tomb
.
.
.
We adore you, O Christ, and we praise you.  Because by your holy cross You have redeemed the world.
.
Jesus, your body is prepared for burial.  Joseph gave you his own tomb.  He laid your body there and rolled a large stone in front of it, then went home.  What a sad day it has been for so many people.
.
As a child, sometimes I try to keep everything for myself.  I find it hard to share my things with my brothers or sisters and with my friends.
.
As an adult, I can be selfish too.  I can accumulate things and keep them for myself.  I try to make sure I have what I want before I share what I have with anybody else.
.
Help me think of Joseph of Arimathea, who risked his own life as he accepted Jesus' body for burial.  Help me think of how Joseph loved Jesus so much that he gave him his own tomb.
.
My Jesus, beside Thy body in the tomb I, too, would lie dead; but if I live, let it be for Thee, so as one day to enjoy with Thee in heaven the fruits of Thy passion and Thy bitter death.
.
"When evening had already come, because it was the preparation day, that is, the day before the Sabbath, Joseph of Arimathea came, a prominent member of the Council, who himself was waiting for the kingdom of God; and he gathered up courage and went in before Pilate, and asked for the body of Jesus." -Mk. 15.42-43
Peter Paul Rubens spent hundreds of hours paining Christ after death.
"The Entombment," By Peter Paul Rubens
.
Related:
.
Joseph of Arimathea was, according to the Gospels, the man who donated his own prepared tomb for the burial of Jesus after Jesus's Crucifixion. He is mentioned in all four Gospels.
http://en.wikipedia.org/wiki/Joseph_of_Arimathea
*
"They found that the stone had been rolled away from the entrance." Luke 24: 2
The Pietà
**************************************
The Word, the Gospels, are given to us as a gift from God to allow us to do God's will.
And the Word has power: because it can and does allow us to do God's Will — not simply to know God's Word.
And then Jesus, at the end of the Sermon on the Mount, teaches us how to pray: in the Prayer most of the world today knows as "The Lord's Prayer."
Jesus teaches us to be forgiving, just as God forgives us. And He tells us we are expected to do God's Will; as Jesus Himself, while teaching us to pray, tells us it would be nice if we tell The Father that we are doing His Will;  "thy will be done."
"If any of you want to come with me, you must forget yourself, carry your cross, and follow me." (Matthew 16:24). Jesus tells us that  doing His will won't be easy — we will have to carry a cross — we will have to suffer —  just as he himself carried His for us.
Simple. But not always easy!
John Francis Carey
Peace and Freedom
For further study and meditation:
http://en.wikipedia.org/wiki/Stations_of_the_Cross
http://www.catholic.org/clife/prayers/station.php?id=1
http://www.ewtn.com/devotionals/stations/stat1.htm
See also Art and The Bible
http://www.artbible.info/art/way-of-the-cross.html
Related:
Preparing During Lent to Receive Jesus into our Soul and A New Pope Into Our Lives
The Antidote to Fear is Faith: Saint Benedicta of Auschwitz (aka Edith Stein)
Blessed John Paul the Great on the Third Week of Advent and Suffering
"Your Life Does Not Belong to You."
Who Is At "The Foot Of The Cross" When Jesus Dies?
After We Ask God to Reveal His Will For Us, We Can't Then Yell "I will not!"
Spiritual Necessity of Visiting the Sick
All Sins Can Be Forgiven: We Have to Suffer Some, But We Carry His Cross Only For a Short Time
If I am Not Serving, God, Country and Notre Dame; Who is it I am Working For?
Honoring All American Service Members
"No Pain, No Gain" — We Find God — And Our True Selves — Through Our Suffering
Blessed John Paul the Great on the Third Week of Advent and Suffering
Simon of Cyrene: Unite With Jesus in Suffering and Pain
Are We "Putting In Everything" in Our Belief in Jesus?
Tags: Bible, biblical, Catholic, Christ, Christian, Christianity, church, court, cross, crowd, crucifixion art, decision, execution, faith, Falls Church, God, Gospel, Gospels, Gustave Doré, holy, holy father, Holy Martyrs Catholic Church, Holy Spirit, Jesus, Jesus carries his cross, Jesus falls, Jesus is condemned to death, Jesus' body is placed in the tomb, Joseph of Arimathea, justice, life, life of christ, Lord, love, Mary Magdalene, May, messiah, Mother of God, Mother of Jesus, new, New Testament, passion, Pietà, pontius pilate, religion, religious, Roman, Savior, saviour, son of God, spiritual, St. James Catholic Church, St. John, stations, Stations of the Cross, stripped of Thy garments, testament, the one who loved Jesus, the passion of christ, tiepolo, verse, Virginia