For many, the lost virtue in modern life is compassion. It is in each one of us. But we sometimes have to look for it…..
******************************
Leader of Catholic church stresses need to turn away from views that exclude the needy during service at St Peter's Basilica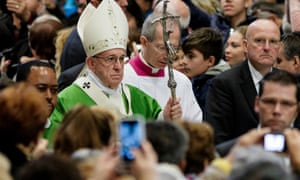 Homeless people received VIP seats to a special mass in St Peter's Basilica on Sunday, where Pope Francis stressed the need to avoid exclusionary views that reject those in need.
Along with cardinals and other prelates dressed in impeccably pressed bright green vestments, homeless people sat near the ornate central altar.
The pope elaborated on his recent comments encouraging policies of social inclusion, at a time when the popularity of politicians who advocate exclusionary policies toward migrants of other religions, races or ethnicities is rising in several developed countries.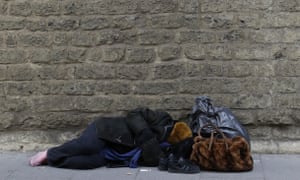 "It is ominous that we are growing used to this rejection," he said. "We should be worried when our consciences are anaesthetised and we no longer see the brother or sister suffering at our side, or notice the grave problems in the world, which become a mere refrain familiar from the headlines on the evening news."
He called it a "symptom of spiritual sclerosis" when people focus on producing goods instead of loving others.
On Saturday night, homeless people were the also guests of honour at a special benefit concert in the Vatican conducted by the composer Ennio Morricone.
Morricone, 88, who won an Oscar this year for his work on The Hateful Eight, premiered a short composition for the event called God, One of Us, and also conducted the orchestra as they played some of his most famous music from films.
Pope Francis greets a man as he meets with patients, family and staff at St. Francis of Assisi Hospital in Rio de Janeiro July 24, 2013. The pope addressed a group of recovering drug addicts offering them a message of compassion and hope as well as a call to self-determination. (CNS photo/Paul Haring)
By Antonia Blumberg
Huffington Post   
On Thursday Pope Francis will visit the Don Gnocchi Center, a home for the elderly and disabled in Rome, to wash the feet of 12 residents for the Holy Week ritual.
According to the Catholic News Service, those 12 will include a woman and a Muslim, which falls in line with Pope Francis' actions during last year's Maundy Thursday.
The ceremony, which is rooted in the story of the Last Supper, made headlines last year when the pope visited a youth detention center and washed the feet of several young women.
Silvia Stefanoni, the Deputy CEO and Director of Policy and Programs at HelpAge International, told Vatican Radio the pope has shown a commitment to bring attention to those most often forgotten in society, including the elderly and disabled. "It is giving a voice," Stefanoni said. "It's showing respect for their dignity."
In November Pope Francis critiqued society's tendency to "hide physical fragility," which he rejected by greeting hundreds of people in wheelchairs and encouraging them to become "protagonists" in the Catholic church.
Read the rest:
http://www.huffingtonpost.com/2014/04/16/pope-francis-foot-washing-muslim_n_5159634.html
Related:
Pope Francis: Holy Thursday and Washing The Feet
Holy Thursday in Rome: Pope Francis "Washes the Feet" at a Juvenile Detention Center; "With hope you can always go on"  (2013)
In this photo provided by the Vatican newspaper L'Osservatore Romano, Pope Francis kisses the foot of an inmate at the juvenile detention center of Casal del Marmo, Rome, Thursday, March 28, 2013. Francis washed the feet of a dozen inmates at a juvenile detention center in a Holy Thursday ritual that he celebrated for years as archbishop and is continuing now that he is pope. Two of the 12 were young women, an unusual choice given that the rite re-enacts Jesus' washing of the feet of his male disciples. The Mass was held in the Casal del Marmo facility in Rome, where 46 young men and women currently are detained. Many of them are Gypsies or North African migrants, and the Vatican said the 12 selected for the rite weren't necessarily Catholic. (AP Photo/L'Osservatore Romano, ho)
Pope Francis has given a 17-year-old boy with Down Syndrome the ride of his life – sort of.  Francis invited Alberto di Tullio up onto his open-top Mercedes at the end of his general audience Wednesday, letting him spin around on the pontiff's white chair while tens of thousands of people looked on, June 19, 2013.
Tags: amends, Catholic Church, Christ, Christianity, compassion, compassion and hope, confession, disabled, drug addicts, elderly, Holy Thursday, hope, Jesus, Jesus Christ, Jorge Mario Bergoglio, Last Supper, marginalized, Maundy Thursday, Muslims, physical fragility, Pope Confesses, Pope Francis, Pope Francis Feet Washing, Pope Francis Foot Washing, Pope Francis Foot Washing Muslim, Pope Francis Holy Thursday, Pope Francis teaches Compassion, Pope Francis Washes Feet, Pope News, prayer, Reconciliation, recovering drug addicts, Sacrament of Reconciliation, service to others, spiritual, spiritual sclerosis, The Pope, Vatican, Vatican City, Vatican News, women