. 
BEIJING — Chinese authorities have detained a well-known rights lawyer in an apparent bid to deter activists from marking the upcoming 25th anniversary of a brutal military suppression of pro-democracy protesters.
Pu Zhiqiang was criminally detained by Beijing police in the early hours of Tuesday, according to Qu Zhenhong, an associate at Pu's firm in Beijing who has been in contact with his family.
Pu Zhiqiang
Pu enjoys mainstream prominence that is unusual for most dissidents and news of his detention was circulating widely on Chinese microblogs. Despite his outspoken criticism of the government, Pu has been featured in magazines and interviewed about labor camps, against which he led high-profile campaigns.
He has represented both high-profile dissidents such as the artist Ai Weiwei as well as the family members of Communist Party members who died in custody of the party's anti-graft investigators after being tortured.
Chinese artist Ai Weiwei at his compound in Beijing on July 20, 2012 (AFP/File, Ed Jones)
Two of Pu's close friends, Beijing activist Hu Jia and Shanghai lawyer Si Weijiang, said the detention was likely the authorities' retaliation against Pu for attending a seminar in Beijing on Saturday to discuss the June 4, 1989, military crackdown on demonstrators in Tiananmen Square in Beijing.
"I believe the authorities are detaining Pu now so that he can't do anything between now and the anniversary and so his detention will create a panic and terror among those who wish to remember that day," Hu said by phone. Hu himself has been under house arrest since February, he said.
The Chinese government has never fully disclosed what happened during the crackdown on pro-democracy protesters that killed hundreds, possibly more, and has branded the protests a "counterrevolutionary riot."
Authorities try to stifle any public activities that remember those who died.
Pu had taken part in the 1989 demonstrations when he was a graduate student. The tumultuous protests lasted seven weeks before being crushed by army troops backed by tanks, who attacked the unarmed protesters near Tiananmen Square.
Public discussion of the crackdown remains taboo inside the country, making the seminar Pu attended in Beijing — reports of which trickled out to the public by social media postings — an unusually bold event despite being held in a private residence with an attendance of only about a dozen people.
"To me, it was a very normal seminar," said Zhang Xianling, a member of a group that campaigns for the crackdown's victims. Zhang, who lost her 19-year-old son in the military suppression, attended the discussion on Saturday afternoon and said Pu had also participated, as well as several well-known intellectuals.
"The atmosphere of discussions was very warm and friendly. I found it very inspiring," Zhang said. "I told them that as a mother of a June 4 victim, I'm very grateful that they continue to pay attention to it."
In a sign of the authorities' sensitivity to such events, Zhang said police came to her home on Sunday morning to ask her about the seminar. Meanwhile, activists said other participants in the seminar had been summoned by police after the event. The mobile phones of most of the other attendees were turned off Tuesday or rang unanswered.
Qu, Pu's colleague at the Huayi law firm, said police have accused Pu of "creating a disturbance" and that he was being held in a detention center in Beijing. The vaguely defined crime has been increasingly used by Chinese authorities to detain and question political dissidents.
Pu has not been formally indicted. Beijing police had no immediate comment.
************************
BEIJING (REUTERS) – China has detained a prominent human rights lawyer on a charge of "causing a disturbance", two lawyers said on Tuesday, after he attended a weekend meeting that urged a probe of the bloody suppression of pro-democracy protests in Tiananmen Square in 1989.
.
Pu Zhiqiang, a leading free-speech lawyer, has represented many well-known dissidents, including artist Ai Weiwei and activists of the "New Citizens' Movement", a group that has urged Chinese leaders to disclose their assets.
.
The move to formally detain Pu underscores the sensitivity of Chinese leaders to any form of criticism ahead of the 25th anniversary of China's crackdown on the demonstrations around Tiananmen Square in Beijing on June 4, 1989. "Pu is very influential and has a following in the mainstream audience," said Maya Wang, a China researcher for New York-based advocacy group Human Rights Watch.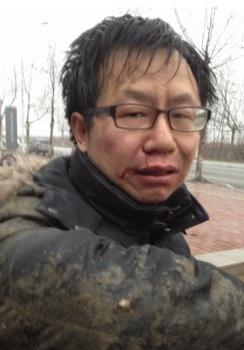 Journalist Chen Baocheng was beaten by Chinese police earlier this year as he covered a human rights protest in China.
Tank Man, Tiananmen Square, June 5, 1989. Photo by Associated Press photographer Jeff Widener

Photo: Enthusiastic demonstrators are cheered by bystanders as they arrive at Tiananmen Square to show support for the student hunger strike, on May 18, 1989. (AP Photo/Sadayuki Mikami)
Photo: Pro-democracy protesters link arms to hold back angry crowds, preventing them from chasing a retreating group of soldiers near the Great Hall of the People, on June 3, 1989 in Beijing. Protesters were angered by an earlier attack upon students and citizens using tear gas and truncheons. People in the background stand atop buses used as a roadblock. (AP Photo/Mark Avary)
.
The photos taken after China's army was unleashed against the protesters are horrific.
Tags: Ai Weiwei, anti-graft, Chen Baocheng, China, China's crackdown in 1989, Chinese, Communist Party, Hu Jia, human rights, June 4 1989, massacre, Maya Wang, New Citizens' Movement, pro-democracy, Pro-democracy protesters, pro-democracy suppression, Pu, Pu Zhiqiang, Si Weijiang, suppression of pro-democracy, Tiananmen, Tiananmen massacre, Tiananmen Square, torture, tortured