One of the men explained that a stronger message needed to be sent to the Chinese Communist Party
Kelly Chan, accompanied by her 10-year-old son, said: "I don't want him to know about June 4 through those in power because their version will not be fair," she said.
The need to build a democratic China creeps into the Hong Kong Remembrance of June 4, 1989
By 
UPDATED : Saturday, 04 June, 2016, 9:08pm
Hong Kong pro-independence activists will not remain silent, June 4, 1989. At left, law enforcement tries to silence one of the pro-democracy group. SCMP photo by Sam Tsang
Welcome to the South China Morning Post's coverage of Hong Kong's annual Tiananmen Square commemoration at Victoria Park and related events around town.
8.48pm: A day "to remember"
After remarks by Jonathan Chan Ching-wa, who witnessed the crackdown as a student, Chinese University political scientist Ivan Choy Chi-Keung is having a dialogue with two students, including one from HKU.
HKU student Tong Hiu-Yan said: "I'm here because HKU students' union's remarks don't represent me. I want to say that you can have academic discussions every day, but today is the day to remember June 4 and reject what the Communist Party did."
8pm: A sea of candles
The Victoria Park vigil began with alliance chairman and Democratic Party member Albert Ho Chun-Yan, secretary Lee Cheuk-Yan and Richard Tsoi Yiu-Cheong presenting a wreath of flowers on behalf of those killed during the June 4 incident in Beijing. They were joined by a group of young people as the park lit up in candles.
After the wreath was laid, participants paid respects to the victims by bowing three times towards the monument.
Ho then brought a torch to the stage, accompanied by several young people, before reading a eulogy.
"No matter whether it's the 27th anniversary or the year 2047, we will stand by you," Ho said of those who perished in and around Tiananmen. "We hope you can hear us in heaven."
7.55pm: Stage stormed at Victoria Park
About 10 people stormed the stage at Victoria Park and screamed pro-independence slogans for several seconds. They were taken away by the alliance's marshals.
Many in the park cheered and applauded as it was announced a few people had stormed the stage chanting "Hong Kong for independence!"
One of those who rushed the stage told Cable TV: "We are just ordinary people. We don't think the Chinese Communist Party would be at all fearful if the alliance only sang some songs every year."
As they took to the stage, they waved what appeared to be flags bearing a British coat of arms, a favourite prop of demonstrators who called for Hong Kong's detachment from Chinese sovereignty.
7.40pm: Three football pitches filled and counting
Alliance volunteers are busying handing out candles to participants, while a band on the stage lead participants through various pro-democracy songs.
Despite the Hong Kong Federation of Students being absent from the vigil and alternative events being held at Chinese University and the University of Hong Kong, some university students still chose to show up at the vigil.
Hazel Leung, 20, of Chinese University, said she came to the alliance's vigil because it was the largest and wanted to experience it in person, having never attended before.
The student said it was important to continue remembering the June 4 incident, which she described as vital for the democratic development in Hong Kong.
Leung said the ceremonial aspect of the vigil was crucial in passing along knowledge of the June 4 incident to the next generation.
"The ceremony, the tradition and the belief cannot be separated," she said.
A number of families also brought their children to the vigil.
Kelly Chan, accompanied by her 10-year-old son, said: "I don't want him to know about June 4 through those in power because their version will not be fair," she said.
7.20pm: At HKU, a change of heart explained
For the second year running, the University of Hong Kong's student union is holding its own memorial for the massacre, together with a forum discussing the city's future.
Union president Althea Suen Hiu-nam had earlier said the student body decided to hold an alternative vigil as they disagreed with the need to build a democratic China, which is one of the aims of the Hong Kong Alliance in Support of Patriotic Democratic Movements of China, organiser of the Victoria Park vigil in Causeway Bay.
Around 7.30pm, the Wong Hak King podium at the university campus was filled with more than 500 people.
Sunny Wong Sun-fai, 40, said he had attended the Victoria Park vigil for six years, but decided to come to HKU this year because he no longer believed in the need to build a democratic China.
"Today our focus should be on Hong Kong's own problems and its own future," Wong said. "Building a democratic China sounds a bit far from us."
Wong, who works in the retail industry, said he changed his mind in recent years as more localist groups gained prominence. He said the alliance, in contrast, had not changed over time.
7pm: University forum draws early arrivals too
Half an hour before a forum organised by the student unions of 11 tertiary education institutions is to take place at the Chinese University of Hong Kong, more than 100 people are already in line.
Johnny Lau, a first-year student from the Academy of Performing Arts, was first in the queue. He arrived before 6pm.
Security tight in Beijing on Tiananmen crackdown anniversary: China tightened security around Beijing's Tiana… http://bit.ly/1ZlXbGw 
China tightened security around Beijing's Tiananmen Square on Saturday on the 27th anniversary of the bloody military crackdown on student-led pro-democracy protests, pointing to the…
Lau said he chose to attend because he would be able to listen to different viewpoints.
"I can learn something from it. Having a discussion on the crackdown also shows that people have not forgotten what happened," he said.
Leo Tsun, a student from the University of Hong Kong, said that through discussion between different generations of Hongkongers, the spirit of pursuing democracy could be passed along.
"Commemorations should not come to an end because the students protesters (at Tiananmen Square) sacrificed their lives to try to achieve what they wanted to achieve," he said. "Whether you consider yourself a Hongkonger or Chinese national, we should not forget about them," he said.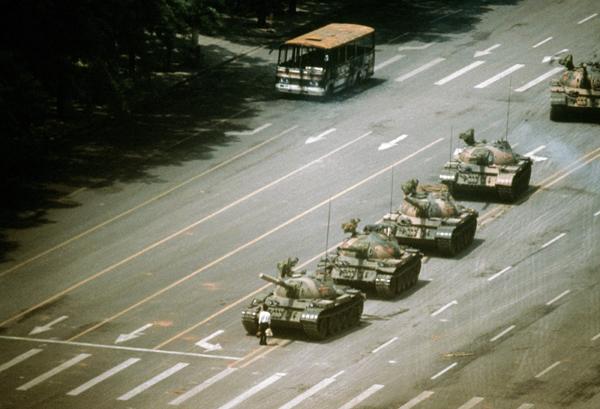 "Tank Man" temporarily stops the advance of a column of tanks on June 5, 1989, in Beijing, in what is widely considered one of the iconic images of the 20th century. This photograph (one of four similar versions) was taken by Jeff Widener of the Associated Press.
6.30pm: Early arrivals defend vigil's importance
Attendees start streaming into the park to secure a place at the event.
A man identifying himself as 'Mr Cheung' and in his 70s has attended the vigil every year since it began. He said the June 4 incident continued to weigh heavily on his mind even after so many years.
"It was a massacre and a very inhumane crime," he said.
"By coming here every year, I hope the political regime on the mainland will change … and I hope the next generation won't forget this history."
On some student leaders' claim that commemorating the incident is irrelevant, Cheung said he understood their rationale.
"When they don't see any progress, it's natural for them to resist this way."
An 18-year-old student identifying herself as 'Ms Au' was attending the vigil for the first time. She said she disagreed with the student leaders' comments.
"Commemorating the June 4 incident is a core value of Hong Kong," she said.
Au added that since she shared the same values as the 1989 student movement on the mainland, it was important to show solidarity.
"June 4 was a very important historical event," she said. "Regardless of where it happened it should be remembered."
A woman identifying herself as 'Ms Ip', 45, said coming to the vigil had become a personal tradition after 24 consecutive years attending.
"The candlelight for me is a crucial part of the commemoration because it can bring everyone together," she said.
Ip said she found it regretful student leaders would not be attending the vigil.
"They may think the vigil is useless but other more radical actions may not work well either," she said.
5.10pm: Former student leaders recall crackdown
At a forum at Victoria Park, former Hong Kong Federation of Students chairman Lam Yiu-keung recalled how an old man in Beijing urged him to come back to Hong Kong safe and tell the whole world about the crackdown in Tiananmen Square.
Not long after the People's Liberation Army fired shots at the student protesters, Lam got lost while trying to return to his hotel to seek shelter. He met an old man who was riding a bicycle looking for his son, a student protester.
"He told me that I must get back to Hong Kong and tell the whole world about what happened. I felt very helpless at that time. All they wanted is for us to get the truth out there," he said. "Back then in Hong Kong, no matter your political stance, everyone went out to support the students."
He said he would not stop going to the Victoria Park vigil until the Chinese government admitted what did in Tiananmen in 1989.
"Back then in Hong Kong, no matter your political stance, everyone went out to support the students."
Richard Tsoi Yiu-cheong, now vice-chairman of the Hong Kong Alliance in Support of Patriotic Democratic Movements of China, also shared his memory of the crackdown. He was a student leader campaigning for the student protesters from Hong Kong.
Fighting back tears, Tsoi said of the Beijing protesters: "They didn't do it for themselves. They did it for everyone in the country."
5.05pm: Mainland activists feel heat
Mainland police detained several activists while others were placed under surveillance in the run-up to June 4, rights groups said.
Six human rights activists, including the poet Liang Taiping, have been held by Beijing police since Thursday after holding a private ceremony commemorating "the brutal crushing of pro-democracy protests in Beijing", the mainland-based NGO Weiquanwang said.
The detained were suspected of "provoking quarrels and fomenting unrest", said the group, which also reported another activist had "disappeared" in recent days in the capital, according to Agence France-Presse.
5pm: Pro-democracy groups set up
Stalls belonging to various pro-democracy groups, including Demosisto, the League of Social Democrats and the Labour Party, lined pavement outside Tin Hau MTR station, with volunteers and members handing out leaflets to passers-by.
Labour Party lawmaker Cyd Ho Sau-lan, who was handing out leaflets at a stall, said she did not want to predict turnout at the vigil
"I'm not worried about the rain," she said. "If you're prepared to come out [to the rally] you'd not be afraid of getting wet."
4.30pm: A rally against the vigil
Around two dozen people gathered at a pro-Beijing rally in Tin Hau, near Victoria Park.
Patrick Ko, chairman of Voice of Loving Hong Kong and organiser of the rally, accused vigil organiser Alliance in Support of Patriotic Democratic Movements in China of capitalising on the June 4 incident for donations and political gains over the past 27 years.
"They said [the June 4] was a massacre. But they don't have any evidence," Ko claimed.
Demosisto set up a street stall near the pro-Beijing rally. A heavy police presence was on hand to keep the two groups apart.
4.21pm: Watching the weather
At 2.05pm, some six hours before the June 4 vigil is to commence, the Observatory issued a thunderstorm signal that was expected to stay in place until 5pm. Showers and squally thunderstorms were expected during the vigil.
The organiser has made no change to the vigil, which is confirmed to begin at 8pm.
http://www.scmp.com/news/hong-kong/politics/article/1964153/june-4-vigil-under-way-victoria-park-voices-independent-hong
Related:
Hong Kong prepares for June 4 vigil as stormy weather looms
Security Tight in Beijing on 27th anniversary of the bloody military crackdown on Tiananmen's pro-democracy protests of 1989 (Includes Pictures from 1989)
Tags: Albert Ho, China, Chinese University, Communist Party, democratic development in Hong Kong, Democratic Party, Hong Kong, Hong Kong Alliance in Support of Patriotic Democratic Movements of China, Hong Kong Federation of Students, Hong Kong for independence, Hong Kong pro-independence activists, human rights, Lee Cheuk-yan, mainland China, Richard Tsoi, rule of law, the need to build a democratic China, Tiananmen, University of Hong Kong