China has shown a much more aggressive approach in the South China Sea and East China Sea since the International Court for Arbitration made void China's vast sea claims in early July….
Filipino and Vietnamese activists display placards during a rally over the South China Sea disputes in front of a Chinese Consulate in Makati city, metro Manila, on Saturday, August 6, 2016. Reuters photo
Chinese Air Force flies 'combat patrols' over Spratlys, Scarborough Shoal in South China Sea

By Jesse Johnson
The Japan Times
August 6, 2016
China's air force has sent bombers and fighter jets on "combat patrols" near the disputed Spratly Islands and the flash point Scarborough Shoal in the South China Sea, the latest in a series of stepped-up military moves that Beijing has said will become a "regular practice."
The official Xinhua News Agency quoted military spokesman Shen Jinke as saying Saturday that the air force had sent aircraft, including several H-6K bombers, Su-30 fighters, early warning aircraft, reconnaissance planes and planes that can refuel in flight to airspace in the area.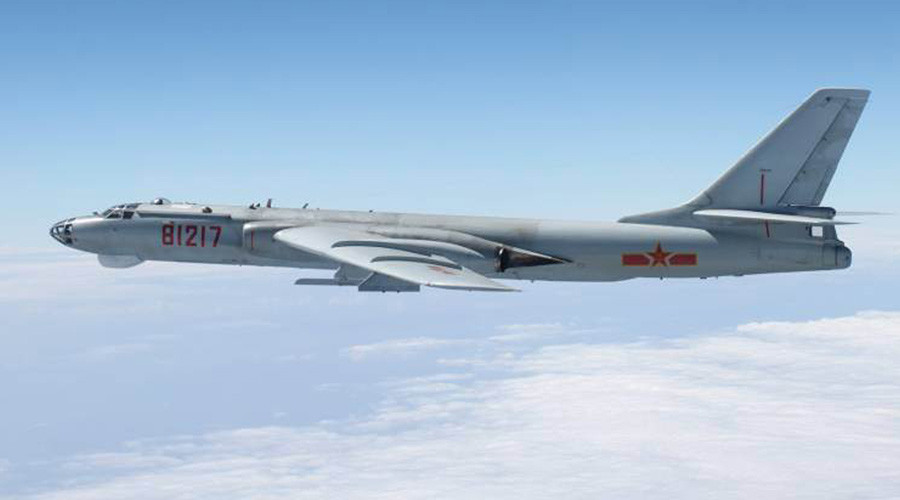 "The flight is part of actual combat training to improve the air force's response to security threats," Shen was quoted as saying.
"The air force is organizing normalized South China Sea combat patrols, practicing tactics … increasing response capabilities to all kinds of security threats and safeguarding national sovereignty, security and maritime interests," Shen added.
The report did not say when the patrols had occurred.
The dispatch comes after a similar announcement on July 18, less than a week after a U.N.-backed international tribunal rejected Beijing's historic claims to much of the South China Sea. Those flights were reportedly also near Scarborough Shoal, which the Permanent Court of Arbitration in The Hague ruled last month was entitled to 12 nautical miles (22 km) of territorial sea, since it has rocks above high tide.
Although the court did not say who owns the shoal, they acknowledged that fishermen from many nations, including the Philippines — which brought the case to the court — and China, have traditionally fished there. It said China had "unlawfully prevented" Filipino fishermen from operating their after seizing Scarborough in 2012.
The Spratlys and Scarborough Shoal are claimed by both China and the Philippines. Brunei, Malaysia, Taiwan and Vietnam also claim the Spratlys.
Beijing has blasted the court's decision, calling the proceedings as a "farce" and labeling the ruling "waste paper." China claims virtually the entire strategic waterway, through which more than $5 trillion in annual trade passes.
On Tuesday, Chinese Defense Minister Chang Wanquan warned of maritime security threats and called for increased preparations for what he termed a "people's war at sea," urging the military, police and public to prepare for mobilization to defend national sovereignty and territorial integrity.
And late last month, Beijing announced that it would hold joint naval drills in the South China Sea in September. The exercises, which the Defense Ministry called "routine," were not directed at any third party, it said.
China has stoked regional concerns after it constructed man-made islands on some of the features it controls in the South China Sea, building military-grade infrastructure, including airstrips and radar facilities on some of the islets.
Washington has conducted so-called freedom of navigation operations approximately every three months near some of China's man-made islands in the waters. In November, it flew B-52 strategic bombers over the Spratlys, where China maintains three military-grade airfields.
The U.S. has also flown A-10C attack planes through international airspace in the vicinity of Scarborough Shoal, just 230 km west of the Philippines.
U.S. Chief of Naval Operations Adm. John Richardson said during a visit to a Chinese naval base last month that the military would continue patrols in the waters.
The waters have become a staging ground for the growing U.S.-China rivalry and have stoked concern of an accident or clash.
http://www.japantimes.co.jp/news/2016/08/06/asia-pacific/chinese-air-force-flies-combat-patrols-over-spratlys-scarborough-shoal-in-south-china-sea/#.V6cYWPkrJD8
Related:
South China Sea: China sends bombers, fighter jets on combat patrols
Chinese malware spying on Philippines — China likely knows what Duterte has planned in the South China Sea
Search terms:
ADIZ, Admiral Katsutoshi Kawano, Airborne Early Warning Aircraft, AWACS, Brunei, China, China's air force, China's coast guard,Chinese bombers, Chinese coast guard, Chinese fighter jets, Chinese fishermen, Chinese fishing vessels, Chinese-controlled islands,Diaoyu, East China Sea, energy, fishing , illegal fishing, international arbitration ruling, Japan, Japan's Foreign Ministry, Malaysia, oil and gas, Permanent Court of Arbitration in the Hague, Philippines, scrambles, Senakaku, South China Sea, Taiwan,Testing Japan's resolve, U.S., Vietnam
Chinese fleet sails near Japanese Senkaku islands
Testy times for China and India
Japan objects as roughly 230 Chinese fishing vessels and six Chinese coast guard ships work near disputed East China Sea islands — "This is like a gang rape of illegal fishing. China is saying damn the law we take whatever we want."
A Pacific Admiral Takes China's Measure (U.S. Pacific Command, Admiral Harry Harris)
Japan-China War Of Words, Dispute Over Islands Escalates
Vietnamese Fishermen Return To The Sea Despite Harassment, Attacks and Boat Sinking From China
.
.
In June Japan accused China of sending a spy ship into its territorial waters as Tokyo conducted a joint exercise with the United States and India.
And last month the two countries were at loggerheads over accusations Japanese warplanes locked their fire control radar onto Chinese aircraft.
China threatens to 'take revenge' against Australia after disputing its rights in the South China Sea
South China Sea: Vietnam reacts sharply to Chinese defense minister's call for war
South China Sea: China Tells Citizens To Prepare for War
U.S., Japan, South Korea Call North Korea's Recent Missile Tests "Provocative Acts"
China Coast Guard — In this photo released by the 11th Regional Coast Guard Headquarters of Japan, a Chinese coastguard vessel sails near the disputed islands in the East China Sea on August 6, 2016. AP
South China Sea: Russia, China Gearing Up For "Joint Sea-2016" Military Exercise in September — But Where, Exactly?