The Associated Press
HANGZHOU, China – US President Barack Obama says he has asked his staff to assess whether it would be productive for him to meet with Philippine President Rodrigo Duterte. This, after Duterte warned Obama not to question him about extrajudicial killings in his country.
.
Obama was asked at a news conference in China on Monday whether he intends to meet Duterte, as planned, at a gathering in Laos this week of the Association of Southeast Asian Nations.
.
Duterte said Obama should not question him about extrajudicial killings, or, as he put it, "son of a bitch, I will swear at you" when they meet in Laos.
.
http://globalnation.inquirer.net/143897/obama-uncertain-hell-meet-duterte-at-asean-summit
Related:
Philippines' President Duterte calls U.S. President Barack Obama 'son of a whore'
UN Security Council and UN Secretary-General Ban Ki-moon Condemn Davao Bombing — Stress That The Philippines Must Bring Perpetrators to Justice
the head of the Catholic Bishops' Conference of the Philippines (CBCP) criticized anew the Duterte administration's bloody war on drugs, saying crime can be fought without killing the offenders.
In a pastoral message read in all churches in his archdiocese yesterday in place of the Sunday homily of priests, CBCP president and Lingayen-Dagupan Archbishop Socrates Villegas said death ends all possibilities to change.
"Who are we to judge that this offender is hopeless?" Villegas said.
"We do not hold the future in our hands. There is no certainty that someone is beyond correction. The goal of justice is not revenge. The goal of justice is restoration of harmony," he added.
Villegas also noted that in the pursuit of criminals, innocent lives have become victims of mistaken identities.
"We know it. Nobody is perfect. Even those who work for peace and order can be mistaken. Our hearts grieve for the innocent murdered ones. Guns do not make mistakes. Trigger-happy vigilantes do," he said.
The prelate also urged the faithful to pray for those killed in Duterte's war on drugs whether they were innocent or guilty, noting that the victims' blood cries not for vengeance but pleads for an end to violence.
See more:
Philippines: Drug War Kills 96 People in 3 Days
Philippine President Rodrigo Duterte Starting to Look Like an Unhinged Maniac — People of The Philippines may be enjoying the show but it could be hurting the nation…
Peace and Freedom Commentary
Almost every day now, Filipino friends send us their darkest worries about the direction their country has taken under new President Rodrigo Duterte.
Police executing people without any due process, legal counsel, hearing or explanation puts the Philippines into a class with the most hated regimes in the history of the world.
What's next? Hitler Youth? Death Camps? Medical experiments on other human beings?
The Philippine people deserve better. Death squads are not the same as Jurisprudence.
Saying the President of the United States "MUST LISTEN TO ME" is outrageous ego run amok.
Before long — nobody will be listen to Mr. Duterte if he continues on this path.
Maybe the listener he needs the most is a  psychiatrist ….
The world is watching as China destroys the ecosystem in the South China Sea. Mr. Duterte seems so friendly with his Chinese masters that it looks like he may beg for permission to allow Filipino fishermen to return to Scarborough Shoal. This after the Permanent Court for Arbitration in The Hague dismissed China's claims as rubbish on July 12, 2016.
But of course, a president lawlessly killing his own countrymen can't be expected to realize that his big Chinese neighbor is using him for their own lawless gains. Even if Mr. Duterte takes some big bribes — he will end up morally bankrupt, alone and dead —  buried in disgrace next to the last disgraced Philippine President who lived for his own gain while the Filipino people suffered under a lawless regime…
Related:
Philippines: Protest Against "Hero's Burial" for Ferdinand Marcos — "People Power" Alive in Manila
*************************
Foreign Funds Pull Cash Out of The Philippines
Bloomberg News
August 31, 2016 — 6:00 PM EDT  — 
Updated on September 1, 2016 — 4:54 AM EDT
.
The honeymoon is over for Philippine stocks.
Equities in the Southeast Asian nation, which soared to a 15-month high after Rodrigo Duterte won the presidency in a landslide election in May, sank last month to cap the region's steepest drop. The Philippine Stock Exchange Index has erased all of its rally since Duterte took office in June, while valuations are still near the most expensive level since 2013. The gauge sank 0.2 percent to the lowest close in almost two months Thursday, its seventh day of losses.
Foreign fund managers pulled money out of the Philippines last week at the fastest pace since September, helping to accelerate the stock slide. While they've still added to investments in the nation's $276 billion equity market under Duterte, the shift in sentiment presents a challenge for the blunt and unpredictable leader as he tries to deliver on his economic growth pledges.
"It's not a cheap market and as a fund manager I can't find a good stock to buy," said Singapore-based Raymond Kong, who oversees $2.5 billion at One Asia Investment Partners. "I have made good money in the Philippines, took some profit and moved to other Asean markets that give me more value and growth."
The Philippine gauge rallied 33 percent from a January low through the July 21 peak as Duterte vowed to cut corporate taxes, relax business restrictions and ramp up infrastructure spending, while talking tough against crime, corruption and vice. Even after August's 2.2 percent slide, the equity measure is still up 12 percent this year. The Philippine peso, meanwhile, had the best performance among Asian currencies in August.
Foreign investors, who pumped $1.3 billion into the stock market this year through Aug. 11, have taken some money off the table. After a 12-week stretch of purchases, overseas investors have withdrawn $248 million since the middle of August, closing the month with $34 million in outflows, the first in four months. The equity index is valued at 18.7 times 12-month projected earnings, near the most expensive level since May 2013.
"A lot of the good news now is in the price," said Steve Brice, Singapore-based chief investment strategist for wealth management at Standard Chartered Plc. "That's why we're seeing the stock market taking steps back. We've come a long way. We're doing really well. What's the next catalyst for giving even better from our perspective?"
Some of the declines in Manila can be attributed to a broader pullback. Emerging-market equities came under pressure in the second half of August as investors weighed the chances of higher U.S. interest rates ahead of comments from Federal Reserve Chair Janet Yellen. The MSCI Emerging Markets Index dropped 2.1 percent from Aug. 18 when it reached the highest in more than year.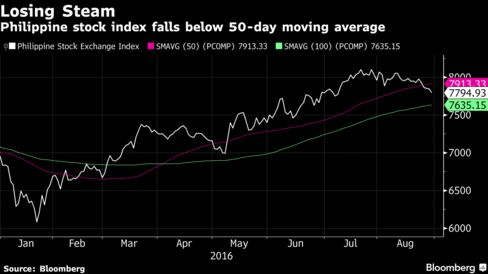 Some investors speculate about the impact of Duterte himself on the markets. Finance Secretary Carlos Dominguez has said the president is pursuing policies that will create jobs, boost growth and lead to higher credit ratings. Yet Duterte has also begun crackdowns on major industries in the Philippines.
For a QuickTake on the Philippines, click here
The president has gone after miners in the world's biggest nickel ore supplier. The government's audit of standards in the mining sector has led to shutdowns of several mines as he seeks to ensure that all of them comply with environmental and welfare standards. He then zeroed in ongambling, ordering a stop to online gaming that sent the shares of PhilWeb Corp. and Leisure & Resorts World Corp. slumping. He has since said he may reconsider provided they pay the right taxes and follow the prescribed zoning rules.
Meanwhile, about 2,000 people had been killed in Duterte's campaign against illegal drugs, which has raised concerns from the United Nations and added to anxiety for some investors.
"It's unclear how the new president is going to behave going forward," said Mark Mobius,  executive chairman of Templeton Emerging Markets Group who is least bullish on the Philippines. "If there is a feeling that the rule of law is going out the window in the Philippines, then this would not be good news. But the jury is still out."
Growth Aid
Not everyone is worried.
Economic activity in the Philippines remains robust, and Duterte should be able to deliver results that would bolster investor confidence, said Soo Hai Lim, investment director at Baring Asset Management (Asia) Ltd. in Hong Kong.
"There's sufficient tailwinds for the economy," he said. "For the next 12 months, Duterte should be able to deliver what the investors would like to see."
Gross domestic product increased 7 percent in the second quarter, the fastest pace in three years, topping estimates and beating the first quarter's expansion. Duterte's administration sees a steady acceleration in growth to 7 percent to 8 percent in the medium term.
"I'm structurally positive on the Philippines and have a long-term strategic overweight," said Alan Richardson, a Hong Kong-based fund manager at Samsung Asset Management Ltd. "Flow data is hot money reacting to high-frequency news flow such as U.S. interest-rate policy. Government policy action will drive long-term fund flows because growth fundamentals with low inflation and low debt are the ultimate drivers."Corporate earnings and economic growth were not spectacular enough to support the rich valuations, said John Padilla, who helps manage about $9 billion at Metropolitan Bank & Trust Co., the Philippines's third-largest money manager. He said Metropolitan Bank moved the equity positions in its portfolio to neutral.
"For a time a lot of us thought the elevated valuation was the new normal and will be sustained," Padilla said, but the data is giving investors reason to step back. Nevertheless, he added, he's willing to give Duterte a year "to get things running."
http://www.bloomberg.com/news/articles/2016-08-31/duterte-s-stock-rally-withers-as-foreign-investors-pull-cash-out
Related:
***************************
These are the bodies of men killed in President of the Philippines Rodrigo Duterte's bloody war on illegal drugs:
Two women cry in grief after armed assailants in a motorcycle shot their loved one in a main thoroughfare on July 23, in Manila
.
The body of three alleged drug suspects lie inside a room littered with pink toys and a Hello Kitty cushion. A gun can be seen by one of the men's feet
.
A crime scene shows where an alleged drug dealer was killed. There has been at least 300 drug related deaths since the start of July
.
An alleged drug dealer and victim is found with his head wrapped in tape
.
A man in a blood soaked white t-shirt lays curled up on the ground next to a handgun
.
Another two bodies are seen in alleyways after being shot dead in Manila, The Philippines
An alleged drug dealer and victim is seen here with his hands bound and his head wrapped in tape
.
A woman clutches her dead husband in grief after armed assailants on a motorcycle shot him in a main thoroughfare on July 23
The wife of the victim said he was not a drug peddler and that he was nothing more than a pedicab driver plying his trade when he was shot in front of her
A funeral services worker in a yellow t-shirt is seen alongside police as another body of an alleged drug dealer is recovered in Manila
.
Local people line up behind a yellow police crime scene tape as police carry out an investigation in Manila
.
Funeral workers transport bodies of alleged drug dealers and victims of summary executions inside a funeral parlor on July 27
.
The body of an alleged drug dealer waits to be transported to a funeral home in Manila
This picture was taken at midnight after a drug raid in a large shanty community of the port area district on July 21, 2016 in Manila
A Filipino woman grieves the loss of her husband, next to a placard which reads 'I'm a pusher'. The man was shot dead by an unidentified gunman in Pasay City, south of Manila, Philippines
Duterte has also told police he would protect them from legal consequences if they killed drug dealers, the South China Morning Post reported.
Picture shows the body of a killed Filipino allegedly involved in illegal drugs. Police have confirmed killing more than 110 drug suspects since president Duterte came to power
Police officers investigate the body of an alleged drug dealer, his face covered with packing tape and a placard reading 'I'm a pusher', on a street in Manila
At least 43,000 alleged drug traffickers have been 'neutralised' and 300kg of shabua, a highly addictive methamphetamine, has been confiscated
Read more: http://www.dailymail.co.uk/news/article-3710940/Harrowing-pictures-brutal-truth-Philippines-war-drugs-s-seen-300-killed-just-one-month-president-ordered-police-bars-ground.html#ixzz4JO0QuUb2
Follow us: @MailOnline on Twitter | DailyMail on Facebook
Tags: ASEAN, Ban Ki-moon, China, due process, extrajudicial killings, human rights, Laos, Philippines, Philippinesm Davao City bombing, rule of law, Security Council, son of a bitch, son of a whore, South China Sea, Summary executions, The Philippines Must Bring Perpetrators to Justice, U.S., UN Secretary General Ban Ki-moon, United Nations