Announcement of diagnosis comes after the Democrat left a 9/11 memorial ceremony
Twitter screen grab
Updated Sept. 12, 2016 12:01 a.m. ET
Hillary Clinton's campaign said Sunday she had been diagnosed with pneumonia and would cancel a planned two-day swing through California, hours after the Democratic presidential nominee abruptly left a 9/11 memorial ceremony in New York for what her aides described as her feeling "overheated."
The diagnosis, coupled with a remark by Mrs. Clinton late Friday criticizing some Trump supporters as a "basket of deplorables," is an unwelcome distraction for a campaign facing a tightening of polls in recent weeks.
Amateur video taken Sunday near Ground Zero in New York showed Mrs. Clinton looking wobbly as she got into her motorcade with an assist from staff and Secret Service agents. The 68-year-old went to her daughter's apartment and emerged about two hours later, waving at the waiting cameras.
"I'm feeling great," she said. "It's a beautiful day in New York."
MORE IN POLITICS
Her Republican challenger, businessman Donald Trump, has sought to fan concerns about Mrs. Clinton's health, questioning her stamina and chiding her for keeping what he says is a light campaign schedule.
Mrs. Clinton's doctor examined the candidate at her home in Chappaqua, N.Y., later Sunday and said in a written statement that she had been diagnosed two days earlier with pneumonia. The doctor on Sunday said she had been dehydrated and overheated and was "recovering nicely."
The Clinton campaign didn't respond to a request for comment about why they didn't reveal the diagnosis earlier. Mr. Trump hadn't commented on the matter as of Sunday night.
The campaign said Mrs. Clinton was canceling a planned trip to California on Monday and Tuesday. She had planned to attend fundraisers and tape an appearance on Ellen DeGeneres's talk show.
Mr. Trump, who is 70, has called on Mrs. Clinton to release more detailed medical records. In December 2012, Mrs. Clinton fainted and suffered a concussion. She was hospitalized and treated for a blood clot in her head.
In July 2015, her personal physician wrote a letter saying Mrs. Clinton was in "excellent physical condition and fit to serve" as president. The letter said Mrs. Clinton suffered from hypothyroidism and seasonal pollen allergies.
With polls showing voters question Mrs. Clinton's honesty, the delay in revealing her condition after Sunday's incident could further damage her credibility, critics said.
"I can't understand the Clinton operation. You have to frankly tell people what happened and do so right away," said Ari Fleischer, White House press secretary under President George. W. Bush. "If you do that, these things really are not big deals. They only become big if it doesn't appear you're dealing straight."
Mr. Trump himself has come under attack for putting out few details about his health.
The Clinton campaign's recent difficulties stand in contrast to a summer in which its allies saw a position so commanding they didn't think Mrs. Clinton needed to do much in the way of campaigning. She spent parts of August holed up in private fundraising events.
Mr. Trump, meanwhile, was on the defensive over a back-and-forth with a Gold Star military family and over other comments. The Republican ousted top campaign advisers and hired new ones, and Mrs. Clinton largely kept out of the spotlight.
But the release in recent weeks of new documents on Mrs. Clinton's use of private email while secretary of state, as well as news coverage about Mrs. Clinton's ties to her family foundation's donors, have weighed on her poll numbers. An average of polls by Real Clear Politics shows Mr. Trump down by just 3 points.
RELATED
Whit Ayres, a Republican pollster, said polls showing that so many voters view Mrs. Clinton as unlikable and untrustworthy are "all you've got to know to figure out why this race is reasonably close." Polls have shown Mr. Trump regarded even more unfavorably.
A fresh round of polls shows the race tightening in important battleground states. A pair of Democratic states in the last two presidential races—Nevada and New Hampshire—are now too close to call, according to a new Wall Street Journal/NBC News/Marist poll.
Another potential problem for the campaign was the remark Friday night. Assessing some of Mr. Trump's voters at a fundraiser, Mrs. Clinton said about half fall into what she called "the basket of deplorables."
The next day, Mrs. Clinton had put out a statement saying she was "wrong" to have demeaned some Trump voters in this fashion.
"There's no value in attacking a candidate's voters for how they vote," said Chris Kofinis, a Democratic strategist. A better strategy, he said, is to keep the focus squarely on one's opponent.
Mrs. Clinton still profits from an electoral map that gives Democrats an edge in the race for 270 electoral college votes. And the same Wall Street Journal/NBC News/Marist poll also offered troubling news for Mr. Trump. In two reliably Republican states, Mr. Trump led only narrowly: In Arizona, by one percentage point; in Georgia by three.
The Journal/NBC News/Marist results show how the traditional electoral map is being scrambled in a year that could see a realignment of both parties' coalitions.
Mr. Trump is making inroads among working-class, white men but alienating many Hispanic voters with his rhetoric about Mexico and illegal immigration. Mrs. Clinton is scoring gains among college-educated white voters, a bloc that Republicans have carried handily in the past.
"As we enter the final lap of this very unconventional election, it would not be surprising if the electoral map, in the end, has new contours," said Lee M. Miringoff, director of the Marist College Institute for Public Opinion. "Any of these four states [Nevada, New Hampshire, Arizona and Georgia] could awaken a fault line in what is looking more and more like a shake-up election, with more states being up for grabs."
These four states have historically been less competitive than vote-rich battlegrounds such as Ohio and Florida. President Barack Obama won New Hampshire and Nevada by more than 5 percentage points in 2012, while GOP nominee Mitt Romney won Georgia by nearly 8 points and Arizona by 9.
Now, the states look more competitive. Sensing opportunities in traditionally Republican territory, Mrs. Clinton is airing advertising in Georgia and Arizona.
The polls found that voting patterns in these four states are similar to trends in other places, with Mrs. Clinton leading among women and Mr. Trump winning among men.
—Laura Meckler contributed to this article.
Write to Peter Nicholas at peter.nicholas@wsj.com and Janet Hook at janet.hook@wsj.com
http://www.wsj.com/articles/hillary-clintons-pneumonia-jolts-the-presidential-race-1473639623
Related:
***************************
The Independent
The issue of Hillary Clinton's health has moved front and centre to the presidential election campaign after her doctor said she was being treated for pneumonia – hours after she stumbled and felt unwell at a 9/11 memorial service.
Dr Lisa Bardack said Ms Clinton was "recovering nicely" after attending the event in lower Manhattan on Sunday morning. Ms Clinton was seen on video struggling to stay on her feet, and had to be helped by Secret Service staff as she got into a vehicle to leave the event early.
Ms Clinton, 68, was due to fly to San Francisco and Los Angeles on Monday, but a campaign official said she had cancelled the two-day California trip that was to include a key speech on the economy and fundraising events.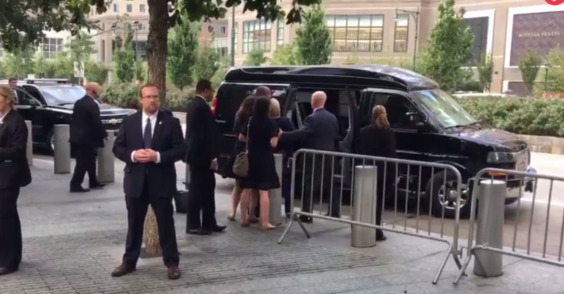 The huge injection of drama into the campaign came as Ms Clinton's lead over rival Donald Trump had been slipping, both nationally and in some of the crucial swing states that will likely decide the race. Her campaign has also been fighting allegations from Mr Trump and his supporters that she is seriously unwell and trying to conceal something from the public.
On Sunday evening, US media were quick to ask why, given that Ms Clinton was apparently diagnosed with pneumonia on Friday, her campaign failed to disclose this until it was effectively forced to do so.
Mr Trump, who also attended the same event as Ms Clinton, was conspicuously silent about the development, his only comment on the 15th anniversary of the attacks on New York and Washington, being a statement calling on people to pray for those lost in the Al-Qaeda assault that left almost 3,000 people dead.
Asked by a reporter about the incident, Mr Trump said: "I don't know anything."
News that Ms Clinton had stumbled and left early from the event was first reported by Fox News, one of the channels which has been providing a platform for opponents of the candidate to make allegations about her health.
It said she had left early after standing for 90 minutes in the humidity at Ground Zero. She walked away from the ceremony but was seen to trip and  stumble as she climbed into a waiting van.
For an hour-and-a-half, the media pool traveling with her had no idea where she was, and the candidate's campaign declined to provide details.
It then transpired that Ms Clinton had been driven to her daughter's apartment in the Flatiron neighbourhood of the city. Around noon, she emerged, walking by herself, and waving to the media and waiting crowds.
She briefly posed for a photograph with a young girl. To a shouted question from a reporter as to whether she felt better, she said: "Yes, thank you."
"I'm feeling great," Ms Clinton said. "It's a beautiful day in New York."
Her campaign spokesman said that Ms Clinton had left the event because she had overheated.
"During the ceremony, she felt overheated so departed to go to her daughter's apartment, and is feeling much better," spokesman Nick Merrill said in a statement.
Ms Clinton was then taken to her home in upstate New York where the media gathered in a nearby hotel. It was then that Ms Clinton's doctor issued the details about her diagnosis.
Ms Bardack said that Ms Clinton had had an allergy-related cough, and that during a follow-up examination Friday, the candidate was diagnosed with pneumonia, put on antibiotics, advised to rest and modify her schedule.
"I have just examined her and she is now rehydrated and recovering nicely," she said, according to the Associated Press.
It remains unclear how serious Ms Clinton's condition is, and how much it will impact her campaign. What is clear is that the episode looked serious, and was being used by her critics as evidence of her unsuitability for the White House.
With many polls showing Ms Clinton's lead over Mr Trump narrowing, she created controversy last Friday by claiming that half of Mr Trump's supporters were a "basket of deplorables" – a comment that drew sharp criticism from Republicans.
Ms Clinton later said she regretted applying that description to "half" of Mr Trump's backers, but stuck by her assertion that the Republican nominee has given a platform to "hateful views and voices".
Mr Trump and Ms Clinton are among the oldest candidates to contest for the White House in US political history. Mr Trump has sought to question Ms Clinton's physical and mental ability to do the job. Ms Clinton and her supporters have repeatedly questioned the New York tycoon's temperament.
Ms Clinton suffered concussion in December 2012 after fainting. Her doctor attributed that episode to a stomach virus and dehydration.
Ms Clinton's doctor reported she is fully recovered from the concussion, which led to temporary double vision and discovery of a blood clot in a vein in the space between her brain and skull.
Ms Clinton also has experienced deep vein thrombosis, a clot usually in the leg, and takes the blood thinner Coumadin to prevent new clots. In July 2015, Ms Clinton issued a detailed two-page letter from her physician that included the concussion.
READ MORE
Mr Trump's personal physician has said the Republican presidential nominee is in excellent health both physically and mentally. But the former reality television star has refused to release his own health records.
Dr Harold Bornstein's report last December remains the only medical information released so far by the Mr Trump campaign.
Mr Bornstein told NBC News he needed just five minutes to write a glowing public assessment of Mr Trump's health as a limousine waited to carry the letter back to the tycoon.
http://www.independent.co.uk/news/world/americas/us-elections/hillary-clinton-collapse-democratic-candidate-diagnosed-with-pneumonia-after-stumbling-at-911-event-a7237551.html
See also:
http://www.rrstar.com/zz/news/20160911/video-clinton-stumbles-struggles-to-walk-as-she-enters-van-to-leave-911-memorial
Tags: 9/11 memorial ceremony, Basket of Deplorables, blod clot, blood thinner Coumadin, California trip, Clinton's campaign, concussion, Deplorables, details about her health, diagnosed with pneumonia, Diagnosed With Pneumonia Friday,, Hillary Clinton, Hillary Clinton's Campaign, Hillary Clinton's health, pneumonia, Trump, unlikable, untrustworthy