BBC
Under the truce, moderate rebel groups are required to separate from militant factions. Reuters
Russia's military says rebel groups have increased attacks in Syria despite a ceasefire and has urged the US to act or be responsible for its collapse.
Russian generals said attacks by rebels, some US-backed, had increased sharply over the past 24 hours.
Gen Viktor Poznikhir said the rebel groups had "not met a single obligation" of the truce.
President Vladimir Putin earlier accused the rebel groups of exploiting the ceasefire to regroup.
Russian General Vladimir Savchenko said "the situation in Syria is worsening", with 55 attacks over the past 24 hours, leading to the deaths of 12 civilians.
Gen Poznikhir said Russia, an ally of the Syrian government, was doing all it could to rein in Syrian troops.
"If the American side does not take the necessary measures to carry out its obligations… a breakdown of the ceasefire will be on the United States," he said.
"The United States and the so-called moderate groups they control have not met a single obligation they assumed in the framework of the Geneva agreement."
The terms require moderate rebel groups to separate themselves from jihadists.
"Without separating, the government troops' hands are tied," Gen Poznikhir said.
"Our repeated messages to the American side are left without a response.. There is doubt that the US is able to influence the moderate opposition they control."
Ceasefire breaches have been reported from both sides since the truce began.
Numerous ceasefire breaches by Syrian government troops and rebel groups have been reported. AFP
Russian Foreign Minister Sergei Lavrov and US Secretary of State John Kerry spoke by telephone on Saturday.
Mr Lavrov said he had urged the publication of the Syria ceasefire document, echoing a call from Mr Putin, and for US military officials to be deployed to monitor the truce.
A US National Security Council spokesman said: "While there have been challenges on both sides, violence is considerably lower and the cessation is broadly holding.
"What we're not seeing is humanitarian aid getting through and it will be hard to build confidence on the ground until that occurs."
Aleppo aid
In televised remarks during a visit to Kyrgyzstan, Mr Putin said Moscow was keeping to its obligations under the truce, and the Syrian government was "fully abiding" by the agreement.
But he said that the US seemed to be trying to maintain the rebels' military capability in its conflict with the government, adding that this was a "dangerous path".
Mr Putin said the apparent US policy of shoring up the rebels was "dangerous" — Reuters
"What we're seeing now is not the separation of the terrorists from the healthy part of the opposition but an attempt by these terrorists to regroup," he said.
Previously Moscow has threatened to resume air strikes on "moderate" rebel groups if this separation did not happen.
If the ceasefire holds for seven days, the US and Russia have agreed to plan joint attacks on the Jabhat Fateh al-Sham group, which was previously known as the al-Nusra Front, and on IS.
The UN says it is still waiting to be able to deliver aid to the besieged city of Aleppo.
Some 20 trucks have been waiting since Monday for safe passage from Turkey into Syria and on to rebel-held east Aleppo.
However, the UN says it has not yet received permits from the Syrian government to allow the trucks into opposition areas, where at least 250,000 people are in desperate need of food and medicine.
Truce's days may be numbered – BBC's James Longman, Beirut
This was meant to be a trust-building exercise, but nearly a week after the truce began, the blame game has begun.
There was deep scepticism from the rebels about details in the plan which called for their separation from extremist groups. That is why they never formally accepted the deal.
It was always a major sticking point. Were US backed groups supposed to surrender territory to Jabhat Fateh al-Sham? Or were they required to fight them? It was never clear. Either way, the stipulation would leave them far weaker on the battlefield. But refusing and standing in the way of much-needed humanitarian aid would not have been popular.
Now this weekend, the main rebel groups are due to meet to discuss their position. Their mistrust of the government and its Russian allies runs deep. They see the obstruction of aid deliveries on the border as a stalling tactic, and one which they have seen before.
If aid doesn't reach besieged areas soon, the ceasefire's days are numbered. And co-ordinated strikes against IS won't happen.
.
*********************************
US Secretary of State John Kerry with Russian Foreign Minister Sergei Lavrov meeting in Geneva on August 26, 2016. © MARTIAL TREZZINI / POOL / AFP
.
U.S. Department of Defense officials have told Peace and Freedom that President Obama wanted to go ahead with this current cease fire plan, crafted by U.S. Secretary of State John Kerry and Russian Foreign minister Sergei Lavrov.
.
Mr Kerry and Mr. lavrov worked closely together on previous negotiations like the Iran nuclear deal.
But U..S. Secretary of Defense and perhaps also U.S. Chairman of the Joint Chiefs of Staff General Joseph Dunford rejected the deal. Mr. Carter said he did not trust the russian side to honestly impliment the cessation of hostilities.
.
But President Obama went ahead with the plan anyway, supporting his long serving Secretary of State John Kerry.
.
.
********************************************
.
From Combined wire service reports including AP, AFP and Reuters
.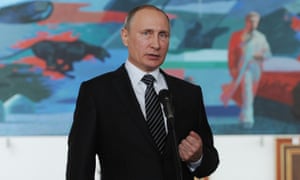 Vladimir Putin says he remains 'more positive than negative' about the truce. Photograph: Michael Klimentyev/AFP/Getty Images
Russian president: opposition has 'half-criminal and terrorist elements'
Lavrov and Kerry discuss situation in phone call, Russia says
President Vladimir Putin on Saturday questioned US commitment to the ceasefire established in Syria, suggesting Washington was not prepared to break with "terrorist elements" battling forces loyal to Syrian president Bashar Assad.
The truce has largely held since going into effect on Monday, but both sides have alleged dozens of violations and aid convoys have been unable to enter rebel-held parts of the northern city of Aleppo – a key opposition demand.
Russia has accused Washington of failing to rein in the rebels, and on Saturday Putin asked why the US has insisted on not releasing a written copy of the agreement. Officials have provided details of the agreement in press conferences, but have not released an official document, fueling suspicions on both sides.
"This comes from the problems the US is facing on the Syrian track – they still cannot separate the so-called healthy part of the opposition from the half-criminal and terrorist elements," he said during a trip to Kyrgyzstan.
"In my opinion, this comes from the desire to keep the combat potential in fighting the legitimate government of Bashar Assad. But this is a very dangerous route."
He appeared to be referring to the Fatah al-Sham Front, an al-Qaida-linked group previously known as the Nusra Front, which is deeply embedded in rebel-held areas and fights alongside more moderate groups.
Russian foreign minister Sergey Lavrov echoed Putin's remarks during a phone call with US secretary of state John Kerry. Lavrov noted the "refusal by an array of illegal armed groups to join the ceasefire", and Washington's obligation to "separate units of the moderate opposition from terrorist groupings", according to a Russian foreign ministry statement.
Under the ceasefire agreement, the US and Russia would work together to target the Fatah al-Sham Front, as well as the Islamic State group, while Assad's forces refrain from striking opposition-held areas.
But Washington has warned Russia that unless aid is delivered to Aleppo, it will not move ahead with the formation of the joint coordination center.
The United Nations has accused Assad's government of obstructing aid access to the contested city. The Russian military says insurgents have held up the delivery by firing on government positions along the main route leading into besieged, rebel-held districts, in violation of the cease-fire.
Russia's military said Syrian rebels violated a cease-fire 55 times in the past day, including with strikes on military and civilian targets in Aleppo. Syria's state news agency SANA said insurgents had violated the ceasefire 12 times in the last 12 hours.
The Interfax news agency quoted Colonel Sergei Kopytsin as saying on Saturday that mortar fire and homemade rockets struck Aleppo 26 times. Russian news agencies cited another official, Lieutenant General Vladimir Savchenko, as saying there had been 55 violations throughout the country. No casualties were reported.
Syrian activists said government forces have meanwhile killed five civilians. The UK-based Syrian Observatory for Human Rights said a woman and child were killed Saturday in Talbiseh, in the central Homs province. It said two men were killed outside Damascus and a child was killed in Aleppo province.
The Syrian Civil Defense group in Homs said government artillery caused the deaths in Talbiseh. A video of the rescue mission showed bodies strewn across the ground.
Syria's conflict has killed more than 300,000 people and displaced half the country's population since March 2011.
Tags: Aleppo aid, Ash Carter, Assad, Bashar Assad, ceasefire, Daesh, Dunford, Free Syrian Army, Free Syrian Army rebels, humanitarian air not yet delivered to Aleppo, Iran Nuclear Deal, Islamic state, Jabhat Fateh al Sham, John Kerry, Obama, previously known as the al-Nusra Front, Putin, Russia's military says rebel groups have increased attacks in Syria, Russian General Vladimir Savchenko, situation in Syria is worsening, Syria, Syrian government, Syrian government artillery, Talbiseh, U. S., U.S. Chairman of the joint Chiefs, US special forces, US unease over joint air action with Russia, US-backed rebels