Nobody seems able to explain the strategy, the costs, and what a "victory" looks like….
Peace and Freedom asked five different drug treatment professions to estimate the cost of treating the Philippines estimated 3.7 million drug addicts. The lowest estimate was $4 Billion (U.S. dollars). The highest estimate was over $8 Billion.
******************************
Saying he was shocked by the extent of the drug problem, President Duterte yesterday asked for six more months to put an end to the drug menace and criminality, setting aside a promise that helped him achieve an overwhelming victory in the 2016 polls.
Duterte, who vowed to end drugs and curb crime in the first six months of his presidency, said he had not expected the drug problem to be so serious. Now he wants more time "to put everything in order."
"Just give me a little extension of maybe another six months. I did not have any idea that there were hundreds of thousands already in the drug business," Duterte said in a press conference in Davao City last night.
"What makes it worse," he said, is that "people in government" are now running the drug trafficking operations.
Duterte, whose tough stance on crime enabled him to win by a landslide with 16.6 million votes, said his administration is trying its best to address kidnapping, terrorism, drugs and other security concerns.
"That self-imposed time of three to six months, I did not realize how severe the problem of the drug menace is in this republic until I became president," Duterte said.
He said his war on drugs had opened a can of worms.
"Nobody would believe there are about 700,000 new guys in the drug business who surrendered to the police and military," he said.
Duterte has promised to bare a new list of about 1,000 government employees involved in illegal drugs.
"The problem is I can't kill them all," the President said. "Even if I wanted to, I can't kill them all because the last report would be this thick."
Duterte said prominent on the list are barangay or village chiefs who are conniving with or extending assistance to terrorists and drug lords.
The prevalence of village officials with connections to illegal drugs, he added, is the main reason why he is in favor of postponing the barangay polls.
"We have narco-politicians in the lowest government unit, which is the barangay. That will be the start of maybe our perdition and agony," the President said.
"I receive reports from the military, police and the validation of PDEA (Philippine Drug Enforcement Agency). The list is there before me about two months ago but I ordered revalidation just to make sure," he added.
Duterte said policemen are no longer allowed to serve as bodyguards of barangay captains to "defang" village officials who are into illegal drugs.
"If you're afraid of being killed in rural areas with NPAs (New People's Army), don't run for public office. Find another occupation," he said.
Officials said there are about 3.7 million drug addicts in the Philippines, a figure that they said reflects a problem of "epidemic proportions."
.
To address the problem, Duterte declared a brutal war against drugs, a campaign that has so far claimed the lives of about 3,000 suspected drug offenders.
http://www.philstar.com/headlines/2016/09/19/1625289/rody-wants-6-more-months-war-drugs-crime
*************************
Peace and Freedom asked five different drug treatment professions to estimate the cost of treating the Philippines estimated 3.7 million drug addicts. The lowest estimate was $4 Billion (U.S. dollars). The highest estimate was over $8 Billion.
*************************
Philippines says President Duterte's war on drugs a success with narcotic supply cut by 90%
Rising number of vigilante killings a 'cause for concern', says President's Office.
September 11, 2016 22:59 BST
While acknowledging that the rising number of murders of drug traffickers attributed to vigilanteswas a "cause for concern", The Philippines has said that President Rodrigo Duterte's war on illegal drugs has been a success.
Illegal drugs supply in the country has been cut by as much as 90% in just two months, officials claim. A Philippine National Report released on Saturday (10 September) said that a total of 1,466 suspected people involved in drugs were killed during police operations. Another 1,490 were killed by suspected vigilantes since Duterte took over as President.
More than 16,000 suspects involved in illegal drugs have been arrested while the number of those who voluntarily handed themselves in numbered 700,000,the Philippines Star reported.
"The police operations have been a success," Martin Andanar, the Presidential Communications Office Secretary told a government radio station on Saturday 10 September. However, he added: "But the killings that have something to do with gang wars or internecine since they eliminate each other, of course that is a cause for concern."
Andanar said: "These do not fall under the ambit of the law." He added that the authorities were investigating the killings, which have drawn protests from human rights advocates.
Police chief says drugs supply severely cut
Meanwhile The Philippines National Police Director General Ronald dela Rosa said in Zamboanga City said that the drug war launched by Duterte has resulted in the supply of illegal drugs being cut by up to 90%. "We have severely cut the head of the supply."
In addition, drug lords held in prison facilities have also seen their drug activities severely curtailed after convicted drug lords were stopped from operating their drugs trade from within the prison facility.
"They [drug traffickers] cannot order [drugs] because they have no cell phones. So there's no supply coming in and they could not distribute," Dela Rosa said. The war however is not over as there are still some drug lords operating in Binondo and big hotels in Manila, he warned.
Duterte pushes for revival of death penalty
According to the newspaper, Duterte reiterated the need to revive the death penalty to address the country's growing drug problem, which he claims has reached "epidemic proportions." He says that there are 3.7 million drug addicts in the Philippines.
Addressing the Filipino community in Indonesia on 9 September, he said: "We do not have a death penalty. So who would impose the death penalty? It would be Duterte."
On his return from the ASEAN Summit in Laos, he told reporters that he had highlighted the Philippines "grave concern over the social illness that breeds corruption at the highest levels, tears apart the fabric of our society and the basis of human dignity."
"I said our campaign against illegal drugs will be relentless, and it will be comprehensive, encompassing, suppression, prosecution and rehabilitation. All these measures are within the laws. I called on greater cooperation in the region, particularly in the capacity building and law enforcement efforts," he said.
Indonesia keen to implement anti-drug crackdown as well
The Presidential Office also issued a statement saying that Indonesia's anti-narcotics Chief would also have to implement an anti-drug crackdown similar to that of the Phlilippines.
It quoted Waseso as saying: "The life of a dealer is meaningless because [he] carries out mass murder. How can we respect that?"
http://www.ibtimes.co.uk/philippines-says-president-dutertes-war-drugs-success-narcotic-supply-cut-by-90-1580779
****************************
Shocking photos of killings as Duterte's war on drugs intensifies
The number of suspected dealers and users killed since Duterte took power is much higher than previously thought.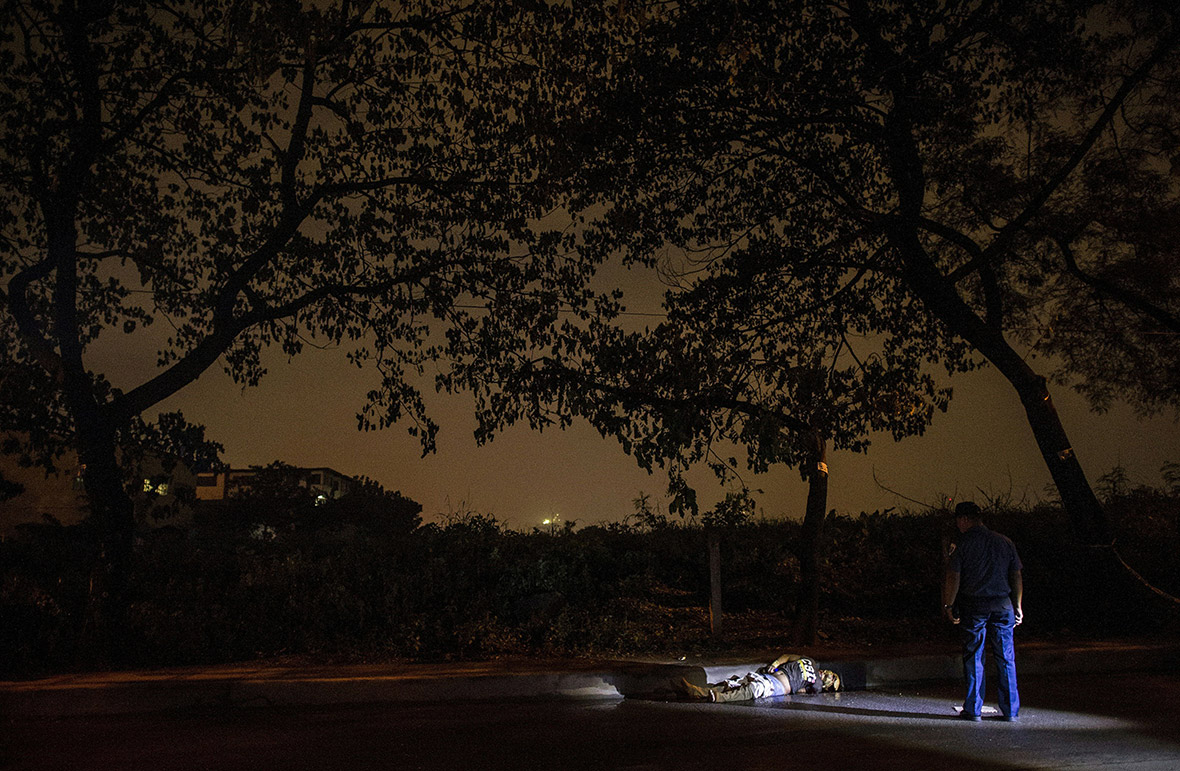 A police officer looks at the body of an alleged drug dealer whose face was covered with packing tape in ManilaNoel Celis/AFP
National Police Chief Ronald dela Rosa told the enquiry that 712 drug traffickers and users had been killed in police operations since 1 July. He said police were also investigating 1,067 other drug-related killings, without giving details. However, he said there was no order to kill suspects.
The US State Department and two UN human rights experts have urged Duterte and Filipino authorities to stop extrajudicial killings in the fight against illegal drugs and ensure law enforcement compliance with international human rights obligations.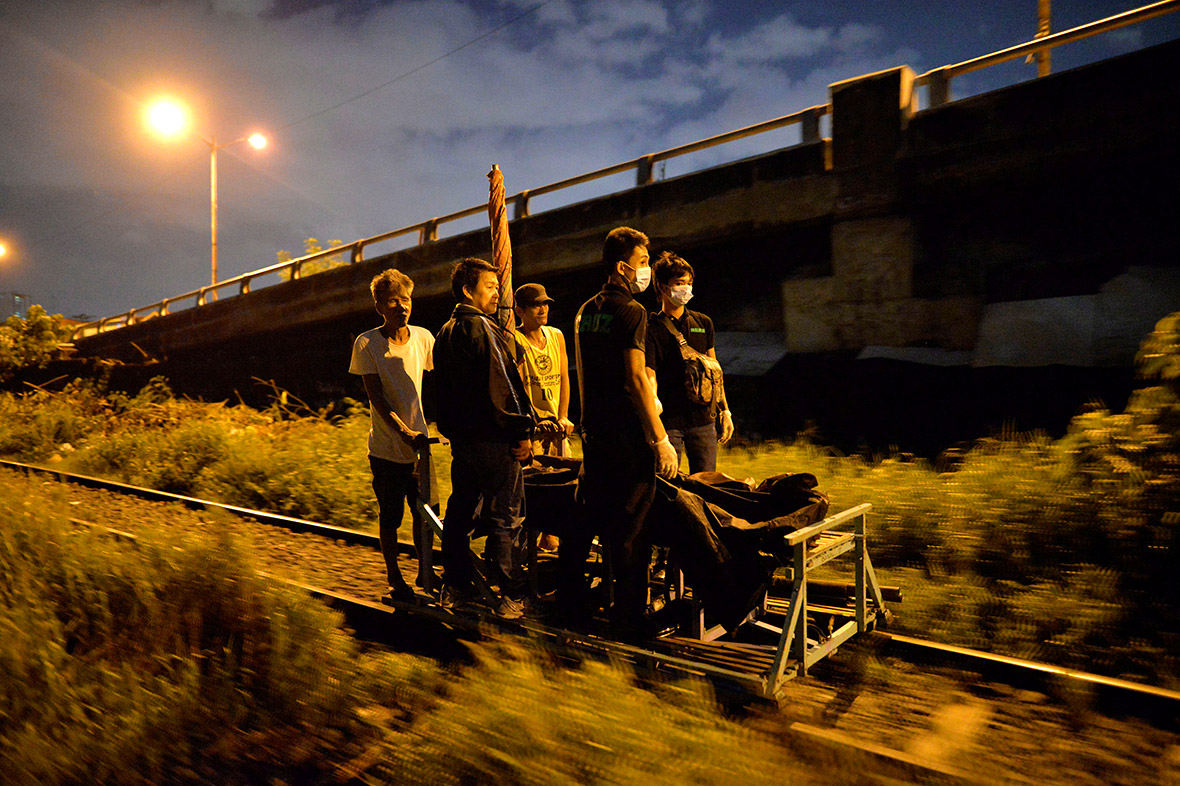 Residents use a trolley to transport the bodies of two men who were killed by policemen after they fought back during a drugs operation in ManilaEzra Acayan/Reuters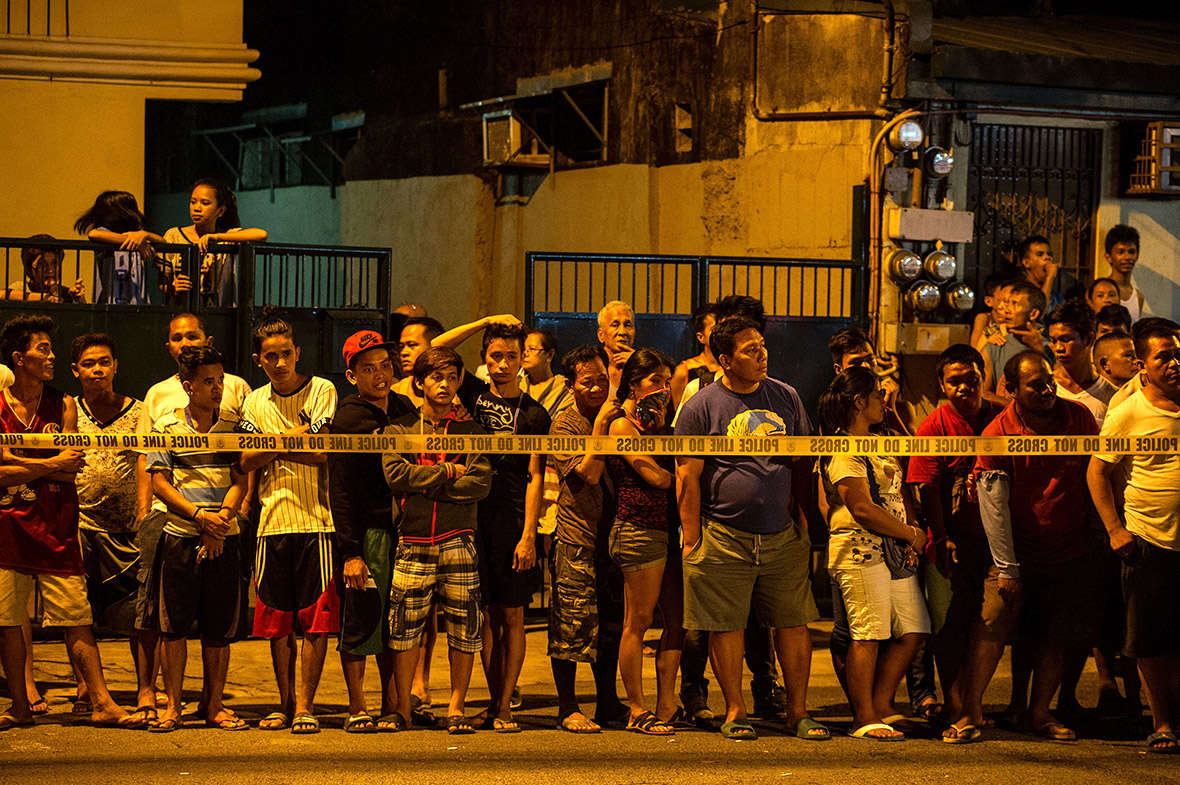 Residents stand behind a police line as they look at two bodies of alleged drug dealers after a drug bust operation that turned into a gun fight in Manila. Noel Celis/AFP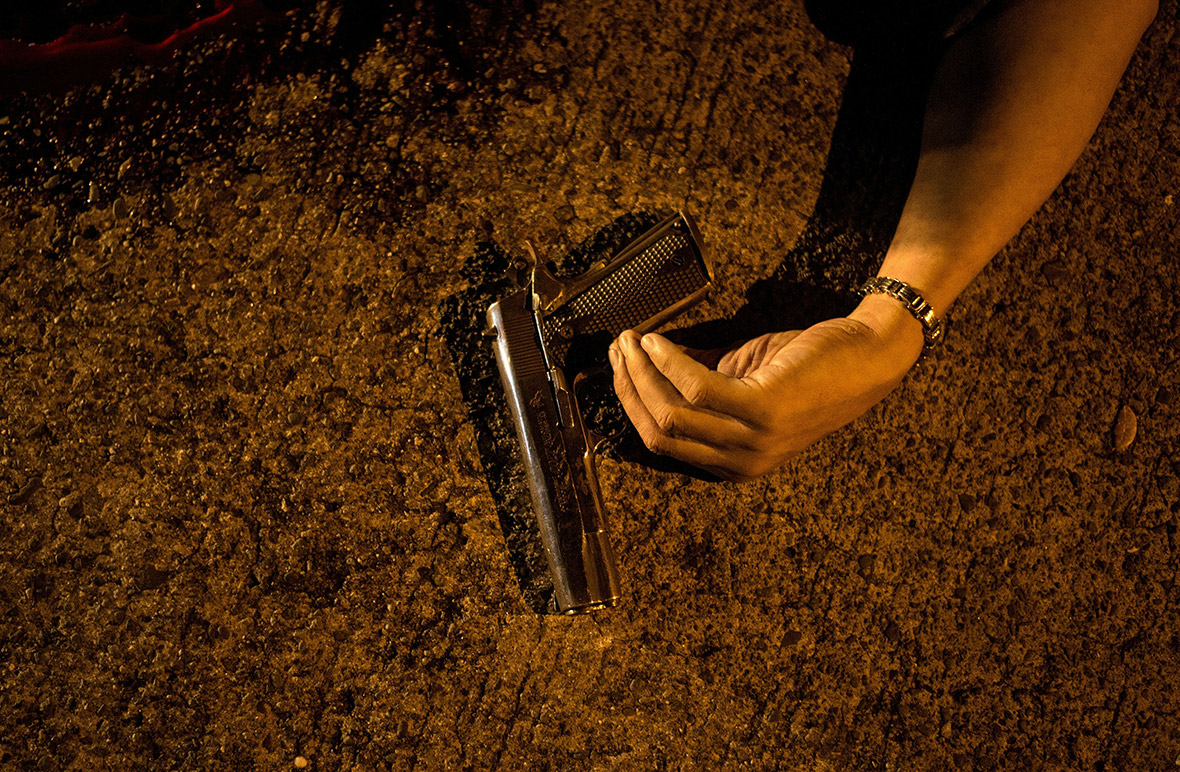 A gun is seen next to a hand of an alleged drug dealer shot dead by police officers after a bust in Manila Noel Celis/AFP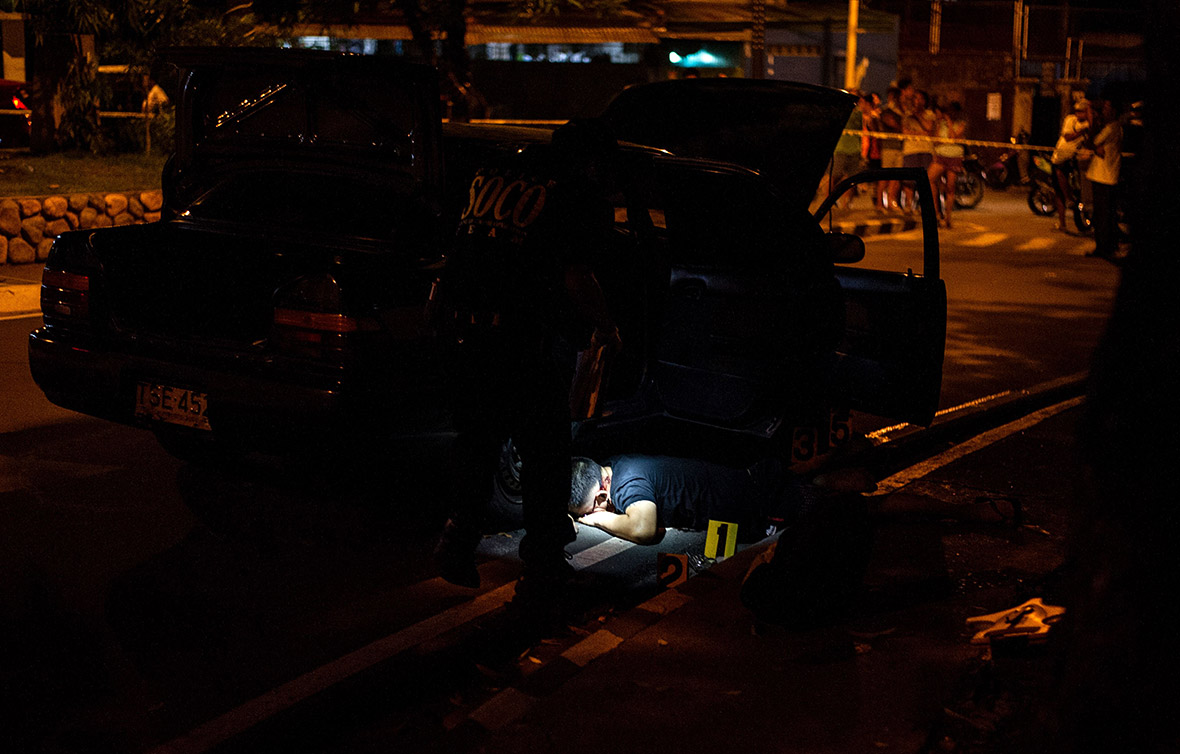 One of two bodies of alleged drug dealers lie on the ground after a drug bust operation that turned into a gun fight in Manila. Noel Celis/AFP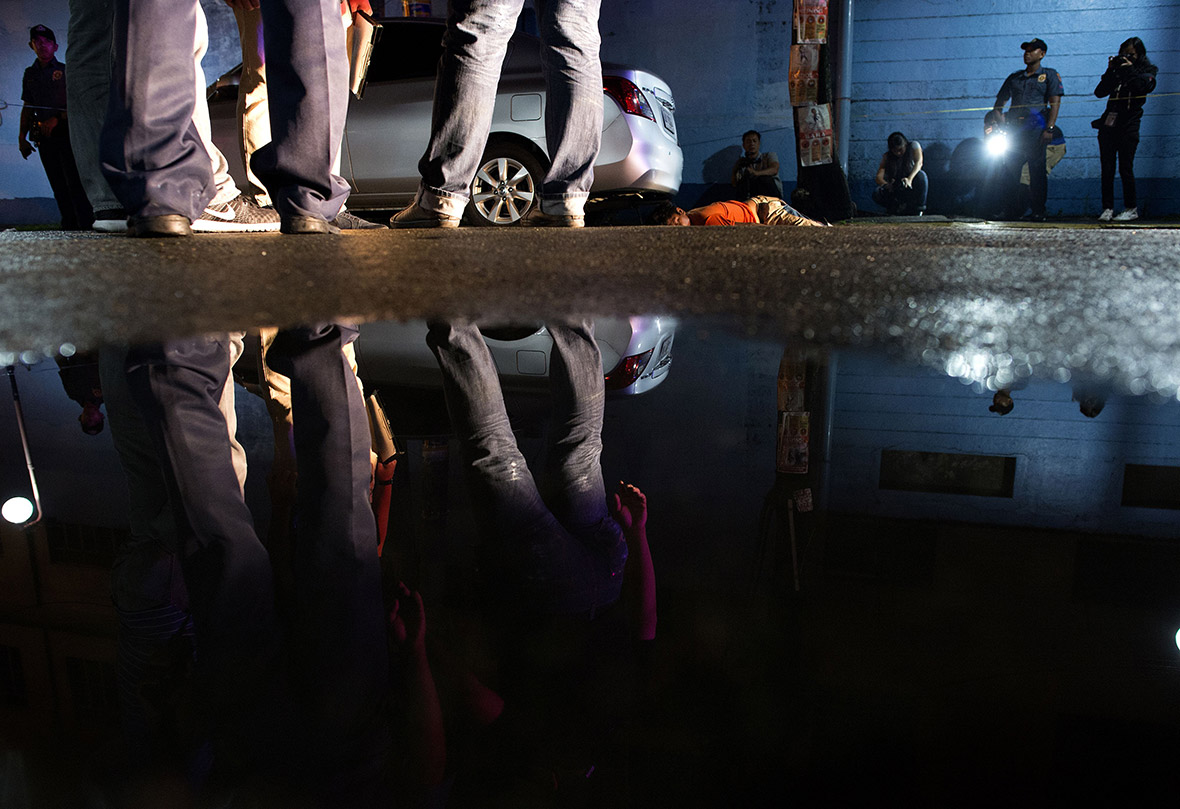 The body of an alleged dealer, shot dead by unidentified gunmen, lies on the ground in Manila. Noel Celis/AFP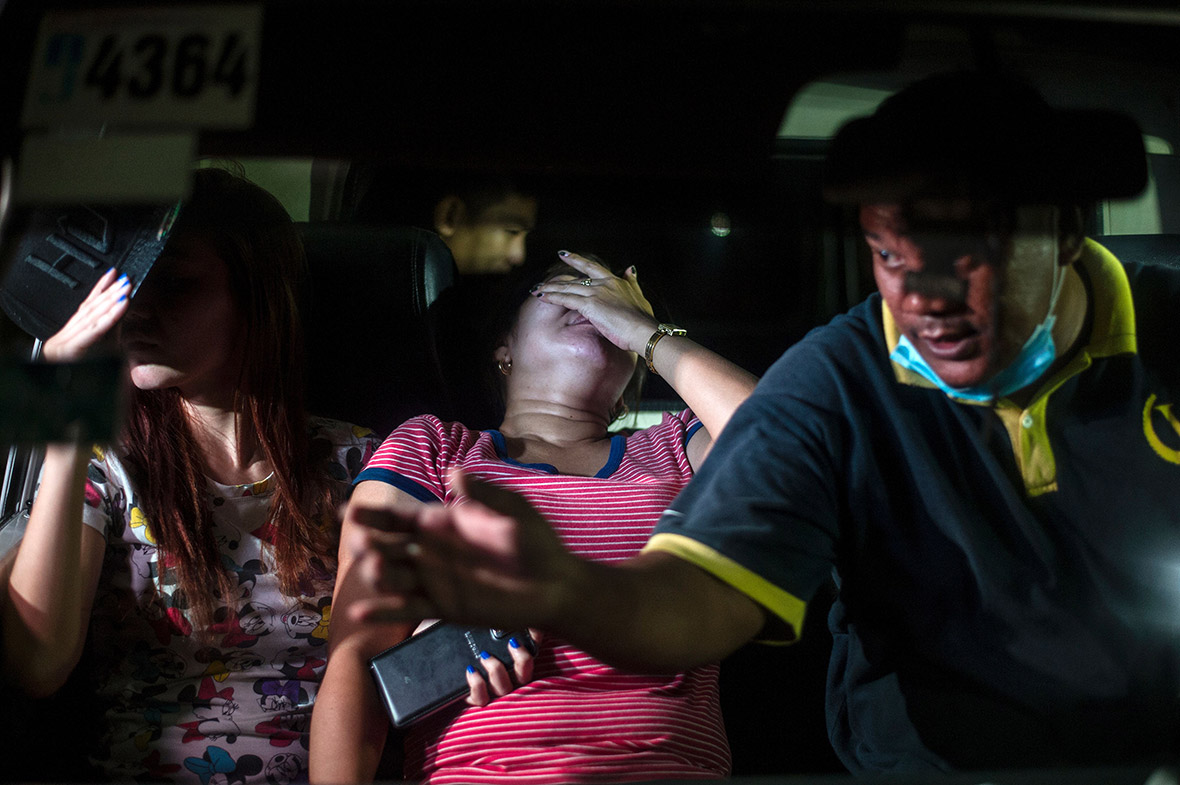 Relatives of a tricycle driver grieve after he was killed by an unidentified gunman for being an alleged drug dealer. Noel Celis/AFP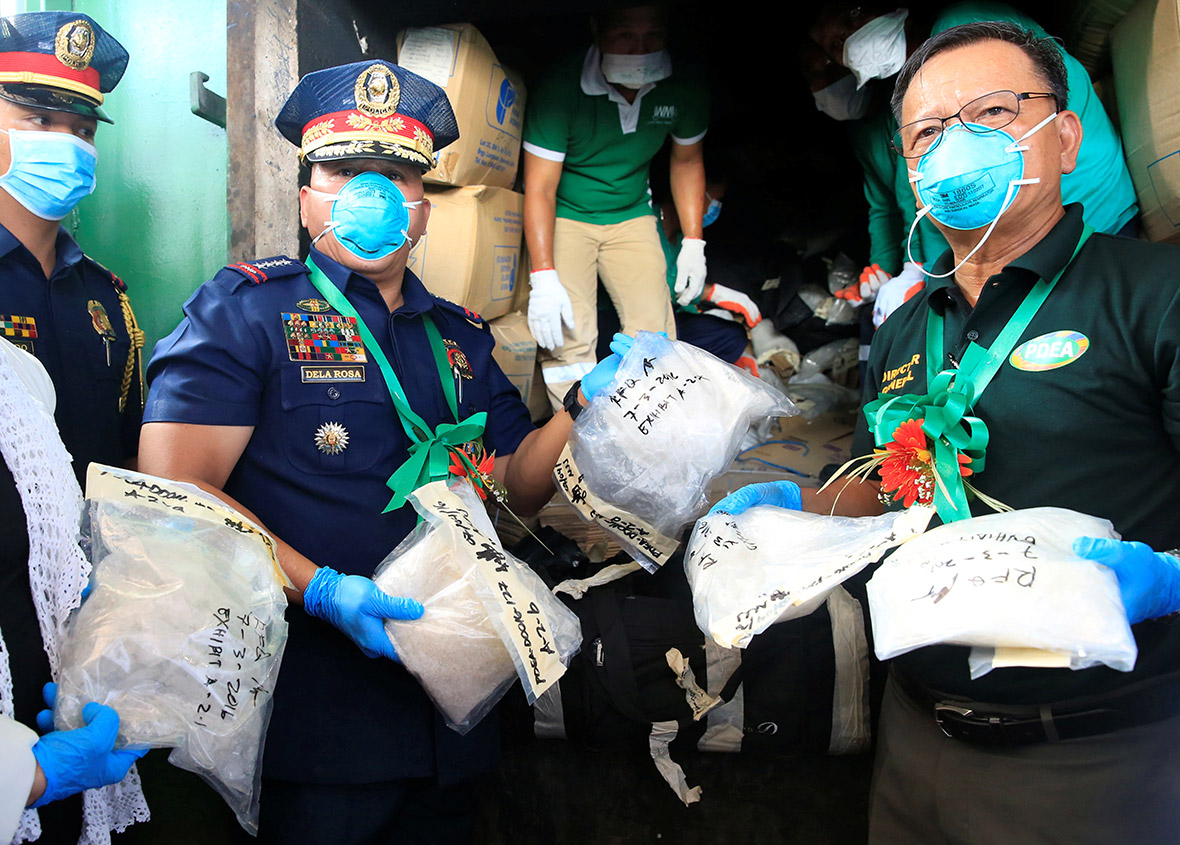 Philippine National Police Chief Director General Ronald Dela Rosa and Philippine Drug Enforcement Agency Director General Isidro Lapena display plastic bags full of methamphetamine hydrochloride, locally known as Shabu, during the destruction of confiscated illegal drugs at a waste management facility in Trece Martires town, Cavite, south of Manila. Romeo Ranoco/Reuters
Funeral parlour workers carry the body of a member of a suspected drug syndicate killed after a shootout with police in Manila. Ted Aljibe/AFP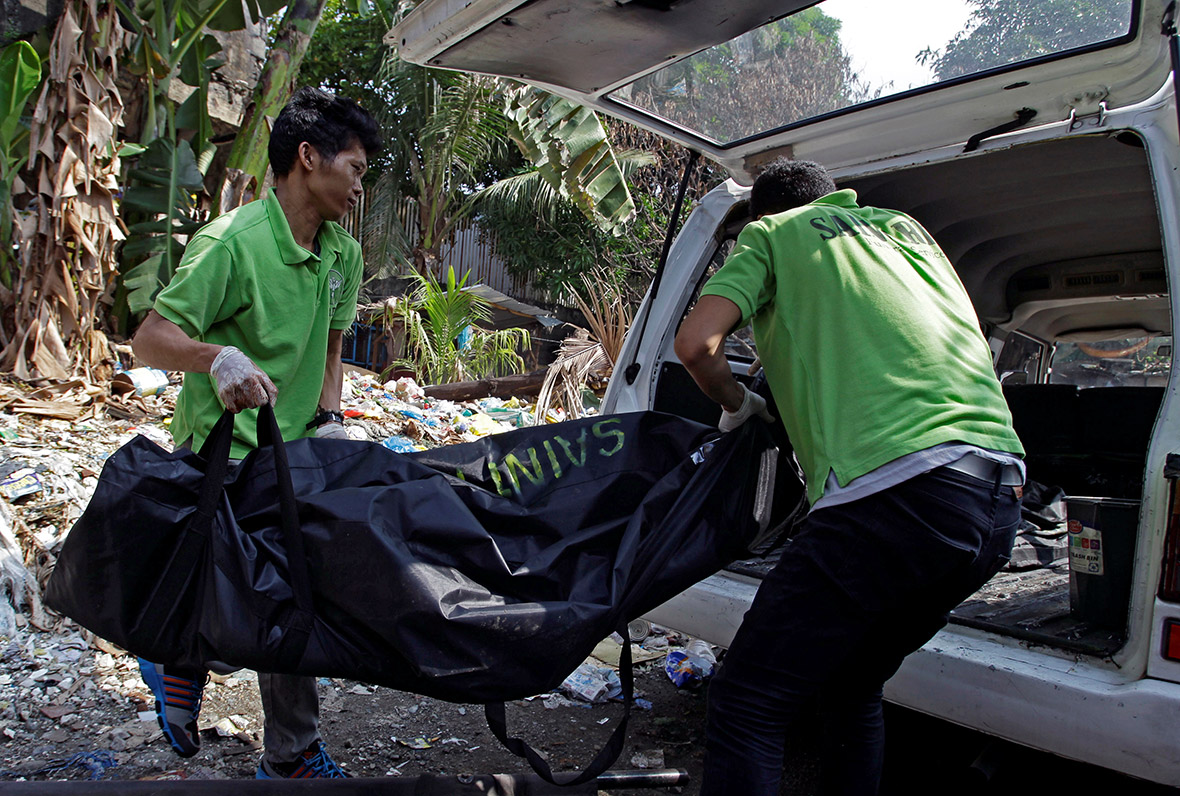 Funeral workers carry the body of one of the five suspected drug dealers killed in a police operation. Czar Dancel/Reuters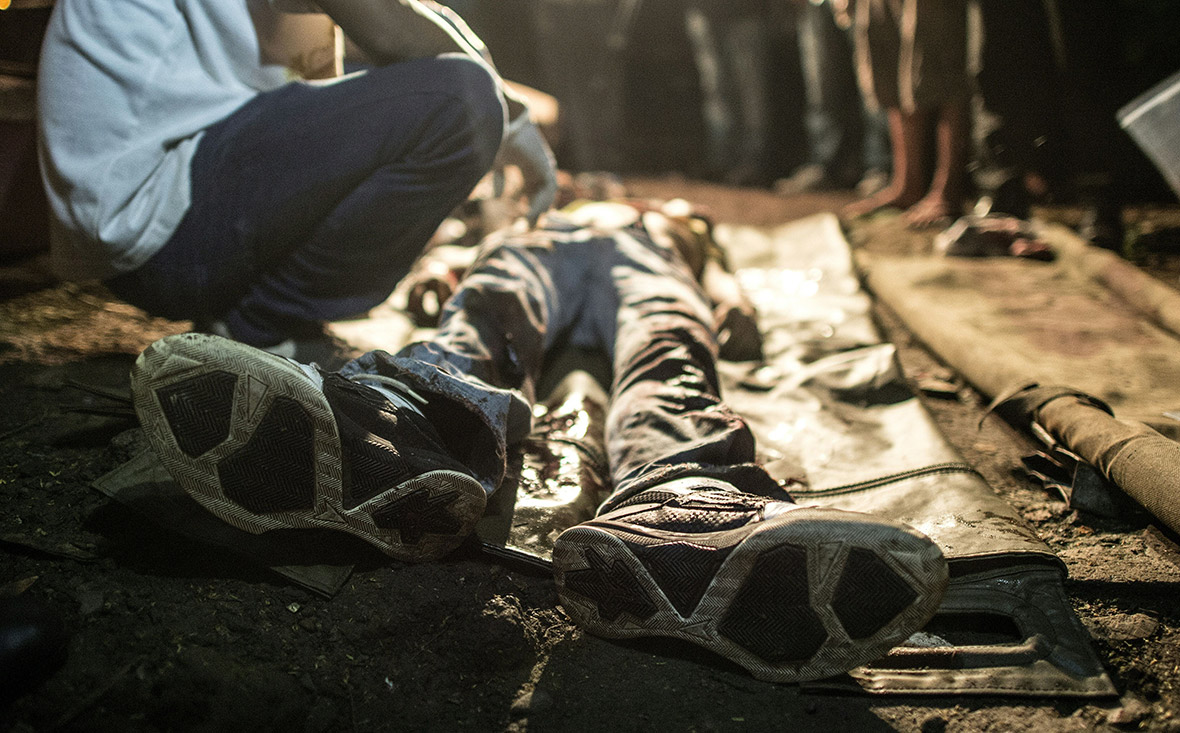 Police crime scene operatives gather forensic evidence around the body of a suspected drug dealer after a bust ended in a shootout with authorities in ManilaNoel Celis/AFP
Criticisms against Duterte's crusade against a problem that he says has become a pandemic provoked an angry outburst from the President, in which he threatened to withdraw his country from the United Nations. He pointed to the haunting image of a bloodied child being pulled from the rubble in the Syrian city of Aleppo to note the inability of the US and the UN to stop such deadly conflicts.
Duterte also cited the string of shootings involving police and black men that have sparked protests in the US. "Why are you Americans killing the black people there, shooting them down when they are already on the ground?" he asked. "Answer that question, because even if it's just one or two or three, it is still human rights violations."
When asked about the possible repercussions of his remarks, Duterte replied: "I don't give a s**t about them. They are the ones interfering."
http://www.ibtimes.co.uk/shocking-photos-killings-dutertes-war-drugs-intensifies-1577384
Related:
European Parliament condemns "state of lawlessness and killings" in the Philippines — Joins UN, Human Rights Watch, Others Critical of Philippine Government
Human Rights Watch: Independent Investigation of Philippines President Duterte Needed
Armed Forces of the Philippines, Philippine National Police Deny Allegations of Witness Edgar Matobato
Philippines President Duterte's Tilt Toward China Will Cause Others to Re-Think Strategy in Asia — "He's obviously given this a lot of strategic thought"
Philippines Foreign Secretary Perfecto Yasay in the U.S. — Filipinos are not "little brown brothers" of America — Don't lecture us on human rights
Witness: Philippine president ordered us to kill opponents
Philippines: President Duterte's son linked to killings, drugs and smuggling
Philippines Says No Shoot-to-Kill Order vs Drug Suspects — While Self-Described Hit Man Testifies That Duterte Ordered Executions in Davao City
Philippines says Duterte's New Foreign Policy Won't Make Filipinos China's Lap Dogs
Duterte and the US-China balance of power in South-east Asia
Philippines: Senator Pangilinan says Fishermen at the bottom of the national income scale — Where's Duterte's Plan To Help Filipino Fishing Industry?
Philippines President Duterte 'once killed man with Uzi'
Will Duterte Overhaul Philippine Foreign Policy? (Should we all learn to speak Chinese?)
Philippines: Was Head the Commission of Human Rights Leila de Lima Among the Targets of President Rodrigo Duterte While He Was Mayor of Davao City?
Philippines Critical of United Nations — Duterte 'a respecter of human rights'
*************************
In Philippine Drug War, Little Help for Those Who Surrender
Tags: death penalty, drug treatment for addiction, drugs, Duterte, illegal drugs, kidnapping, New People's Army, Philippine Drug Enforcement Agency, Philippine Drug War, Philippine government, Philippines, Philippines plan to end drug addiction, President Rodrigo Duterte, security concerns, terrorism, Treating the drug addicts in the Philippines could cost close to $8 Billion U.S. Dollars, war on drugs, Zumba class