MANILA, Philippines — President Rodrigo Duterte continued to wage a word war with international bodies on Thursday as he challenged the United Nations and the European Union to come to the Philippines for a debate on human rights and extrajudicial killings.
 .
The UN and the EU have raised concerns over Duterte's brutal war on illegal drugs, which has so far claimed the lives of about 3,000 suspected drug offenders. About half of the deaths have been attributed to vigilantes and to drug syndicates.
 .
The UN has criticized the president for his supposed lack of understanding of human rights institutions and principles while the EU Parliament has asked Duterte to investigate and to put an end to the "current wave of extrajudicial executions and killings."
 .
Duterte, who once threatened to pull the Philippines out of the UN and later dismissed his statement as a joke, said he would not obey "unreasonable mandates."
.
.
In this picture taken on July 8, 2016, police officers investigate the dead body of an alleged drug dealer, his face covered with packing tape and a placard reading "I'm a pusher", on a street in Manila. Getty Images
 .
"I'm inviting the United Nations (secretary-general) Ban Ki…what's the name of that devil again? Ban Ki-moon, Ban Ki-Sun. I am inviting the EU. Send the best player of your town. Even the rapporteurs, come to the Philippines," the president said during the inauguration of a power plant in Misamis Oriental.
 .
"I'll write them a letter to invite them for an investigation but in keeping with the time-honored principle of the right to be heard. After they ask me questions, I'll ask them one by one," he added.
 .
Duterte said he would ask the UN rapporteur whether he knows the name of his first victim, the reason why he was killed, what time he was executed and how it was done.
 .
"(It will be an) open forum. You can use the Senate, Folk Arts Theater, everybody will be invited," the chief executive said.
 .
"Manood kayo. Tignan niyo kung paano ko lampasuhin iyang mga yawang yan (Watch how I demolish these devils)."
 .
Duterte maintained that security forces are not behind the torture and extralegal killings of drug personalities.
 .
"I asked the police to go after them and if they present violent resistance, kill them. With those words, many were killed but they were the ones who fought [with authorities]," the president said.
 .
"With regard to those who were killed with their hands tied, those were the handiwork of co-conspirators in the drug trade," he added, noting that he had urged drug personalities to report their companions to authorities.
 .
Duterte lambasted anew the US and Europe for lecturing about human rights despite their past atrocities.
.
The president slammed US President Barack Obama for his supposed failure to stop the killing of African Americans. He also chided the US for using weapons of mass destruction as an excuse to invade Iraq
 .
Duterte likewise criticized European nations for allegedly oppressing Arabs and Muslims, calling the Middle East "a destroyed part of the planet."
 .
"Now, the EU is issuing warnings on killing criminals. I told them 'f**k you. Why are you threatening me?" he said.
 .
"Even the rapporteur of the (UN), why are you complaining so much about me threatening the criminals of the drug syndicates if you consider the fact that we have now three million and 700,000 drug addicts?"
 .
Duterte said the issue of extrajudicial killings has been used by his political rivals to discredit him. He maintained that he has no links to the so-called Davao Death Squad, the vigilante group accused of executing several criminals in the city.
.
.
Related:
.
.
.
Philippine President Duterte To European Union: "F*** You!"
European Parliament condemns "state of lawlessness and killings" in the Philippines — Joins UN, Human Rights Watch, Others Critical of Philippine Government
Can Philippine President Duterte Hold Ebbing Investor Confidence Or Will He Seriously Harm His Nation? — Talk Is All About Human Rights, Murder, Duterte, Impeachment, Coup — All The Wrong Things
De Lima: Duterte 'single-handedly' ruins PH image abroad
Philippine President Duterte: Senator Duterte: De Lima 'allowed' illegal drug trade inside prison — "I was correct all along because I was supplied with a matrix"
"I can't kill them all," says Philippine President Duterte
Philippines Says "We Do Not Condone Unlawful Killings" — After Extrajudicial Killing Death Toll Passes 3,000 Dead Without Trial, Due Process — Could Be Worse Than Marcos
Philippines President Duterte is Making Investors Nervous — Strongman could end up weakening his country
"F*** You!", Duterte, Duterte administration, EU, European Parliament in Brussels, European Union, extrajudicial killings, human rights, investor confidence, murders, Philippine President Duterte,Philippines, Summary executions, vigilantes, war on drugs
*************************
Why Duterte and the Philippines Can't Afford to Pick a Fight with the U.S. (Do The Math)
By David Roman and Siegfrid Alegado
Bloomberg News
September 8, 2016 — 6:03 AM EDT
From trade dependence to money from workers abroad, Philippine President Rodrigo Duterte can hardly afford to pick a fight with the U.S. given his country's ties to the world's largest economy.
Duterte made headlines this week for all the wrong reasons. In his debut on the international stage and just days before he was due to meet President Barack Obama at a regional summit in Laos, Duterte made offensive comments aimed at the U.S. leader that prompted Washington to cancel the meeting.
While Duterte made a swift apology and Obama said Thursday he doesn't take the Filipino leader's comments personally, investors and analysts are left wondering if there's been any long-term damage to relations between the U.S. and its former colony. Whatever the fallout, it's clear from the economic data that the U.S. is too important a partner for the Philippines to alienate just as the Southeast Asian nation sheds its reputation as the "Sick Man of Asia."
"The link between the two countries is quite sizable," said Gundy Cahyadi, an economist with DBS Group Holdings Ltd. in Singapore. "It's an important trading partner, but beyond that, there are multiple business ties of all sorts."
The Philippine economy has expanded more than 6 percent since the third quarter last year, fueled by a young and growing population that's helped to prop up domestic consumption as global growth wanes. The following charts show how U.S. trade and investment has helped to underpin that growth story.
Remittances and Filipinos Abroad
There were more than 10 million Filipinos living abroad in 2013, according to the most recent official data, and cash that they send home is a major source of foreign-currency earnings for the country.
The U.S. is by far the favored destination, attracting about 35 percent of all Filipinos living overseas.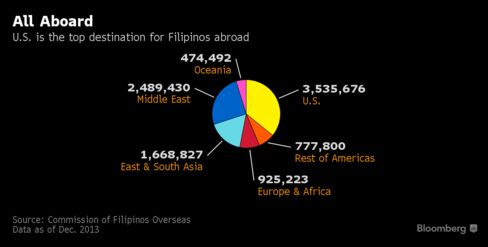 Remittances amount to about 10 percent of Philippine's gross domestic product. Filipinos sent $25.8 billion in cash to their home country in 2015, with 31 percent of that coming from those living in the U.S., according to data from the central bank.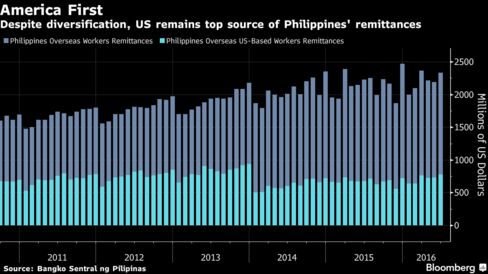 Trade Links
The U.S. is the Philippines's second-largest trade partner after China. Exports and imports between the two countries have increased 23 percent since 2010 to reach $18 billion last year. The Philippines runs a trade surplus with the U.S. and exports mainly electrical machinery and textiles to the country.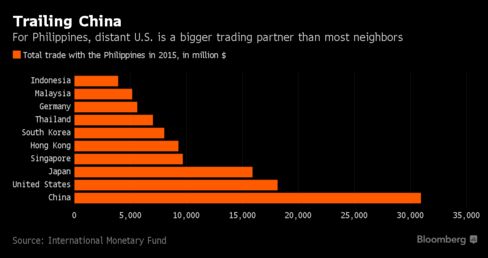 Foreign Investment
The U.S. was the fourth-largest foreign investor in the Philippines last year after the Netherlands, Japan and South Korea, according to data from Philippine Statistics Authority. Investment in the Philippines is being held back by restrictions that cap foreign ownership at 40 percent in many industries.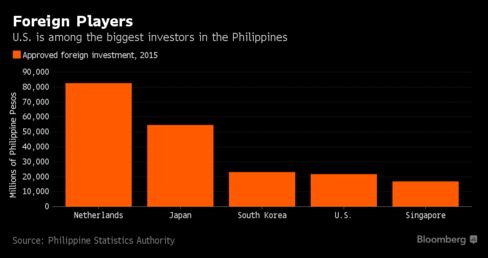 Call Centers
The local business process outsourcing industry — such as call centers — is dominated by U.S. companies, including JPMorgan Chase & Co., American Express Co. and Accenture Plc. With many global businesses looking to set up back-office operations in cheaper locations, the Philippines benefits because of a large supply of college educated and English-language workers.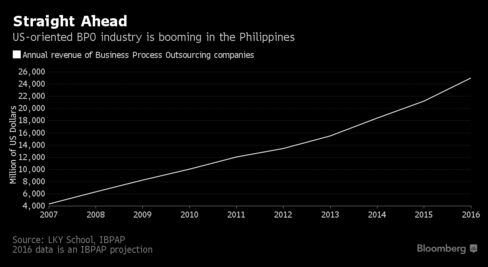 Before it's here, it's on the Bloomberg Terminal.
LEARN MORE
.
 http://www.bloomberg.com/news/articles/2016-09-07/philippines-can-t-afford-to-pick-a-fight-with-u-s-charts-show
Tags: Ban Ki-moon, death squads, debate on human rights, Do The Math, drug personalities, Duterte, Duterte Can't Afford to Pick a Fight with the U.S., European Union, extrajudicial killings, F**k you, https://johnib.wordpress.com/tag/agnes-callamard/, human rights, killing of African Americans, oppressing Arabs and Muslims, Philippines, Philippines Can't Afford to Pick a Fight with the U.S., torture and extralegal killings, United Nations, US for using weapons of mass destruction as an excuse to invade Iraq, war on drugs, Watch how I demolish these devils