Reuters
Oil settled up 3 percent on Monday as the world's largest producers gathered in Algeria to discuss ways to support prices, with nervous trade driving volatility to its highest since a similar meeting to freeze output in April in Doha which failed.
The Organization of the Petroleum Exporting Countries and other oil producers led by Russia are meeting informally on the sidelines of the International Energy Forum in Algeria from Sept. 26-28 to tackle a crude glut that has battered prices for two years now.
Key OPEC member Iran, the fourth largest crude exporter which is still trying to recapture output before Western sanctions in 2012, downplayed the chances of a deal while some OPEC members remained hopeful.
"Unless there's an impressive production cut by OPEC on top of a freeze, I think we'll give back everything we've gained by the end of this week," said Tariq Zahir, an oil bear at Tyche Capital Advisors in New York.
Brent crude futures LCOc1 settled up $1.46, or 3.2 percent, at $47.35 a barrel after trading between $45.74 and $47.66.
U.S. West Texas Intermediate (WTI) crude futures CLc1 rose $1.45, or 3.3 percent, to settle at $45.93 after a session high of $46.20 and low of $44.43.
Both benchmarks moved in a near $2-band between the highs and lows, one of the widest swings in weeks.
Implied volatility, a gauge of how much oil prices move, was at its highest since April 18, when the meeting in Doha among OPEC members to discuss an output freeze ended in an impasse, leaving crude at just above $40.
Scepticism about a deal being reached in Algiers had prompted money managers to cut their bullish bets on U.S. crude futures to a one-month low last week, with prices falling nearly 5 percent. [CFTC/]
Some analysts believe an output freeze will only be implemented after OPEC's all-important policy meeting beginning in Vienna on Nov. 30. Until then, the group and non-members, including No. 1 producer Russia and top oil consumer the United States, are likely to ramp up production.
OPEC pumped near a multi-year high of 33.24 million barrels per day in August, data showed. Russian production hit record highs of 11.75 million bpd last week. U.S. output has fallen this year but its oil rig count, which signals future production, has risen for 12 of the past 13 weeks. [RIG/U]
"If more Libyan and Nigerian production come online and Iranian production continues to increase, then by November the surplus could be high enough and prices low enough to encourage OPEC to act," said James Williams, analyst at WTRG Economics in London, Arkansas.
A Reuters poll showing that U.S. crude stockpiles had risen by as much as 2.8 million barrels last week after three prior weeks of declines also caused concern for some market participants, analysts said. [EIA/S]
(Additional reporting by Amanda Cooper in LONDON and Keith Wallis in SINGAPORE; Editing by Marguerita Choy and Louise Heavens)
*********************************
Saudis Willing to Act on 'Critical' Oil Market, Algeria Says
By Angelina Rascouet and Caroline Connan
Bloomberg
September 25, 2016 — 6:35 AM EDT
Saudi Arabia, the world's biggest oil exporter, has offered to cut its output to January levels, Algeria's energy minister said as he prepared to host a meeting of OPEC producers later this week.
Prices rebounded Monday after tumbling 3.7 percent on Friday as Saudi Arabia signaled that the Algiers meeting will be consultative and unlikely to reach a firm decision. While Noureddine Boutarfa's comments don't change that, they suggest OPEC's leading member may still be willing to work toward the group's first production curbs since the organization let members produce at will in late 2014, causing prices to plunge. OPEC meets again in Vienna in November.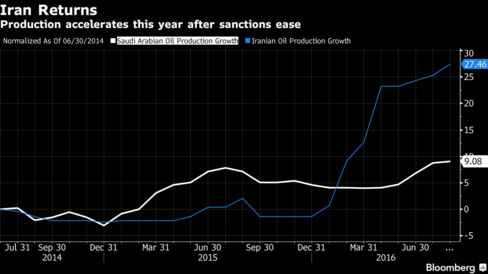 The oil market is in a "much more critical" state than when the Organization of Petroleum Exporting Countries last met three months ago, Boutarfa said Sunday in an interview. Aside from the Saudis, producers have made additional proposals, he said later at a news conference, without giving details.
"Saudi Arabia is ready to freeze production at the January level," Boutarfa said, calling the offer "an interesting step." Saudi Arabia pumped a record 10.69 million barrels a day in August compared with 10.2 million in January, data compiled by Bloomberg show. Algeria wants the group to cut its collective output by 1 million barrels a day, Boutarfa said.
Algerian Energy Minister Noureddine Boutarfa gives a news conference on September 25, 2016, in the capital Algiers on the eve of the three-day International Energy Forum and an informal meeting of OPEC ministers (AFP Photo/Ryad Kramdi)
Global Surplus
More than 800,000 barrels a day of additional crude is entering the global market this month compared with August as Russia pumps at an all-time high and Libya and Nigeria restore disrupted supplies, according to statements from their ministry officials in those nations. The surplus will last for longer than previously thought, persisting into late 2017 as demand growth slumps and supply proves resilient, the International Energy Agency said. Tumbling crude has put financial pressure on OPEC members from Saudi Arabia to Gabon.
Crude prices, which have dropped more than half from their 2014 peak amid a global supply glut, rebounded last month on speculation that OPEC and Russia might revive a pact to limit production. Prices have since cooled and Brent crude futures fell 3.7 percent to $45.89 a barrel on Friday, before rising as much as 1 percent on Monday. They were at $46.23 at 12:59 p.m. in Singapore. A reasonable price for Algeria would be a range of $50 to $60 a barrel, Boutarfa said.
'Worsened' Situation
"The situation since the last meeting in June has worsened," said Boutarfa, who's been involved in talks with Saudi Arabia and other members in the run-up to the meeting. "So it's important to see what measures can be adopted in the short term and very short term to find a solution to this situation that isn't helping any OPEC country."
Saudi Arabia and Iran, whose rivalry blocked a deal with other major producers in April, did not reach an agreement after two days of preparatory talks in Vienna, including a Saudi offer to pump less crude if Iran caps output at current levels, according to two people familiar with the negotiations.
The main difference between the Algiers talks and producers' failed attempt at a freeze in April in Doha is that Iran will be present for this week's discussions, Boutarfa said.
Now is the "right time" for OPEC to reach an agreement on output, and crude prices may fall if its members fail to take a decision in Algiers, said Falah Al-Amri, Iraq's governor to the group. Countries have boosted output and reached their targets, and current oil prices are not good for producers, Al-Amri said on Sept. 22 at an energy event in Fujairah in the United Arab Emirates.
'Still Skeptical'
OPEC's talks will be informal but can be converted into an extraordinary meeting, which could result in a decision by the group, Boutarfa said.
Russia hasn't received offers from other producers about a possible output cut, and the lack of an agreement in Algiers would not be critical for the country, Russian Energy Minister Alexander Novak said, according to a RIA Novosti report on Sunday.
"I'm still skeptical there will be a deal, or a deal with any teeth." Robin Mills, chief executive officer of consultants Qamar Energy, said by phone from Dubai. "If there is any agreement, it would give a boost to the oil market, especially if there is a Saudi cut."
http://www.bloomberg.com/news/articles/2016-09-25/algeria-sees-oil-market-in-critical-shape-ahead-of-opec-talks
Before it's here, it's on the Bloomberg
.
****************************
.
Speculation Over OPEC Deal Whipsaws Market
.
September 26, 2016 — 8:32 PM EDT — 
Updated on September 27, 2016 — 2:54 AM EDT
.
Oil halted gains after two days of price swings as investors weigh the chance of OPEC reaching an output deal to stabilize markets when the group meets Wednesday in Algiers.
Futures fell 0.4 percent in New York. Prices rebounded 3.3 percent Monday after dropping Friday by the most in more than two months. The U.A.E. supports a deal to freeze output if other nations agree, but production cuts are not up for discussion, Oil Minister Suhail Al Mazrouei said. Nigerian Minister of State for Petroleum Resources Emmanuel Ibe Kachikwu said "surely there will be" an accord. Prices may tumble below $20 if no deal is reached, according to Venezuela's oil minister.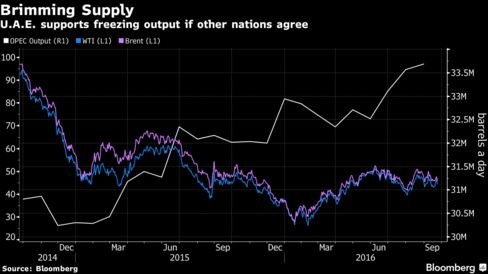 Oil has fluctuated since rallying in August on speculation major producers will agree on ways to stabilize the market when they meet Wednesday. While Saudi Arabia has offered to pump less crude if Iran caps output, the kingdom doesn't expect an agreement this week. Freezing output was first proposed in February, but a meeting in April ended withno final accord.
"There's skepticism creeping in as to whether there will be an agreement at this meeting," said Angus Nicholson, a market analyst in Melbourne at IG Ltd. "Still, there seems to have been some very strong groundwork laid for a possible deal in the coming months. There is a very significant psychological anchor for oil at around $45. It always seems to come back to that level. It'll take something like an OPEC deal to really change that dynamic."
West Texas Intermediate for November delivery was at $45.75 a barrel on the New York Mercantile Exchange, down 18 cents, at 7:50 a.m. in London. The contract gained $1.45 to $45.93 on Monday. Total volume traded was about 26 percent below the 100-day average. Prices have averaged about $44.80 this quarter.
OPEC Meeting
Brent for November settlement was 32 cents lower at $47.03 a barrel on the London-based ICE Futures Europe exchange. The contract gained $1.46, or 3.2 percent, to $47.35 on Monday. The global benchmark crude traded at a premium of $1.28 to WTI.
Saudi Arabia has offered to reduce production to January levels, according to Algeria's Energy Minister. That would remove about half of the kingdom's 1 million barrel-a-day increase in output since it led OPEC's push to defend market share in 2014. Negotiations in Algiers will be a "warm up" for OPEC's next meeting in Vienna in November, Iran's oil ministry news service Shana reported, citing Minister of Petroleum Bijan Namdar Zanganeh.
Tags: Algeria, Algeria's Energy Minister, Algiers, Bijan Namdar Zanganeh, Boutarfa, China, Gabon, International Energy Agency, International Energy Forum, Iran, Libya, Nigeria, oil natural gas, oil prices, Oil surplus, OPEC, Organization of the Petroleum Exporting Countries, output, Qamar Energy, Russia, Russian Energy Minister Alexander Novak, sanctions, Saudi Arabia, Saudis, U.S., U.S. crude stockpiles, United Arab Emirates