.
"Look at the forest, not the trees."
By Y-Sing Liau and Ditas B Lopez
Bloomberg
September 28, 2016 — 8:07 PM EDT — 
Updated on September 28, 2016 — 10:59 PM EDT
.
Investors rushing to pull money out of the Philippines are neglecting one key positive — the economy is growing faster than almost anywhere else on the planet.
President Rodrigo Duterte's expletive-laden outbursts have triggered the biggest exodus from stocks in a year and made the peso Asia's worst performer in September. The Philippine currency is at a seven-year low and rounding out its worst month since May 2010, after Duterte lashed out at U.S. President Barack Obama and told off both the European Union and the United Nations for their criticisms of his violent anti-drug campaign, which has left more than 3,000 people dead.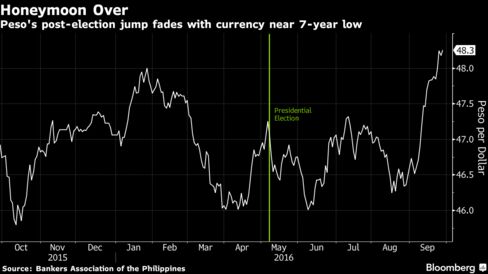 Currency strategists predict a rebound once investors see beyond Duterte's words. Only India is expanding at a quicker pace in Asia, and the economy stands to benefit from the president's plan to increase spending and reform the tax system. Philippine officials say the nation's fundamentals are strong and a weaker currency will boost the value of two key drivers of growth: money repatriated by Filipinos working abroad, and outsourcing revenue.
Selloff 'Overdone'
"The selloff is overdone and we're looking for some retracement," said Khoon Goh, the Singapore-based head of regional research at Australia & New Zealand Banking Group Ltd., the most accurate forecaster for the peso in Bloomberg's second-quarter rankings. "Duterte's recent comments have seen investor sentiment sour somewhat. Remittances and growth in the business process outsourcing industry should continue to provide support."
The peso's 3.4 percent slump in September highlights the vulnerability of emerging-market currencies to political machinations — and the opportunities those fluctuations can create. Turkey's lira offers another example, having rebounded from an all-time low set in July, when President Recep Tayyip Erdogan reacted to a failed coup by tightening his grip on power. Mexico's peso has fluctuated after Donald Trump vowed to renegotiate the North American Free Trade Agreement if he becomes U.S. president.
After an initial rally when Duterte won the presidential election in May, the peso slumped to 48.41 per dollar Tuesday, the weakest since September 2009, before trading at 48.22 as of 10:52 a.m. in Manila Thursday. A Bloomberg gauge of peso government bonds is set for its worst month since November, and the yield on five-year notes has climbed 68 basis points in September to 3.57 percent. That compares with an advance of five basis points in Malaysia and a drop of two basis points in Thailand.
Blaming U.S.
Duterte on Tuesday blamed the U.S. for the currency's weakness, accusing it of "undermining" the Philippines by "manipulating" the exchange rate. He repeated his criticism of the U.S. and UN for raising human rights concerns about his war on drugs and said he plans to visit China and Russia to pursue "new alliances." He earlier vowed to end cooperation with the U.S. military both in fighting terrorism and patrolling the disputed South China Sea.
"Duterte is not helping with his off-the-cuff remarks, which raise questions about his steady leadership and ability to steer the Philippines forward," said Trinh Nguyen, a senior economist for emerging-market Asia at Natixis SA in Hong Kong. "Investors have choices on where to put their funds, and they don't like volatile behavior."
Still, ANZ predicts the peso will strengthen to 47.50 by year-end as equity outflows ebb, and the median forecast of strategists compiled by Bloomberg calls for a 2.6 percent gain by end-December, which would make it the best performer among Asian currencies.
Rapid Expansion
Gross domestic product increased 7 percent in the second quarter from a year earlier,data showed last month, close on the heels of India's 7.1 percent growth. The $292 billion economy is forecast to grow 6.4 percent this year, the quickest pace in Southeast Asia, according to a Bloomberg survey of economists.
Remittances, which account for a third of GDP, totaled $2.13 billion in July after reaching a record $2.47 billion in December. Expansion in the services industry and rising spending by consumers and the government are helping to offset a drop in exports.
Budget Secretary Benjamin Diokno said Tuesday the peso's depreciation isn't a cause for concern and there's no need to react to it for now. The economy is in good shape and investors must focus on fundamentals, he said at a media briefing in Manila. Finance Secretary Carlos Dominguez and central bank Governor Amando Tetangco had earlier sought to reassure investors amid $357 million of equity outflows, the biggest since September 2015.
Reform Agenda
"The Philippine peso remains very strong in real terms and the current movement of the local currency will actually help improve the competitiveness of our exports and the value of our dollar remittances, which benefits around 40 percent of the domestic economy," the Department of Finance said in a statement Wednesday.
The peso's real-effective exchange rate, a measure adjusted for inflation and trade with other nations, was at 113 at the end of August, above a five-year average of 110, according to indexes compiled by the Bank for International Settlements. Philippine exports contracted for the 16th straight month in July.
Since taking office at the end of June, Duterte has laid out plans to boost spending on infrastructure, security and education to help the economy achieve a growth target of 6 percent to 7 percent this year. His administration is seeking approval from Congress to expand the 2017 budget by 12 percent to $72 billion, and to widen the budget deficit to 3 percent of GDP from a projected 2.7 percent this year."The real economy remains strong," said Jonathan Ravelas, chief market strategist at BDO Unibank Inc., the country's largest lender. "After harmonizing the financial market and the real economy, the people will realize that we should look at the forest, not the trees."
http://www.bloomberg.com/news/articles/2016-09-29/duterte-s-noisy-peso-rout-out-of-harmony-with-philippine-economy
Tags: accusing the U.S. of undermining the Philippines by manipulating the exchange rate, Amando Tetangco, anti-drug campaign, blamed the U.S. for the currency's weakness, Duterte, European Union, extrajudicial killings, Finance Secretary Carlos Dominguez, GDP, GDP growth, human rights, India, investors, Investors pulling money out of the Philippines, peso's 3.4 percent slump, Philippine currency, Philippine economy, Philippine peso, Philippines, South China Sea, U.S., United Nations, volatile behavior