.
Bombardment causing a 'bloodbath' says Medicins Sans Frontieres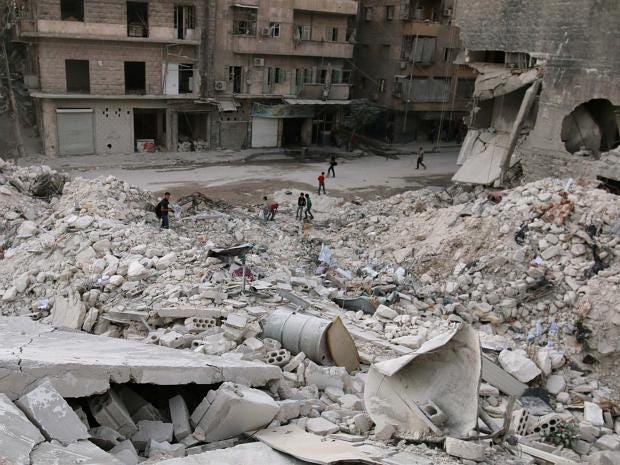 People walk on the rubble of damaged buildings in the rebel held area of al-Kalaseh in Aleppo on 29 September Reuters
The largest hospital in rebel-held Aleppo has been hit by at least two barrel bombs amid a major offensive against the city by Russian warplanes and Syrian government forces.
The onslaught was described as causing a "bloodbath" by leading medical charity, Medicins Sans Frontiers.
Air strikes across the city overnight have killed 30 civilians, activists told al-Jazeera. Another 18 were killed in air strikes in the countryside near Damascus. The death toll is expected to rise.
It was not immediately clear who was responsible for the attacks on the M10 hospital, but medical facilities have been plagued by bombing by forces loyal to the Syrian government in recent weeks.
The fierce fighting has intensified after diplomatic efforts stalled.
"There were direct hits to the hospital," Adham Sahloul of the Syrian American Medical Society told TRT World. "There were two barrel bombs, reportedly two cluster bombs and at least one rocket of some sort that hit the hospital directly.
"It created immense damage to the facility, destroyed all the windows. It rattled all the staff and the patients there. There's no knowledge as to when it can be brought back into operation
"As of now there's no idea as to when it can be brought back into operation. The facility is extremely damaged at this point."
Syria — Volunteers carry an injured person on a stretcher following Syrian government forces airstrikes on the rebel-held neighbourhood of Heluk in Aleppo, on 30 September 2016. Photograph by Thaer Mohammed, AFP
Mr Sahloul said a group of patients and doctors "were inside the hospital for basic triage, bandaging, and cleaning services for emergency cases" when the combing started and remain trapped there.
Hospital administrator and radiologist Mohammad Abu Rajab made an emergency call for help on Saturday morning from inside the M10 hospital.
"The hospital is being destroyed! SOS, everyone!" he said in an audio message given to journalists.
Both the M10 and M2 hospitals, which are code named to protect their locations, were also attacked on Wednesday.
The Syrian Observatory for Human Rights said air strikes also hit a smaller field hospital in the Sakhur neighbourhood on Saturday.
"One person was killed and the field hospital is out of service," Observatory head Rami Abdel Rahman told AFP.
He could not confirm whether the casualty was a patient or a member of medical staff.
Rights groups have said the hospital attacks are part of a deliberate strategy to target civilian infrastructure and therefore constitute war crimes.
The recent surge in attacks in Aleppo by forces loyal to Mr Assad have been among the most deadly in the country's five-year civil war.
At least 220 people have died and many residential buildings have been razed to the ground by the attacks.
A video posted on social media on Friday showed a traumatized toddler holding onto a nurse following an air strike in Aleppo.
Includes video:
http://www.independent.co.uk/news/world/middle-east/hospital-aleppo-hit-syria-barrel-bombs-rebels-a7340456.html
Related:
Syrian Military Calls on Aleppo Rebels to Surrender
Syria conflict: Besieged areas of Aleppo a 'living hell' — "Savagery that no human should have to endure."
Russia sending more military aircraft to Syria, diplomacy 'on life support' — U.S. administration failed to make any threat of military force that give him leverage with Russia
*********************
An army source quoted in state media said its forces had made advances, which was denied by rebels, who said they had repelled a new assault.
"They are shelling the old city heavily after another failed attempt to gain ground. They have lost several fighters and we are steadfast," said Abu Hamam, a rebel from the Failaq al-Sham group.
The army said it would press its advantage after retaking the strategic Handarat camp north of Aleppo on Thursday. On Friday, civil defence sources said airstrikes on rebel-held residential areas killed at least 30 people with the use of incendiary and phosphorous bombs causing extensive damage and fires.
The observatory said at least 20 were killed by sustained Russian and Syrian army strikes and artillery shelling on Friday and into the early hours of Saturday. State media added that rebel mortar attacks on government-held Midan and other areas in the city killed at least 20 people.
Medical charity Médecins Sans Frontières has described the impact of Syrian and Russian bombardment of the east as a bloodbath.
More than 220 people have been killed in the east of the city since the government launched its offensive on 22 September.
Residents of government-held neighbourhoods expressed relief that the rebels were being pushed back but said they feared retaliation. "We were happy when we heard about the army's advance," said Majed Abboud, a 32-year-old car dealer.
"But I'm afraid that with these ferocious clashes, there will be some kind of reaction from the armed groups," he said. "They hit us with rockets and there were many casualties today [Friday] in Suleiman al-Halabi and Al-Midan."
Aleppo, Syria's largest city and commercial hub before the civil war began in 2011, has been divided into government and opposition sectors for four years.
https://www.theguardian.com/world/2016/oct/01/-syriaairstrikes-major-offensive-against-rebel-held-areas-of-aleppo
Related:
Syria: More than 3,800 civilians killed by Russian air strikes so far this year, Syrian Observatory for Human Right says
Russia Says It Would Support 48-Hour Cease-Fire in Aleppo to Allow in Aid — But Once Strong Relationship Between Russia's Lavrov and John Kerry from the U.S. May Be Permanently Damaged — "Trust is Gone, Syrians Still Die Needlessly"
Obama Administration Threatens to Suspend Talks With Russia on Syria, Considers Weaponry for Syrian Rebels — Russia Vows To Continue Bombing "Until The End"
Russia's air operation in Syria continue despite criticism from United Nations, human rights groups, US, Britain and France
"Russia is outraged by the threatening tone of the latest U.S. statement on Syria" — And Then There's Asia
Obama Unable To Escape His Foreign Policy Legacy in Syria, Iraq, Asia — "America needs a new national security strategy."
.
.
.
Tags: Al-Jazeera, al-Kalaseh, Al-Midan, Aleppo, Assad, Assad's air force, Bashar al-Assad, Dictors without birders, Dmitry Peskov, Hezbollah, Hmeymim, hospital, hospital bombed, Iran, Iranian ground forces, Iraq, John Kerry, Lavrov, Lebanon, M10 and M2 hospitals, Mark Toner, Medicins Sans Frontieres, Nusra, Obama, Obama administration failed to make any threat of military force, Obama administrtion, Putin, Russia, Russian air strikes, Russian warplanes, Russian-backed Syrian government, Saudi Arabia, Su-24s, Su-34s, Suleiman al-Halabi, Syria, Syrian government forces, Syrian Observatory for Human Rights, Syrian-American Medical Society, Turkey, U. S., U.S.-Russian brokered ceasefire, war crimes
This entry was posted on October 1, 2016 at 11:47 am and is filed under Uncategorized. You can follow any responses to this entry through the RSS 2.0 feed. You can leave a response, or trackback from your own site.