.
U.S., Russia, Britain, France, Germany, Syria, United Nations, regional nations with concerns….Turkey, Saudi Arabia and possibly Qatar.
AFP and Reuter
A general view shows destruction in Aleppo's rebel-held Bustan al-Basha neighbourhood on October 6, 2016. Credit George Ourfalian, AFP
Latest update : 2016-10-12
Russia on Wednesday said it would hold Syria talks with the US and regional powers this weekend, the first meeting on the conflict since Washington froze bilateral ceasefire negotiations.
Russian bombers were still bombing Aleppo, Syria on Wednesday, October 12, 2016.
.
Russian Foreign Minister Sergei Lavrov and US Secretary of State John Kerry agreed to hold talks aimed at "creating the conditions for the resolution of the Syrian crisis" in the Swiss city of Lausanne on Saturday, alongside top diplomats from "key countries in the region", Russia's foreign ministry said in a statement.
In an interview with CNN Wednesday, Lavrov said that talks should include Turkey, Saudi Arabia and possibly Qatar.
"We would like to have a meeting in this narrow format, to have a businesslike discussion, not another General Assembly-like debate," he was quoted as saying.
A US State Department source confirmed the meeting to AFP: "Can confirm Lausanne. Lausanne will be a meeting with key regional participants as well as Russia."
The meeting comes as tensions between Moscow and the West have spiked over the conflict after peace efforts unravelled and Russia unleashed an intense bombing campaign to back up a regime assault on the war-ravaged city of Aleppo.
The US pulled the plug on talks with Russia aimed at reviving a flagging ceasefire on October 3, sending ties with Russia spiralling to a new low.
The West has accused Moscow of potential war crimes as its forces have blasted rebel-held eastern Aleppo in support of Syrian President Bashar al-Assad's troops.
Air strikes target rebel-held Aleppo districts
The resumption of diplomatic talks came as heavy air strikes continued to pound rebel-held areas of the northern Syrian city of Aleppo Wednesday.
In a posting on its Twitter feed, the Syria Civil Defence Force [also know as the White Helmets], a rescue service operating in rebel-held areas, said the air strikes on Wednesday had killed 25 people, 15 of them at a market place in the Fardous district.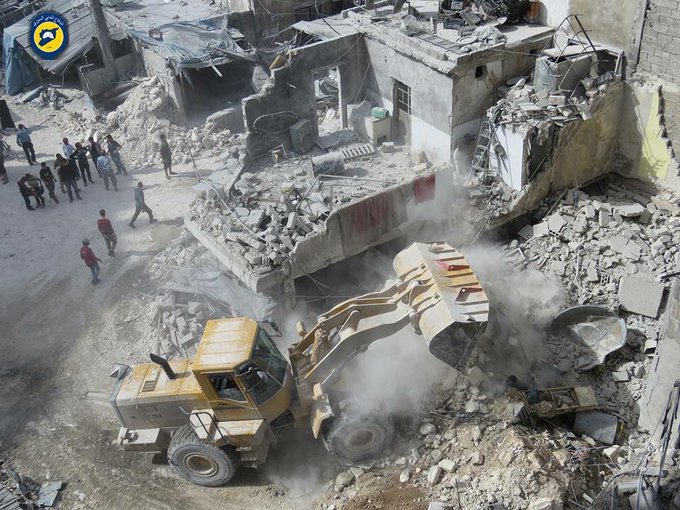 Heavy aerial bombardment of eastern Aleppo resumed on Tuesday after a pause of several days which the Syrian army said was designed to allow civilians to escape.
Assad, with military backing from Russia and Iranian-backed militias, aims to take back all of Aleppo, which was Syria's biggest city before the outbreak of war in 2011. The city has been divided between government and rebel control for years.
The Syrian Observatory for Human Rights, a British-based organisation that reports on the war, also reported heavy air strikes against the rebel-held Eastern Ghouta area near Damascus.
Russia's Tu-22M3 bombers (File photo)
A Syrian military source said that warplanes had struck several locations to the south and southwest of Aleppo.
Western states have condemned the Syrian government and Russia over their latest onslaught against rebel-held Aleppo.
The Syrian army has denied any targeting of civilians but France and the United States have called for an investigation into what they said amounted to war crimes by Syrian and Russian forces in the city.
Russia on Saturday vetoed a French-drafted UN Security Council resolution that would have demanded an immediate end to air strikes and military flights over Syria's
Aleppo city, sparking a major international dispute.
(FRANCE 24 with AFP, REUTERS)
Related:
Moscow says British FM's Syria comments 'Russophobic hysteria'
Russia risks becoming pariah over Syria bombing, UK foreign secretary says — "War Crimes" — Russia accuses him of 'Russophobic hysteria'
Russian Bombers Renew Heavy Bombing of Aleppo, Syria
France pushes for end to Aleppo onslaught — Putin cancels trip to Paris — Russia re-starts bombing of Aleppo
Russian jets resume heavy bombing of eastern Aleppo
Putin cancels Paris trip after French President François Hollande demanded the Putin meeting be devoted solely to a discussion of the situation in Syria
Turkey and Russia Snuggle Closer — Putin, Erdogan Boost Russian-Turkish Trade Ties
War Talk Returns to Russian TV — Russian state television is back on a war footing — Russia suspended a nuclear non-proliferation treaty — Moving nuclear capable missiles closer to Poland
Norway mulls US troop deployment on its soil – Defense Ministry
IAEA chief: Berlin, Germany Nuclear power plant was disrupted by cyber attack
Russia to upgrade Syria naval facility to permanent base
*******************************
MOSCOW — Whoever becomes the next president of the United States will have to deal with a Russia that seems both familiar and, increasingly, unfamiliar. For centuries, Russia has been a resource-exporting country, an economic laggard and a touchy partner, driven by a European culture and a decidedly un-European body politic. But now those constants have been joined by new factors: President Vladimir V. Putin's political unpredictability and his readiness to use military force.
The Russia of the past two years seems to no longer care about lasting partnerships or international agreements. It scorns predictability and dependability as weaknesses. Its one successful reform since 2000 has been to revamp and re-equip its armed forces. Russia's resources are stretched, but Mr. Putin seems determined to overcome those disparities with the West with political and military agility.
The depth of harm this has done to efforts to build a partnership between Russia and the West was evident last week, when a Syrian bombardment of a hospital near Damascus, in the wake of the failure of a cease-fire, prompted the American secretary of state, John Kerry, to suggest that Russia and its ally Syria be investigated for potential war crimes.
In an extraordinary move, the Kremlin on Tuesday canceled a visit by Mr. Putin to France; a comment by President François Hollande the day before that Russia might have committed war crimes was seen here as the likely reason.
Source: http://www.nytimes.com/2016/10/13/opinion/the-russia-us-partnership-driven-to-a-new-low.html?ref=world&_r=0
.
Read the rest:
Peace and Freedom Note: During the last ceasefire, a humanitarian aid truck convoy was bombed and destroyed. The U.S. blamed Russia and its Syrian allies. But Russian Foreign Minister Lavrov rejected those claims, which may have sapped all the trust U.S. Secretary of State John Kerry had remaining for Mr. Lavrov….
Syria — Destroyed aid trucks stand near the rebel-held town of Urum al-Kubra. September 20, 2016. The US, UK and France said Russia bombed the humanitarian aid convoy. Russia denied the charge. Reuters
"All we could see was a child's feet." — Members of the Syrian Civil Defense group recovered a body after airstrikes on Saturday in the contested city of Aleppo. More than 90 people died on Friday, and more than 100 on Saturday.Credit Syrian Civil Defense White Helmets, via Associated Press.
Kerry and Lavrov pose for a photo at the United Nations in Manhattan, New York, on Sept 23, 2016. PHOTO by REUTERS
Tags: air strikes, Aleppo, Assad, Bashar al-Assad, Britain, France, Germany, Iran, John Kerry, Putin, Putin's readiness to use military force, regional powers, Russia, Russia's bombing campaign, Russian Foreign Minister Sergei Lavrov, Syria, Syrian and Russian bombing, Syrian crisis, U. S., UK, US Secretary of State John Kerry, war crimes