Allegations against Cumhuriyet journalists 'boggle the mind'
Turkish police use water cannon to disperse protest over journalists' arrests
Staff at secularist Cumhuriyet paper accused of helping Kurdish militants and US-based opposition cleric Fethullah Gülen
Police in Istanbul have used water cannon and teargas on crowds of protesters to try to stop them marching to the offices of an opposition newspaper whose staff have been arrested.
Teargas hung in the air in the central Sisli neighbourhood of the city, according to a Reuters reporter, while police helicopters were heard overhead.
The protesters gathered hours after Turkish authorities formally arrested nine staff at the secularist Cumhuriyet newspaper and detained more pro-Kurdish officials, widening an anti-terror operation that has drawn global condemnation.
The arrests, one day after the leaders of the pro-Kurdish opposition Peoples' Democratic party (HDP) were jailed pending trial, are likely to further worry President Recep Tayyip Erdoğan's western allies.
More than 110,000 officials, including judges, teachers, police and civil servants, have been detained or suspended following a failed coup in July. Erdoğan's critics say he is using the coup as a pretext to quash the opposition. Ankara says the crackdown is necessary to root out terrorists.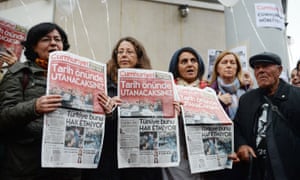 On Saturday, authorities ordered the formal arrest pending trial of nine executives and journalists from Cumhuriyet, including the editor and senior staff, Turkish media reported. They had been detained since Monday.
Prosecutors say staff at Cumhuriyet, one of few media outlets still critical of Erdoğan, are suspected of committing crimes on behalf of Kurdish militants and the network of the US-based cleric Fethullah Gülen. Turkey accuses Gülen of orchestrating the coup attempt, though he denies any involvement.
Nine HDP officials, including some provincial and district heads, were also detained in the south-eastern province of Adana, a party official said. HDP, Turkey's third-largest party, made history last year by becoming the first Kurdish-rooted party to win the 10% of the vote required to enter parliament.
Erdoğan and the ruling Justice and Development party (AKP) accuse the HDP of having links to the outlawed Kurdistan Workers party (PKK), which has carried out a violent insurgency in Turkey's mainly Kurdish south-east for three decades. The HDP denies direct links and says it is working for a peaceful resolution of the Kurdish conflict.
On Friday, the co-leaders of the HDP, Selahattin Demirtaş and Figen Yüksekdağ, were jailed pending trial after being held in overnight raids. Ten other MPs from the HDP were detained, although some were later released.
The arrests raised fears among Turkey's western allies about Erdoğan's intolerance of dissent and the country's political direction. Turkey is a Nato member and is seen as a relatively stable buffer between Europe and the conflicts raging in Syria and Iraq.
The European Union's foreign policy chief, Federica Mogherini, said she was "extremely worried" by the arrests, and raised her concerns in a telephone call with Turkey's foreign and EU affairs ministers late on Friday. The United States expressed "deep concern".
News of the arrests also shook financial markets on Friday, with the Turkish lira falling to a record low.
Hours after the detentions on Friday, a car bomb killed 10 people and wounded more than 100 near a police station in the south-eastern city of Diyarbakır where some of the MPs were being held. Islamic State later claimed responsibility for the attack, according to the militant group's Amaq news agency.
Cumhuriyet's previous editor, Can Dündar, was jailed last year for publishing state secrets involving Turkey's support for Syrian rebels. The case sparked censure from rights groups and western governments worried about worsening human rights under Erdoğan.
In total, 170 newspapers, magazines, television stations and news agencies have been shut down, leaving 2,500 journalists unemployed, Turkey's journalists' association said in a statement protesting against Monday's detentions.
Tags: Allegations against Cumhuriyet journalists, Amaq News Agency, Can Dundar, Erdogan, European Union, Federica Mogherini, Fethullah Gülen, Figen Yuksekdag, freedom of the press, HDP, human rights, Kurdish, Kurdistan Workers' Party, magazines, newspapers, People's Democratic Party, PKK, Selahattin Demirtas, Sisli neighbourhood, television stations, Turkey, Turkey's support for Syrian rebels, Turkish authorities formally arrested nine staff