Surge of violence underscores lack of oversight of the military by the seven-month-old Aung San Suu Kyi administration.
 The UN has labelled the Rohingya as one of the world's most persecuted peoples [Reuters]
Scores of Rohingya Muslims are fleeing to Bangladesh because of a military crackdown in western Myanmar, according to residents and Bangladeshi army officials.
Some of the Rohingya were shot as they tried to cross the Naaf River that separates Myanmar and Bangladesh, while others arriving by boat were pushed away by Bangladeshi border guards, residents quoted by Reuters news agency said on Wednesday.
A total of 130 people have been killed in the latest surge of violence in the country, according to the Myanmar army.
The bloodshed is the most serious since hundreds were killed in communal clashes in the western Myanmar state of Rakhine in 2012.
It has exposed a lack of oversight of the military by the seven-month-old administration of Nobel Peace Prize winner Aung San Suu Kyi.
Myanmar soldiers have poured into the area along Myanmar's frontier with Bangladesh, responding to coordinated attacks on three border posts on October 9 that killed nine police officers.
They have locked down the district, where the vast majority of residents are Rohingya, shutting out aid workers and independent observers.
The army has intensified its operation in the past seven days and has used helicopters, with dozens of people reported killed.
Aid workers, camp residents and authorities in Bangladesh estimated that at least 500 Rohingya had fled Myanmar since the October attacks.
Rohingya pushed back
Bangladeshi border guards pushed back a large group of Rohingya trying to cross on Tuesday.
"Early Tuesday, 86 Rohingya including 40 women and 25 children were pushed back by the BGB  [Border Guard Bangladesh] from the Teknaf border point," said Lieutenant-Colonel Anwarul Azim, commanding officer of the Cox's Bazar sector in eastern Bangladesh.
Reuters sources said that the Rohingya group was unlikely to have gone back to the villages in Myanmar and might be stranded at sea.
Rohingya community leaders confirmed to AFP news agency on Tuesday that about 200 Rohingya Muslims were stranded at the Bangladesh border.
The United Nations has labelled the Rohingya as one of the world's most persecuted people.
They are branded as illegal immigrants from Bangladesh by Myanmar's majority Buddhist population despite their long roots in the country, where they face apartheid-like restrictions on movement and are denied citizenship.
But the Bangladeshi government also refuses to register the hundreds of thousands of Rohingya refugees living on its side of the border.
http://www.aljazeera.com/news/2016/11/rohingya-muslims-flee-myanmar-crackdown-bangladesh-161117062551006.html
******************************
Rohingya women living in a camp for internally displaced people in Myanmar. Photograph by AungNaing Soe for the Guardian
The Guardian
It will blow up': fears Myanmar's deadly crackdown on Muslims will spiral out of control
Generations of distrust between Rohingya Muslims and wider Buddhist population have boiled over into reprisals fuelling the spectre of an insurgency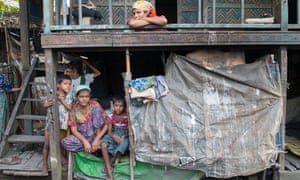 A Rohingya family in Aung Mingalar ghetto, Rakhine state, Myanmar. Photograph: Aung Naing Soe for the Guardian
Kyaw Hla Aung's voice trembles as he speaks.
"The situation is really bad here," he says, sitting in a bamboo hut inside an internment camp on the outskirts of Sittwe, capital of Myanmar's troubled Rakhine state.
The 77-year-old Rohingya Muslim community leader, a former lawyer, was jailed numerous times for political activities under Myanmar's former military governments. He is used to scrutiny. But, this time, he says it is different.
"The military came and they are warning everybody not to keep any strangers," he says.
Rohingya in the camps, where tens of thousands have been confined since communal violence in 2012, have stopped gathering in groups to avoid attracting suspicion. In at least one village they were ordered by the army to demolish fences surrounding their homes.
There is good reason to be afraid. A few dozen miles north, in northern Rakhine's Maungdaw township, a conflict is raging between the military and the Rohingya population. A series of deadly attacks on security forces by a group apparently supported by members of the diaspora has raised the spectre of a new insurgency. It has also prompted a severe crackdown.
Read the rest:
https://www.theguardian.com/world/2016/nov/18/myanmar-deadly-crackdown-muslims-rohingya
Tags: Atrocities, Aung San Suu Kyi, Bangladesh, Bangladeshi border, Bangladeshi government, BGB, Border Guard Bangladesh, Civilian Oversight on Military, Cox's Bazar, human rights, Myanmar, Myanmar army, Myanmar military, Naaf River, Rohingya, Rohingya flee Myanmar, Rohingya Muslims, Sittwe