.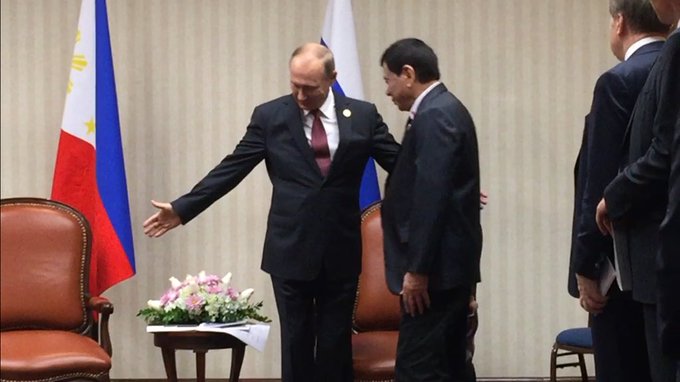 LIMA, Peru – President Rodrigo Duterte has been invited to visit Russia by no less than the man he calls his "hero," Russian President Vladimir Putin.
Foreign Affairs Secretary Perfecto Yasay confirmed that Putin extended the invitation after the two heads of state held a bilateral meeting on the sidelines of the APEC Summit in Lima, Peru on Saturday (Sunday in Manila).
"Russian President Putin has formally extended an invitation for the President to go to Russia, which will be preceded by a trip that I will have to undertake there this December," Yasay said.
The trip, Yasay believes, will herald Manila and Moscow's entry into various agreements.
"I look forward for a more optimistic and closer and detailed discussions of the President with the head of state of Russia. And that will mark the beginning of our entering into various agreements to achieve our goals," he said.
DUTERTE-PUTIN MEETING
TINGNAN: Unang pagtatagpo nina Russian Pres. Putin at Pangulong Duterte sa sidelines ng #APEC2016 sa Peru | via @dzmmRP45
Duterte, in his 45-minute meeting with Putin, launched into a rant against Western powers and how they treat small countries like the Philippines.
"Of late, I see a lot of these Western nations bullying small nations. And not only that, they are into so much hypocrisy," Duterte was quoted as saying by Agence France-Presse.
"And they seem to start a war but are afraid to go to war. That is what is wrong with America and the others. They've been waging wars in so many places — in Vietnam, in Afghanistan and in Iraq for one single reason that there was a weapon of mass destruction, and there was there was none."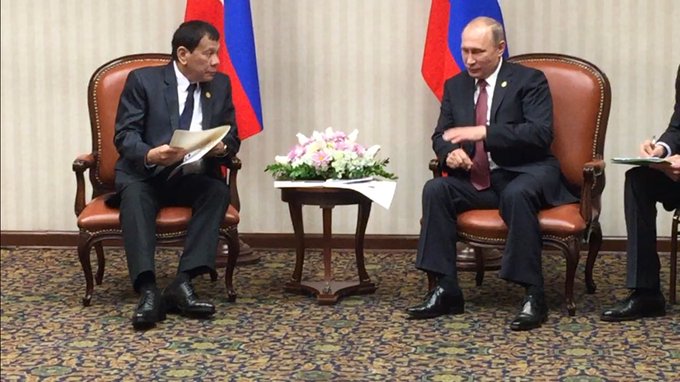 To illustrate his point about bullying tactics, Duterte also said the unnamed foreign powers "forced the Philippines to contribute soldiers to its wars."
When Manila pulled out non-combat troops that were part of the US-led coalition against Saddam Hussein in Iraq in 2004 following threats to behead a kidnapped Filipino worker there, Washington "made it hard for us," Duterte told Putin in a video shot by the Philippine presidential palace broadcast team.
He also said the Philippines longed to be part of Europe. "We've been longing to be part also of — despite the distance — we have been longing to be part of Europe, especially in commerce and trade around the world."
Since taking office in June, Duterte has upended the Manila's historical military alliance with the US, repeatedly saying he was shifting toward China and Russia as he embarks on an independent foreign policy.
Duterte has also repeatedly praised Chinese President Xi Jinping and Putin, whom he called his "favorite hero."
On the other hand, he has has hurled verbal tirades against US President Barack Obama, UN chief Ban Ki-moon and the European Union. All three have expressed concern over Duterte's iron-fisted policy against drugs, which they said violated human rights and due process.
— With reports from Agence France-Presse; Dexter Ganibe, DZMM; Lynda Jumilla, ABS-CBN News
.
.
Related:
.
.
***********************************
.
Rodrigo Duterte slams western 'hypocrisy' as he meets Putin
Philippine president says he would happily join a 'new order' in the world under Russia and China if they created one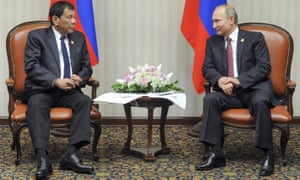 The Philippine president, Rodrigo Duterte, lashed out at western "bullying" and "hypocrisy" during his first meeting with his Russian counterpart, Vladimir Putin, and said that when it came to alliances the United States could not be trusted.
In talks with Putin during the Apec summit in Lima, Duterte held nothing back in his views about major powers like the United States, suggesting he is sticking to his guns on realigning foreign policy away from Washington, despite his warm words for the incoming US president, Donald Trump.
"Historically I have been identified with the western world. It was good until it lasted," he told the Russian leader.
"And of late I see a lot of these western nations bullying small nations. And not only that, they are into so much hypocrisy," he said, according to a transcript of Saturday's meeting provided by his office.
Putin congratulated Duterte on his May election win and said he had done a lot in a very short time to build trust and confidence between Russia and the Philippines.
Duterte responded with similar words and then chided western powers, particularly the United States, for intervening in conflicts for their own national interest and cajoling others to side with them.
Duterte's overtures to Russia are similar to those he made to China, until recently a bitter rival. He is now praising Beijing and tapping it for investment in a stunning about-face that has unnerved a region wary of a Chinese hegemony taking shape in south-east Asia.
The mercurial former mayor insists the shift is his pursuit of an independent foreign policy, but that has come with repeated threats and verbal tirades against the United States, for decades a staunch ally, investor and donor.
Prior to leaving for Peru, Duterte said he might follow Russia and withdraw from the international criminal court (ICC) because of western criticism of his deadly war on drugs. He said if Russia and China decided to create a "new order" in the world he would be first to join.
In his talk with Putin, Duterte blasted the United States and its western allies for taking the lead in wars he said had ultimately failed.
"They seem to start a war but are afraid to go to war. That is what's wrong with America and the other," he said.
"They were waging war in so many places, in Vietnam, in Afghanistan and in Iraq … They insist if you are allied with them that they follow you."
Duterte has spoken of his admiration for President Xi Jinping of China and also for the leadership of Putin. In an interview with Al Jazeera broadcast on Thursday he described Putin as sincere, and joked that he had a "hillbilly" style.
Philippine President Duterte says he is no fan of Martial Law even as he maintains that it can be a "contingency" to address violence
Philippines: 'Habeas corpus plan part of calibrated response vs rebellion'
Philippines: Duterte's Peso Rout Runs Counter to the Booming Philippine Economy Assessment — Investors rushing to pull money out of the Philippines, Big Stock Exodus
Philippines President Rodrigo Duterte Apologizes to Jews for Hitler remark
Duterte Agitated About Hitler Comparison — "There are three million drug addicts [in the Philippines]. I'd be happy to slaughter them."
Philippine House of Representatives Says It Is "Not A Rubber Stamp For President Duterte"
Philippine President Duterte: Sometimes, rule of law can be stupid proposition — "I won't let Filipinos be slaughtered in the name of human rights"
Philippine President Duterte Reverses himself (Again) — Tells National Police To Buy U.S. Rifles After All
Syria: U.S. Secretary of State Kerry unleashes 'outrage' at Russia — Says Russia turned a "blind eye" to the destruction and killings, use of chemical weapons — But Obama also turned a blind eye …
Philippines: Senators see no need for President Duterte to suspend writ of habeas corpus — "Does not speak well of the Philippine National Police's war on drugs and criminality"
Philippines: Habeas corpus suspension? Martial law? Duterte Administration flip flopping again?
.
.
.
.
.
.
.
Tags: Afghanistan, APEC 2016, Ban Ki-moon, China, Duterte, DZMM, EU, European Union, habeas corpus, human rights, ICC, International Criminal Court, Iraq, Perfecto Yasay, Peru, Philippines, Philippines-Russia ties, Putin, Rodrigo Duterte, Russia, U.S., UN, United Nations, uterte slams western 'hypocrisy', Vietnam, violated human rights and due process, Vladimir Putin, Xi Jinping