November 30, 2016
After years of slowing earnings growth and little in the way of excitement for many Wall Street analysts, many are now hopeful that President-elect Donald Trump will finally make things interesting.
When collating data for the Goldman Sachs Group Inc. Analyst Index — a proprietary measure of growth across different sectors of the S&P 500 — the firm included a question this month on what the election of Donald Trump will mean for the industries covered by those surveyed. Turns out, they are rather optimistic.
"This month, we asked analysts to comment on how the results of the U.S. election will affect companies in their respective sectors," the team led by Avisha Thakkar writes in the new note. "While their responses suggest that there is still uncertainty about the sector-level impact, the majority of sectors are anticipating favorable effects," they say, adding that expectations of lower tax rates and economic stimulus are among key reasons for the favorable outlook.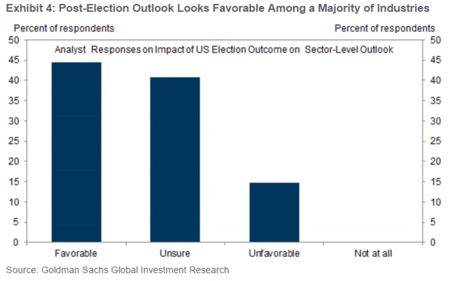 Goldman certainly isn't the first to hail the potential benefits of a Trump presidency. Dubravko Lakos-Bujas and Marko Kolanovic, quantitative analysts at JPMorgan Chase and Co., also wrote that many of Trump's policies would be "pro-growth," even while uncertainty about specifics remains high.
They wrote this week that if the campaign promises that have the potential to stimulate growth get implemented, the S&P 500 could see as much as $20 in additional earnings-per-share growth over the next few years.
Still, "it is difficult to overstate just how wide the range of possible policy outcomes is currently," they said. "While majority of President-elect Trump's policies are pro-growth for equities, parts of his more populist rhetoric could significantly disrupt the economy," they add, pointing to the promise of stricter trade policies. The strategists' skepticism that all the former real-estate mogul's campaign promises will go through means they stop short of incorporating the effects into their base-case earnings forecasts.
Of course there's no suggestion that all industries will benefit alike: Goldman's analysts expect some to miss out, and some even to suffer under Trump. Some respondents said they expected the election outcome to weigh negatively on their sectors; among those were autos, aerospace, clean energy, and agribusiness. "Concerns regarding the outlook for business activity stem from potentially more restrictive trade policy, notably for clean energy and agricultural industries, and higher inflationary pressures," according to Thakkar and team.
While many of the Goldman analysts surveyed are optimistic, the firm's Chief U.S. Equity Strategist David Kostin also sounded a note of caution. In a separate report, his team moot the possibility that the "hope" that has enveloped markets since the surprise election result could fade within months of the 45th president's inauguration.
"Fear is likely to pervade during second half and the S&P 500 will end 2017 at 2,300," according to Kostin et al. While that would be 5 percent above where we are trading today, it would also mark a decline of nearly 5 percent from the 2,400 they expect the S&P 500 to be trading at during the first half of the year.
http://www.bloomberg.com/news/articles/2016-11-30/goldman-says-trump-s-presidency-will-benefit-stocks-in-almost-every-sector
Tags: Analyst Index, Avisha Thakkar, Chief U.S. Equity Strategist David Kostin, Donald Trump, Goldman Sachs, growth across different sectors, president-elect Donald Trump, S&P 500, Trump's Presidency Will Benefit Stocks in Almost Every Sector