BBC News
France presidency: Francois Hollande decides not to run again
Mr Hollande said he could not accept seeing the Socialist party falling apart
In a surprise move Francois Hollande has announced he will not seek a second term as president of France.
"I've decided not to be a candidate to renew my mandate," the Socialist leader said in a live televised address.
The 62-year-old, faced with very low popularity ratings, has become the first sitting president in modern French history not to seek re-election.
Conservative Republicans party candidate Francois Fillon is seen as a favourite in next year's election.
Recent opinion polls suggest far-right contender Marine Le Pen from the National Front could be Mr Fillon's closest challenger.
'Aware of risks'
"In the months to come, my only duty will be to continue to lead my country," Mr Hollande said on Thursday.
"The world, Europe, France have faced particularly serious challenges during my mandate. In these particularly challenging circumstances I wanted to maintain national cohesion," he said.
He was referring to deadly terrorist attacks in Nice last July and Paris in November 2015, as well as the shootings at the satirical magazine Charlie Hebdo several months before that.
Mr Hollande added that he was aware of the risks of running and warned of the threat from the National Front.
One of the first reactions came from a former economy minister, Emmanuel Macron, who said the president had made a "courageous decision". He is himself standing for president as an independent centrist, having resigned from the government a few months ago.
Mr Valls (left) hailed President Hollande's decision not to run. AFP
But Mr Hollande's decision not to stand now opens up the Socialist party contest in January. Prime Minister Manuel Valls is likely to be favourite to win the candidacy, having said last weekend he was ready to run.
Mr Valls described Mr Hollande's decision not to run as "the choice of a statesman".
Last weekend, more than four million French voters chose Mr Fillon, a former prime minister, to represent the Republicans in the two-stage presidential election in April and May next year.
Marine Le Pen is seen as a serious contender in the 2017 election. AFP/GETTY IMAGES
Opinion polls suggest he would win the first round in April, ahead of Marine Le Pen. If Mr Valls were the Socialist candidate he would be placed third. Mr Fillon would then go on to win the run-off.
During his term in office, he devoted all his energy to cutting unemployment, and it had begun to fall but far later than he had hoped.
Since January 2015, Mr Hollande's presidency has been overshadowed by jihadist terror attacks. France has been under a state of emergency amid fears of further attack.
Indispensible no more – Analysis by BBC's Hugh Schofield in Paris
Francois Hollande's decision not to stand again comes as a huge relief to the Socialist Party, and probably to himself as well.
He – no doubt – mulled it hard and long. It is, after all, something of a humiliation to be the first president under the Fifth Republic to decide he's not good enough to run for a second term.
And yet how much more of a humiliation would it have been to stand in the presidentials and be wiped out by Marine Le Pen in round one?
Or worse, to be eliminated in the Socialists' own primary in January?
Because the truth is Francois Hollande had lost touch not only with the country – but also with his own camp.
He was always the indispensible compromise candidate who saved the Socialist party from pulling itself in two.
But now both left and right in the party have had enough.
Read more from Hugh
Mr Hollande came to power promising a period of normality, after the turbulent centre-right presidency of Nicolas Sarkozy.
But he struggled to introduce reform and faced rebellion from the left wing of his Socialist party.
His judgement was called into question in October, when a book of damaging revelations was published, entitled A President Shouldn't Say That.
He suggested the justice system was full of "cowards" and labelled his left-wing opponents a "crowd of idiots".
French media stunned by Hollande "bombshell"
Several French media outlets point out that this is the first time in modern French history that a sitting president has decided not to seek a second term in office.
After the suspense that attended the run-up to Mr Hollande's announcement, his decision is seen by many papers – such as Le Parisien – as "a bombshell".
The Catholic paper La Croix calls his decision "unprecedented", adding that "although, of course, in theory it was conceivable that an outgoing president might not stand again, it was not that likely".
L'Observateur notes that the only other president who failed to seek a second mandate was Georges Pompidou, but that was on account of his death.
"Hollande, on the other hand, must resign himself to a political death," the newspaper concludes.
By BBC Monitoring
********************************************
If the eurozone economy goes into another slump brought on by a fresh financial panic it will damage growth in the UK by depressing exports and hitting domestic UK business investment
The UK is watching Italy carefully
By Ben Chu Economics Editor
The Independent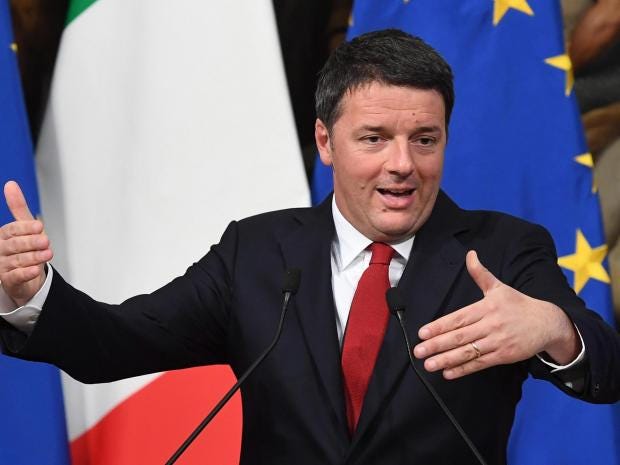 http://www.independent.co.uk/news/business/news/italy-referendum-what-is-it-about-what-happens-no-vote-uk-eurozone-a7447591.html
********************************
Related:
Italian protesters clash with police at anti-govt rally in Florence, Italy — Protesters want PM Renzi Out — Hooded youths attacked police — President Obama hosted a State Dinner for Renzi in October (The Kiss of Death)
Obama was also against the UK leaving the EU:
British Voters Were Angered By Obama's Classless "Britain Will Go to the Back of the Queue" Remark — UK Brexit Vote a rejection of Obama, Hillary Clinton — Trump: They Voted To Take Their Great Country Back Again
Obama: Britain would go to the 'back of the queue' when it comes to US trade deals if it leaves the EU — He Heads to Germany Sunday to Talk Trade
******************************************************
With Populist Anger Rising, Italy May Be Next Domino to Fall
TURIN, Italy — Italy's prime minister, Matteo Renzi, only 41, once seemed to have solved the riddle of how to survive Europe's populist, anti-establishment tempest. But with a critical national referendum on Sunday, the populist wave is now threatening to crush him and plunge Italy into a political crisis when the European Union is already reeling.
From Washington to Brussels to Berlin, fears are rising that Italy may be stumbling into its own "Brexit" moment. What should be an inward-looking referendum on whether to overhaul Italy's ossified political and electoral system has taken on much broader import. Financial analysts warn of a potential banking crisis, and pro-Europe supporters fear that a "no" vote in the referendum could accelerate the populist movement across the European bloc.
Italy is potentially the next domino to fall, partly because of the disillusionment of young voters. They have been swept up by many of the same forces that led peers in Spain and Greece to vote for upstart parties, the British to vote to leave the European Union, and Americans to elect Donald J. Trump. In France, President François Hollande announced on Thursday that he would not seek re-election — another establishment figure succumbing to the political moment.
Read it all: http://www.nytimes.com/2016/12/02/world/europe/italy-referendum-matteo-renzi.html?ref=world&_r=0
Tags: Brexit, Britain, economic reforms, European Union, eurozone, Financial market traders, financial panic, Five Star, François Fillon, François Hollande announced on Thursday that he would not seek re-election, France, Hollande will not seek re-election, Italian president, Italian Prime Minister Matteo Renzi, Italy, Italy has had the worst economic performance of any eurozone country since the 2008, Italy referendum, Italy's economy, Manuel Valls, Marine Le Pen, Matteo Renzi, Renzi, Renzi's Democratic party, Sergio Mattarella, Socialist Party, UK, Valls