The Guardian
Police sources say man killed by soldier was earlier involved in incident north of French capital in which policeman was shot and injured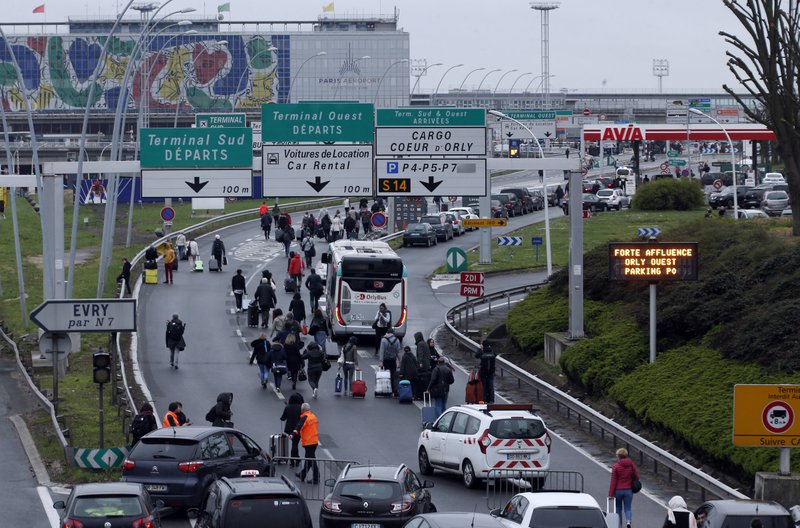 A man said to be a radicalised Muslim known to security services shot a police officer north of Paris before going to Orly airport, where he was shot and killed on Saturday morning.
The man was shot after he tried to grab a soldier's weapon at the airport, interior ministry spokesman Pierre-Henry Brandet said.
"A man took a weapon from a soldier then hid in a shop in the airport before being shot dead by security forces," he said.
The soldier was part of the Sentinel special force installed around France to protect sensitive sites after a string of deadly Islamic extremist attacks.
Police sources said the same man was also involved in the incident at Stains, north of the French capital, in which a policeman was shot and injured during a road check.
No explosive devices were found on the dead man's body, Brandet said.
© AFP | French special forces secure the area after a man was shot dead at Paris' Orly airport, on March 18, 2017
Police evacuated both terminals at Orly and all flights have been suspended, with some diverted to Charles de Gaulle airport. Travellers have been told to avoid the airport while the security operation was under way. Some passengers whose flights had already landed were being held on board.
A witness, Franck Lecam, said: "We had queued up to check in for the Tel Aviv flight when we heard three or four shots nearby. We are all outside the airport, about 200 metres from the entrance.
"There are policemen, emergency workers and soldiers everywhere in all directions. A security official told us that it happened near gates 37-38 where Turkish Airlines flights were scheduled."
No one else was injured in the Orly incident.
The French interior minister, Bruno Le Roux, is due to visit the airport, south of Paris, later.
The aiport shooting follows after a similar incident last month at the Louvre museum in central Paris.
France remains under a state of emergency in the wake of the attack on the Bataclan music venue in November 2015 in which 90 people were killed by jihadi gunmen, and the Nice truck attack last July that claimed the lives of 84 people and injured hundreds more.
Read the rest:
https://www.theguardian.com/world/2017/mar/18/man-shot-dead-at-paris-airport-after-trying-to-grab-gun-reports-say
Related:
Paris Orly airport: Man killed after attempt to seize soldier's gun — Hours after Minister of Justice proposes lifting "State of Emergency"
Man shot dead at Paris Orly airport after taking soldier's gun: official
Tags: airport, France, France's presidential election, French, human rights, Orly airport, Paris, Paris Orly airport, radicalised Muslim, Sentinel special force, shooting, state of emergency, terrorism