BBC News
Russia is to blame for "every civilian death" in the chemical weapons attack last week in Syria, Defence Secretary Sir Michael Fallon has claimed.
Sir Michael, writing in the Sunday Times, said the Kremlin was responsible "by proxy" as the "principal backer" of President Bashar al-Assad's regime.
It comes after Foreign Secretary Boris Johnson cancelled a visit to Moscow to meet his opposite number.
The attack has been widely blamed on the Syrian government.
Sir Michael said last Tuesday's gas attack was "barbaric, immoral and illegal" and the response of air strikes from US President Donald Trump was "the right call".
Referring to Russia, Sir Michael wrote: "This latest war crime happened on their watch.
"In the past few years, they have had every opportunity to pull levers and stop this civil war. Russia must show the resolve necessary to bring this regime to heel."
The defence secretary said Syria needed a government in which Mr Assad played no part. He acknowledged achieving that was "not easy, but not impossible".
"By sending Tomahawk missiles to attack the airfield, aeroplanes and equipment believed to be involved, it has sent a strong signal to the Syrian regime to think twice before using gas in future," said Sir Michael.
"Justified and appropriate though US action was, it was also necessarily limited. We now need a long-term solution to this conflict."
The March 6 front page of Libération, a French newspaper. Its top headline reads: 'Assad's Children.' Libération
Sir Michael said Mr Assad must depart and the search for stability begin.
"Someone who uses barrel bombs and chemicals to kill his own people simply cannot be the future leader of Syria," he stated.
'Absurd' decision
Mr Johnson, who called off a trip to Moscow on Monday, is attempting to co-ordinate a united response from the G7 group of industrialised nations, whose foreign ministers meet in Italy this week.
The Russian foreign ministry said Mr Johnson's decision not to visit Russia was "absurd".
US Secretary of State Rex Tillerson will visit Moscow as planned after the G7 meeting in Italy this week.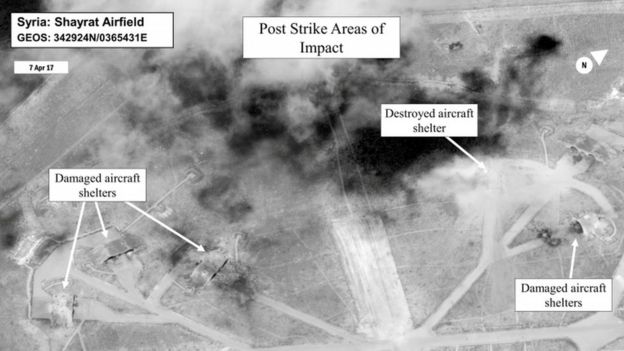 Eighty-nine people, including 33 children and 18 women, died in the suspected nerve agent attack in the rebel-held town of Khan Sheikhoun on Tuesday.
The figures come from Idlib's opposition-run health authority. The country's government denies using nerve gas.
On Friday, the US carried out missile strikes on a Syrian air base it says is suspected of storing chemical weapons. At least six people are reported to have died.
In response, Syria's ally Russia accused the US of encouraging "terrorists" with unilateral actions.
Moscow has further promised to strengthen Syria's anti-aircraft defences and it is shutting down a hotline with the US designed to avoid collisions between their air forces over the country.
Iran's President Hassan Rouhani has said "terrorists are celebrating" the US strikes on the air base.
But he also backed calls for an independent inquiry into the suspected chemical weapons attack.
Mr Johnson's visit, for talks with his Russian counterpart Sergey Lavrov, would have been the first by a UK foreign secretary in more than five years.
Related:
Tillerson says Russia either complicit or incompetent in Syria chemical weapons deal
North Korea Says Syria Airstrikes Prove Its Nukes Justified — "Japan, South Korea and U.S. Ready For Whatever North Korea Does"
Iran Seeks Stronger Russia Alliance After U.S. Strikes in Syria
U.S. Navy strike group to move toward Korean peninsula — Pre-emptive military strikes on North Korea "not off the table"
British FM Boris Johnson cancels Moscow visit over developments in Syria — "We deplore Russia's continued defence of the Assad regime" — Rex Tillerson expected to go to Moscow on Tuesday
The Story Behind a Newspaper's Cover Photo of 7 Dead Syrian Children
http://time.com/4729687/liberation-syria-cover/
Iran's Rouhani says Trump abetting Syria 'terrorists' — "The Syrian government does not possess chemical weapons"
Are U.S. Airstrikes in Syria Effective? Will the U.S. "play into the hands" of Daesh terrorists?
Iran Wants Northern Iraq as Part if Its "Shi'a Crescent"
Turkey and U.S. Syria Strategies Finally Align — Turkey Hopeful Donald Trump Can Be More Helpful Than Barack Obama — "Can we act in time? Will there be a Syrian people left to decide Syria's future?"
Obama Legacy? — Warplanes mount fresh airstrikes in Idlib area, Syria, as follow-up to chemical weapons attacks — Syria's President Bashar al-Assad Says He Deserved The Nobel Peace Prize More Than The OPCW — Russia has sided with Assad throughout
Syria conflict: 'Chemical attack' in Idlib kills 58
Syria: Chemical Weapons Used Believed Launched from Aircraft — U.N. call it a "horrific" attack
Syrian Aid Group Says 100 People Killed, 400 Injured in Chemical Attacks
From 2014:
U.S. Sounds Alarm on Syria's Chemical Weapons Removal — Only 4% Removed — Removal has "seriously languished and stalled"
How Much Of Syria's Chemical Weapons Stockpile Has Been Removed from Assad's Control? — Less Than 5%
Syria Fails To Comply With Order To Turn Over All Chemical Weapons By February 5
U.S. says Syria is failing to surrender its chemical weapons — Russia sides with Assad
From 2013:
Nobel Peace Prize Will Go To International Chemical Weapons Oversight Organization Currently Working in Syria
Syria's President Bashar al-Assad Says He Deserved The Nobel Peace Prize More Than The OPCW
.
Kerry and Lavrov. John Kerry and Sergey Lavrov in 2013. They engineered a deal to remove all chemical weapons from Syria. AP photo
.
White Helmet rescue workers try to find children buried in the wrechage of Aleppo by Russian and Syrian Bombing — after the Obama Adminstration withdrew from the Middle East.
.
Related:
.
"What Happened After President Obama Failed To Support His Own Red Line in Syria? He Unleashed Hell"  ("The President Blinked": Why Obama Changed Course on the "Red Line" in Syria)
.
United States Ambassador to the United Nations Samantha Power, left, Secretary of State John Kerry, second from right, and National Advisor Susan Rice, right, listen while US President Barack Obama speaks during the 68th session of the General Assembly at United Nations headquarters. (photo credit: AP/Seth Wenig)
.
Obama's Syria Legacy: Measured Diplomacy, Strategic Explosion — Obama made himself a spectator to this century's greatest humanitarian catastrophe
.
Russia's Foreign Minister Sergei Lavrov (R) and U.S. Secretary of State John Kerry react during a joint news conference after their meeting in Moscow, May 7, 2013.Sergei Karpukhin/Reuters
.
.
.
Foreign Policy of Barack Obama, Hillary Clinton, John Kerry has Added To World Disorder — Obama's 'pivot to Asia' has failed. China is in the ascendancy
Welcome to the bizarre new world of "post-truth politics"
Obama's final, most shameful, legacy moment
Russia's Lavrov Says Deployment of NATO Troops in Baltics a Bad Idea
Could Russia-U.S. Deal on Syria Chemical Weapons Lead to a Non-Imperial, New Internationalism?
SEPTEMBER 16, 2013
https://www.democracynow.org/2013/9/16/could_russia_us_deal_on_syria

.
US Secretary of State John Kerry, left, shakes hands with Russian Foreign Minister Sergey Lavrov at a news conference in Geneva, Switzerland, September 2013 (photo credit: AP/Keystone/Martial Trezzini)
Secretary of State John Kerry, (r.), speaks with Iranian Foreign Minister Mohammad Javad Zarif, (c.), in Geneva, Switzerland, in January, 2014. The pair will meet in New York Monday , when they will participate in a conference at the United Nations on the nuclear non-proliferation treaty. LAURENT GILLIERON/EPA
Iran denies it breached the nuclear agreement; Sends heavy water to Oman — US Navy helps Iranian mariners in Persian Gulf
.
U.S. Navy sailors held by Iran, January 2016
.
Tags: Assad, Bashar al-Assad, Britain, chemical weapons, Defence Secretary Sir Michael Fallon, Foreign Secretary Boris Johnson, Iran, Iran Nuclear Deal, Iran's nuclear weapons, Iran's President Hassan Rouhani, Iranian Foreign Minister Mohammad Javad Zarif, John Kerry, Khan Sheikhoun, Lavrov, Obama, Obama Adminstration, Obama Legacy, President Bashar al-Assad's regime, Putin, Rouhani, Syria, U.S., UK, United Nations, US President Donald Trump, US Secretary of State Rex Tillerson