By Benjamin Haas in Hong Kong
The Guardian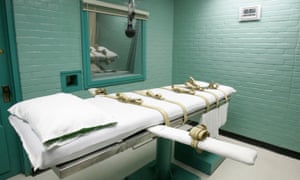 An execution chamber in Texas. The US last year carried out its lowest number of death sentences since 1991. Photograph: Pat Sullivan/AP
Amnesty International has sharply criticised China for continuing to conceal the number of people it sentences to death, as the human rights group reported a fall in executions globally last year.
The number of executions around the world fell by more than a third to 1,032 across 23 countries in 2016, compared with 1,634 in 25 countries in 2015. Iran, Saudi Arabia, Iraq and Pakistan were the top executioners.
It is estimated that China executes thousands of people, but Beijing does not release statistics and considers the number of death sentences to be a state secret.
Nicholas Bequelin, Amnesty's east Asia director, said: "It is time for China to stop being a rogue state in the international community with respect to the death penalty and finally allow the Chinese people to have a proper, informed debate about capital punishment in the country."
China has a conviction rate of about 99.9% and criminal trials heavily rely on confessions. Rights activists say suspects are often tortured or coerced into admitting guilt.
The Chinese government claims it has reduced the use of the death penalty and taken steps under a policy of "killing fewer, killing cautiously". As part of this, the county's top court must now approve death sentences handed out by lower courts.
Read the rest:
https://www.theguardian.com/world/2017/apr/11/amnesty-criticises-rogue-state-china-as-global-death-penalty-toll-falls
Related:
Torture Is China's Useful Tool in High Confession Rate
*************************************
Of course, Amnesty International could be crazy, as Philippine President Duterte says….
Philippines' Duterte calls European critics 'crazies' — Europe, Human Rights Watch, UN, Amnesty International all unhappy with Dutert'e human rights record
Philippine President Duterte: "I will continue to fire people if there is any smell of corruption." (Except in the police forces?) (The Chinese way)
Opinion: Government Takeover of Editorial Pages Bad for Philippine Democracy  (The Chinese way)
Philippines President Duterte Vows to Pardon Police Accused in Mayor's Premeditated Jailhouse Murder — "To show his full support for policemen who obey his orders in the drug war"  (The Chinese way)
Philippines: Five dead as militants attack tourist island — A caliphate emerging in southern Philippines is unlikely — We think
Philippines' Duterte fires minister after 'corruption' row — Will calls for martial law turn into impeachment?
Corruption in Philippines courts a trade barrier – US says
Philippines' Duterte suspends 'corrupt to the core' police from drug war — Amnesty International says the killings will likely continue regardless of Duterte's decision
Philippine President Duterte Ally Says New York Times is Destabilizing The Philippines — (Read it here and judge for yourself)
Philippine President Duterte's Anti-Media Tirade Met With Scorn by Journalists — "A brazen abuse of power" — "Mindset of a petty tyrant." — "Shows how little, if any, appreciation you have of democracy and governance."
A man suspected of dealing drugs shot dead after a "buy and bust" operation in Quezon City in September. Credit Daniel Berehulak for The New York Times
Philippines: Catholic Church rallies faithful vs death penalty
Philippines To Reassert At-Sea Sovereignty: Discussing Renaming 'Benham Rise' to 'Philippine Rise'
.
.
.
Tags: abuse of power, Amnesty International, Beijing does not release execution statistics, capital punishment, China continues to conceal the number of people it sentences to death, China executes thousands of people, coerced, coercion, death penalty, Dutert'e human rights record, Duterte, executions, executions in China, human rights, Iran, Iraq, Pakistan, Philippine President Duterte, Philippines, Saudi Arabia, torture