BBC News
N Korea missile launch fails day after military parade
North Korea has attempted to launch a missile on its east coast which is believed to have failed, South Korean and US military officials say.
The US said it had detected a ballistic missile, which blew up immediately.
It comes a day after North Korea warned the US that it was "ready to hit back with nuclear attacks" amid mounting tension in the region.
The state has already conducted five nuclear tests and a series of missile launches.
Meanwhile, US Vice-President Mike Pence is flying to the South Korean capital, Seoul, where he is expected to discuss the best way to deal with North Korea's missile and nuclear programmes.
'Blew up immediately'
"North Korea attempted to test an unidentified type of missile from [its eastern port of] Sinpo," the South Korean defence ministry said, adding that the suspected launch on Sunday had "failed".
The ministry said that it was investigating for further details.
The US Pacific Command later confirmed the failed test, adding that it had detected and tracked what it believed to be a North Korean ballistic missile.
"The missile blew up almost immediately," said US Navy Commander Dave Benham, quoted by Reuters news agency.
On Saturday, North Korea marked the 105th anniversary of the birth of its founding president, Kim Il-sung, with a huge military parade in Pyongyang amid speculation that current leader Kim Jong-un could order a new nuclear test.
The event, which appeared to include new intercontinental and submarine-launched ballistic missiles, was a deliberate show of strength.
Tension continues to rise in the Korean Peninsula with a US aircraft carrier group steaming towards the region.
Mike Pence's long-planned 10-day trip marks his first official visit to the region, where he is expected to reaffirm the US commitment to stand by its regional allies.
It comes as Washington steps up the pressure on the isolated North, with President Donald Trump saying that the US is ready to act alone to deal with the nuclear threat.
At the parade on Saturday, North Korean military official Choe Ryong-hae, who is believed to be the country's second most powerful official, said that his country was "prepared to respond to an all-out war with an all-out war".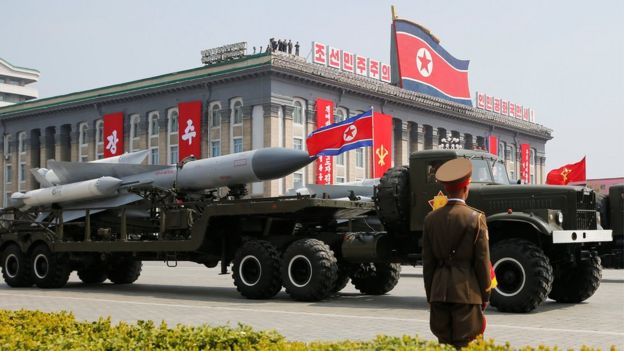 "We are ready to hit back with nuclear attacks of our own style against any nuclear attacks," he said.
North Korea's aim is to be able to put a nuclear warhead on an intercontinental ballistic missile (ICBM) that can reach targets around the world.
Pyongyang has claimed to have miniaturised nuclear warheads for use on missiles, though experts have cast doubt on that given the lack of evidence.
***************************************
Related:
According to a military official the weapon is 'presumed to be a new ICBM' as it is longer than the existing KN-08 or KN-14 missiles.
The South Korean defence ministry said in a statement: 'North Korea attempted to test an unidentified type of missile from Sinpo area in the South Hamkyong Province this morning, but we suspect the launch has failed.'
Earlier North Korea unveiled 'game-changer' ballistic missiles during a display of the country's military might
The display of military might in the North Korean capital Pyongyang was held as Kim Jong-Un warned of an 'annihilating strike' if the US attacks
An unidentified rocket is displayed during today's parade, with experts voicing fears that it could have a range of 9,000 miles
This map shows the approximate location of Donald Trump's armada which he has sent to the Korean Peninsula – the location of the missile launch in the Sinpo area of the South Hamkyong Province is also shown
In a statement, the US military said: 'U.S. Pacific Command detected and tracked what we assess was a North Korean missile launch at 11:21 a.m. Hawaii time April 15.
'The launch of the ballistic missile occurred near Sinpo.
'The missile blew up almost immediately. The type of missile is still being assessed.
'U.S. Pacific Command is fully committed to working closely with our allies in the Republic of Korea and in Japan to maintain security.'
The Foreign Office has said it is 'concerned by reports of a missile test by North Korea' and is 'monitoring the situation closely'.
Read more: http://www.dailymail.co.uk/news/article-4415314/North-Korea-attempts-launch-missile-fails.html#ixzz4eMysUJ5e
Follow us: @MailOnline on Twitter | DailyMail on Facebook
http://www.bbc.com/news/world-asia-39612095
*************************************
Related:
North Korea Parades New Long-Range 'Frankenmissile'
North Korea Shows Off Mother of Intercontinental Ballistic Missiles — Are They Real?
North Korea displays apparently new missiles as U.S. carrier group approaches
Tags: Ballistic Missile, China, Donald Trump, ICBM, Intercontinental Ballistic Missile, Japan, KN-08, KN-14 missiles, military parade, missile laulgh, missile launch, North Korea, nuclear warheads, South China Sea, South Sudan, US military