'I'm not going to say that I have never occasionally sworn, but I work extremely well and closely with Theresa May's team'
By Rob Merrick Deputy Political Editor
The Independent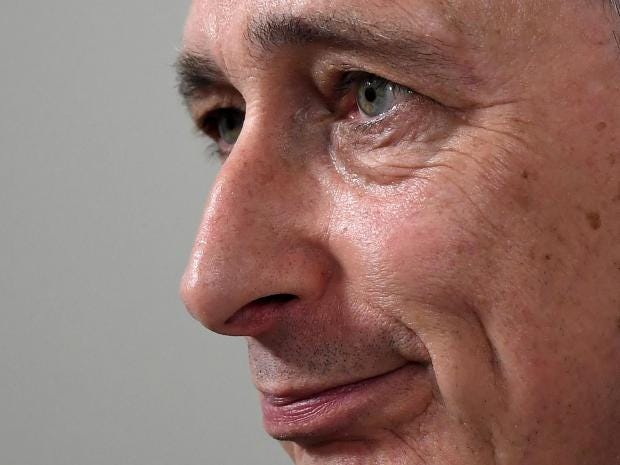 The Chancellor has admitted he has "occasionally sworn" at Theresa May's aides, after claims of angry clashes over economic policy.
Philip Hammond dismissed as "tittle-tattle" reports that relations with the Prime Minister's closest advisers have deteriorated over proposals on tax and energy prices.
But he said: "I'm not going to say that I have never occasionally sworn, but I work extremely well and closely with Theresa May's team.
"I work extremely closely with Theresa. We have got a huge job to do here and we are getting on with the job together, as a team."
The comments came after Mr Hammond finally emerged onto the election campaign trail, after playing a strikingly low-key role for the man in charge of Britain's finances.
Last week, The Times reported that the Chancellor had infuriated No.10 aides by trying to commit the Government to ditching a promise not to raise VAT, tax or national insurance.
"It's self-evidently clear that the commitments that were made in the 2015 manifesto did, and do today, constrain the ability of the government to manage the economy flexibly," he said, three days after the snap election was called.
The statement was seen as a clear hint that the so-called 'tax lock' pledge would be dropped – a policy that will only be confirmed when the Conservative manifesto is published tomorrow.
Mr Hammond is also believed to have initially opposed Ms May's flagship promise to cap energy bills for 17m households.
Nick Timothy, one of the Prime Minister's chiefs of staff, was said to be "incandescent" over briefings, blamed on the Chancellor's aides, that he is economically illiterate.
"There was a lot of swearing and angry phone calls," one source told The Times, with Mr Timothy suspecting an attempt to tie his hands as he prepared the manifesto.
Speaking on BBC Radio 4's Today programme, Mr Hammond said: "This is tittle-tattle. I don't recognise any of this stuff."
The Chancellor also again refused to say whether income tax or national insurance will rise if the Conservatives retain power, saying: "You will have to wait and see when our manifesto is published."
Instead, he turned his fire on Labour, claiming Jeremy Corbyn's manifesto had exposed a £58bn 'black hole' in the party's spending plans.
Claiming the manifesto would "bankrupt Britain", Mr Hammond said: "Labour's plans don't add up.
"That's £58bn that either has to be borrowed, or it has to be raised from taxpayers. There's nowhere else for it to come from – there's no magic money tree."
However, Mr Hammond appears to have reached his figure of a £58bn gap by including capital spending and the possible costs of renationalising the water and energy industries.
Labour has not said it would take those industries back into public ownership immediately, insisting its plans for an extra £48.6bn of day-to-day spending are fully matched by tax-raising proposals.
http://www.independent.co.uk/news/uk/politics/philip-hammond-theresa-may-aides-swearing-worn-economic-policy-chancellor-uk-prime-minister-a7739956.html
Tags: Brexit, Britain, Britain's finances, Chancellor, Chancellor had infuriated No.10 aides, General Election 2017, Hammond, National Insurance, Nick Timothy, Philip Hammond, Prime Minister's chiefs of staff, tax, Theresa May, UK, VAT
This entry was posted on May 17, 2017 at 10:35 am and is filed under Uncategorized. You can follow any responses to this entry through the RSS 2.0 feed. You can leave a response, or trackback from your own site.