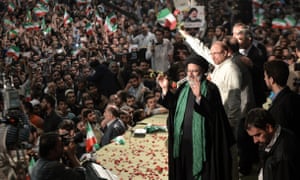 Ebrahim Raisi salutes his supporters at a rally in Tehran. Photograph: Anadolu Agency/Getty Images
.
As Tehran's notorious traffic slowed, the waiting campaigners pounced, pushing posters with the smiling face of Iran's president, Hassan Rouhani, through the open windows of trapped cars, pleading for votes and shouting slogans as drivers edged away.
They were determined to make every minute count in the last days of a campaign in which Rouhani began as favourite, but has ended locked in a bitter and close-run fight with a conservative rival.
The short-term stakes of Friday's election are high: the future of 2015's landmark nuclear deal and Iran's cautious rapprochement with the west; the direction of its economy; control of its oilfields; and the freedom given to dissent.
In the long term, the election could decide an even more crucial political battle –that for Iran's next supreme leader. The successor to ayatollahs Khomeini and Khamanei will be the most powerful person in Iran, and only the third person to lead the Islamic republic since its foundation.
Rouhani's main opponent in Friday's ballot is the conservative cleric Ebrahim Raisi. The 56-year-old, who spent most of his career as a lawyer and judicial official, was a relative unknown when he entered the race, and is considered uncharismatic by even his own supporters.
Ebrahim Raisi at a rally in Tehran.  Getty
However, he has consolidated the support of hardliners worried that religious values are under assault, and stirred up populist anger about Iran's feeble economy.
His slogans echo the anti-establishment sentiment that fuelled Donald Trump's rise to the White House. With slender economic growth, more than one in four young people out of work, and cuts to government subsidies, many people feel abandoned or betrayed.
.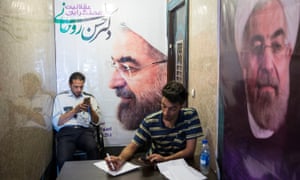 "We don't want government by the 4%," Raisi supporters shouted at his most recent Tehran rally, where thousands of devotees packed out a prayer hall and conference centre waving Iranian flags and red roses, his campaign symbol.
Raisi may cast his net wider than Trump in claiming a government "by the 4%", but the anger of his supporters at the inequality in Iran would be familiar to those who covered the US president's campaign, and is the driving force of his popularity. "Rouhani can't provide equality between rich and poor," said Hajar Pakyari, a biology professor at Islamic Azad University, who was at the Tehran rally with colleagues.
The nuclear deal that was Rouhani's headline achievement is still popular across the Iranian political spectrum, but it failed to bring the immediate economic benefits that many expected, and that Rouhani's team hoped would carry him to a second term.
That left an opening for Raisi to attack Rouhani's subsequent engagement with the west, appealing to conservatives who remain uneasy about Iran's efforts to court its old enemies.
"I personally believe and support ideas that trust the capabilities of the people inside Iran," said Mohammed-Taghi Ansari-Pur, a professor at the University of Religions and Denominations in the city of Qom. "I believe that we can solve our problems inside Iran. I do not favour those who depend on outside countries."
The economy, the fate of the nuclear deal, and questions of reform are significant enough issues to make this an intense election. But the fact that the next president could hold the key to the ultimate controller of Iran for a generation – the supreme leader – ratchets up the pressure.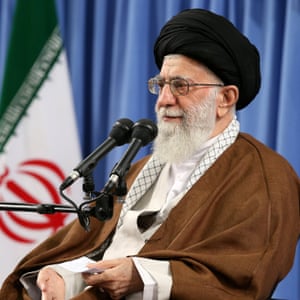 "We are not voting for the next four years – we are voting for the next 40 years," said one young Rouhani supporter.
While few in Iran are willing to openly discuss who might follow the incumbent, Ayatollah Ali Khamenei is 78 years old and widely believed to have received treatment for prostate cancer. Raisi is one of a handful of names talked about as a potential successor.
When he entered the presidential campaign, many thought Raisi merely wanted to raise his public profile for that showdown, and would drop out in the final days to support a fellow conservative, a relatively common tactic in Iran.
Instead, other hardliners dropped out to support him. This raises the stakes for Raisi and his team, because a loss in this election would badly damage his hopes of becoming supreme leader.
Although democracy's reach within Iran is limited by the supreme leader and a network of powerful bodies – such as the Guardian Council, which vets candidates for elections – popular legitimacy is still extremely important to the leadership.
Read the rest:
https://www.theguardian.com/world/2017/may/18/iran-election-president-rouhani-raisi-khamenei
******************************************
Iran election: Why it's important to the U.S.
Iran chooses a new leader Friday, with moderate President Hassan Rouhani seeking a second term and facing hard-line conservatives who criticize the landmark nuclear deal with the West.
The result could have far-reaching diplomatic implications, especially since President Trump has threatened to dismantle the nuclear accord he called "the worst deal in history." Last month, Trump ordered a review of the 2015 agreement.
On Wednesday, the Trump administration extended the sanctions relief granted under the nuclear deal, but also imposed new economic penalties over Iranian ballistic missile activity. Both moves intend to show the Trump administration as being tough on Iran as it adheres to the nuclear deal for now. The new sanctions target Iranian military officials and others accused of supplying materials for ballistic missiles.
Rouhani, 68, whose administration brokered the nuclear deal with world powers, is campaigning with the promise of more social freedoms and is favored to win.
His main challenger is Ebrahim Raisi, 56, a cleric with close ties to Iran's Supreme Leader Ayatollah Ali Khamenei.
Raisi has vowed to create millions of jobs, give generous cash handouts to Iran's poorest and fix the nation's troubled economy and its 12.7% unemployment rate. He said the jobs, growth and foreign investment that Rouhani promised as a result of the nuclear deal have not trickled down to ordinary Iranians.
"Rouhani promised all the sanctions would be lifted, but where is the change on the people's tables?" Raisi said in a televised campaign debate this month.
"The country is facing an economic crisis, with unemployment, recession and inflation. A tree that has not borne any fruit in four years will not yield anything positive in the future," Tehran's hard-line Mayor Mohammad Baqer Qalibaf said in the debate. He dropped out of the race this week.
Rouhani, a career diplomat educated in the United Kingdom, has consistently asked for patience in solving Iran's problems.
Friday's election could be a tight contest, with the possibility of a runoff if no candidate gets more than 50% of the vote. Results are due as early as Saturday.
"Rouhani came to power four years ago telling people that the nuclear negotiation would be successful and that sanctions would be removed," said Seyed Ali Alavi, an expert on Iranian affairs at the School of Oriental and African Studies in London. "Trump's questioning of the deal has undermined Rouhani's position."
About 56 million people out of a population of 80 million are eligible to vote. Turnout will likely exceed 70%.
More than 1,600 people applied to run for president, including 137 women, but the field has narrowed to just a handful — all men.
Every Iranian president since 1981 has won re-election under the system that requires candidates to be vetted by a clerical body that answers to the supreme leader. Iran became an Islamic republic in 1979 after a monarchy backed by the United States was overthrown by religious leaders.
While Iran's presidential powers to set domestic and foreign policy are limited, the election is democratic even if it does not entirely resemble the democracy practiced in the West.
In a televised speech Wednesday, Khamenei urged for a high turnout so voters send a message to the United States and its allies, including Israeli leader Benjamin Netanyahu, calling him the "pathetic prime minister of the Zionist regime."
Khamenei described the election as a "great popular epic," and while the Middle East region is "drowned in anxiety," Iran was "peacefully and safely holding an election."
Nasser Hadian, a professor of political science at Tehran University who backs Rouhani, said if Raisi wins he would likely keep the nuclear accord but take a much harder stance than Rouhani in demanding that economic sanctions be fully relaxed.
Since the agreement, Iran has been permitted to export oil to key markets and sign billion-dollar deals to update its aging commercial airline fleet. A freeze remains on banking and financial services.
"Raisi knows that the deal is popular with most Iranians, that's why he's saying he will stick with it," Hadian said. "He will just implement it more vigorously, meaning the other side (the West) needs to deliver on its promises. No matter what Trump says, and whether it's Rouhani or Raisi, both of them will abide by it."
Shadi Behzad, 22, from Tehran, is a Rouhani supporter studying business management. She said she decided to vote after watching the debates and believes the incumbent has helped lower the cost of health care and other necessities.
"I worry the situation will not get better in Iran if he does not win," she said.
But Abolfazl Zarei, 21, a Tehran student who is studying English, said Raisi was the better choice.
"Diplomacy is important, but we should not give more value to foreign countries than to our own people," he said.
Contributing: Farhad Babaei in Tehran
https://www.usatoday.com/story/news/world/2017/05/17/iran-presidential-election-hassan-rouhani/101742776/
Tags: Ayatollah Ali Khamenei, Ebrahim Raisi, Hassan Rouhani, Iran, Iran's election, Iran's supreme leader, Iranian election, JCPOA, Middle East, nuclear deal, oil, Persian Gulf, terrorism