BANGKOK — Thailand's prime minister will invoke an executive order to allow construction to start on a $5.5 billion railway project with China, which forms part of Beijing's regional infrastructure drive but has been beset by delays.
The high-speed link, in theory a centrepiece of Chinese-Thai cooperation, has been held up by years of negotiation over everything from cost and loan terms to land development rights.
A Thai government spokesman said on Tuesday that Prime Minister Prayuth Chan-ocha, who heads the junta that has ruled Thailand since a May 2014 coup, will invoke Article 44, a security order that gives him the power to push through policy. Prayuth will discuss the matter at a cabinet meeting next week.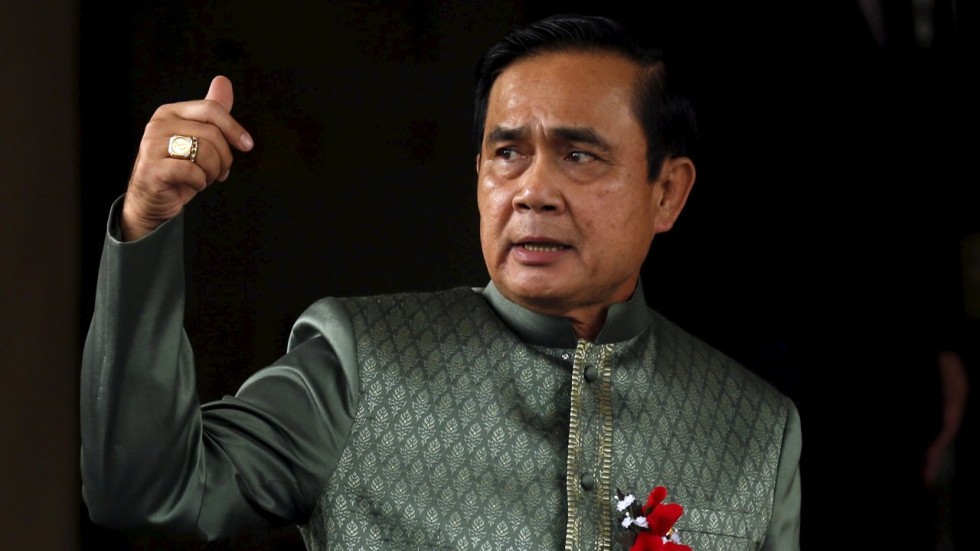 Prayuth Chan-ocha
The measure, dubbed the "dictators law", has been heavily criticized by rights groups. Government spokesman Sansern Kaewkamnerd said invoking Article 44 would clear hurdles such as building on protected land.
"This is why Article 44 is needed," he told reporters.
The $5.5 billion first phase of the railway will be a 250 km (155 miles) line between Bangkok and the northeastern province of Nakorn Ratchasima.
Transport Minister Arkhom Termpittayapaisith said last month that construction would begin in August or September.
Thailand will largely fund the project and China will provide technical assistance under terms agreed so far.
Almost every facet of this deal has changed in the last several years, including the route map, sharing of costs and financing and other factors.
Including later phases, the project intends to build a 873-km rail line linking Thailand's border with Laos to eastern ports and industrial zones.
China wants to connect its cities to trade centres in Southeast Asia, including Thailand's eastern industrial zones, as part of its 'One Belt, One Road' project, while Thailand needs to revamp its aging rail network and boost trade.
Thailand and China have enjoyed warmer relations following the 2014 coup which saw several Western nations downgrade ties with Thailand in response.
The rail project, however, has hit various delays over details including construction funding and technical assistance.
(Reporting by Amy Sawitta Lefevre, Kitiphong Thaicharoen and Satawasin Staporncharnchai; Writing by Amy Sawitta Lefevre; Editing by Susan Fenton)
Related:
Pakistan scrambles to protect China's 'Silk Road' pioneers — Could China's Belt and Road Fail?
.
.
See also:
China should invest more of the money in rail project, Arkhom says
http://www.bangkokpost.com/learning/work/882096/china-should-invest-more-in-rail-project-arkhom-says
******************************************
Construction of Thailand-China railway project to start in 2017: official
Source: Xinhua| 2017-05-17 10:53:07|Editor: Hou Qiang
BANGKOK, May 17 (Xinhua) — The construction of Thailand-China railway project from Bangkok to Nakhon Ratchasima, which will be further extended to Nong Khai on the Thai-Lao border in the future, will start in 2017 for sure, Chatchai Thipsunaree, Permanent Secretary of Thailand's Ministry of Transport, said on Tuesday.
"We (Thailand and China) are almost done with the contract, 90 percent I will say, the construction will start in this year for sure," Chatchai told Xinhua after a press conference of the Transport Ministry.
Thai Transport Minister Arkhom Termpittayapaisith also mentioned the railway project at the press conference, saying it is a project of great importance to the kingdom, as it will connect Thailand with neighboring countries.
The current project, 252 km high speed railway from Bangkok to Nakhon Ratchasima, will be extended another 355 km to Nong Khai on the Thai-Lao border, connecting with China-Lao railway from Vientiane to Kunming in China's southern Yunnan Province, according to Arkhom.
The railway is also to be extended to the south, to Kuala Lumpur and finally Singapore, Arkhom said.
The Thai government also plans to build a public-private partnership high-speed rail from Bangkok to Rayong to connect with the Thailand-China railway project.
Several Thai experts told Xinhua earlier that they want the railway plan to be implemented in a faster way.
Aksornsri Phanishsarn, director of Thai-Chinese Strategic Research Centre, National Research Council, told Xinhua that she hopes that China can help to push the Thailand-China railway project for it to become a "successful case" of cooperation between countries.
Swai Visavanant, senior researcher at Chulalongkorn University's China Study Center, urged the Thai government to quickly move toward the implementation of the railway project, otherwise, Thailand may lose a good chance in its development.
According to Arkhom, China and Thailand still need to agree on three things, such as materials for the construction, consulting fee and whether it is necessary for Chinese engineers to get Thai engineering certifications before they come to work in the kingdom.
Tags: $5.5 billion railway project with China, Article 44, Bangkok to Nakhon Ratchasima, Belt and Road, building on protected land, debt trap, environmental, executive order, Government debt, Kenya, Laos, Nong Khai, One Belt One Road, Pakistan, Philippines, Prayuth Chan-ocha, Silk Road, Sri Lanka, Thai transport minister, Thai-Lao border, Thailand, Thailand-China railway project, Thailand's prime minister, Thais