LONDON — British Prime Minister Theresa May's Conservative party resumed talks on a deal to prop up her minority government on Wednesday as she faced a battle over her Brexit strategy just days before EU divorce talks are due to begin.
As Britain entered a sixth day of political turmoil, May's team continued talks with Northern Ireland's Democratic Unionist Party (DUP) to secure their support in parliament after May failed to win a majority in Thursday's election.
But a deadly fire at a tower block in London could delay the announcement of any deal, BBC political reporter Norman Smith said. He also said Brexit talks could possibly be delayed.
May's botched election gamble has left her so weakened that her Brexit strategy is the subject of public debate inside her party, with two former prime ministers calling on her to soften her EU exit approach.
Following more than an hour of talks between May and DUP leader Arlene Foster on Tuesday, May said the discussion had been productive and Foster said she hoped a deal could be done "sooner rather than later".
Despite the uncertainty over her ability to govern, May had confirmed that Brexit negotiations – expected to be the most complex international talks Britain has held for decades – would begin as planned next week.
"There is a unity of purpose among people in the United Kingdom," May said following a meeting with French President Emmanuel Macron in Paris.
"It's a unity of purpose, having voted to leave the EU, that their government gets on with that and makes a success of it."
But pressure was mounting for May to change course on the type of Brexit Britain should pursue.
The Times newspaper said finance minister Philip Hammond would push May not to leave the customs union – an arrangement which guarantees tariff-free trade within the bloc but prohibits members from striking third-party trade deals.
The report cited unnamed sources, and the finance ministry declined to comment.
Nevertheless, it illustrated the challenge May will face in the remaining days before the EU divorce talks begin: finding a position that satisfies both pro-European and eurosceptic factions of her party if she wants to remain in power.
European politicians also appeared to detect a shift in the mood around Brexit, with France's Macron saying the door was open until the negotiations had concluded for Britain to remain a member of the EU. Once done, however, Brexit would be difficult to reverse.
DUP TALKS
May has given no indication she will change course on the key elements of Brexit; but whatever her plan she will be heavily reliant upon the 10 lawmakers from the eurosceptic DUP, who would help her edge past the 326 votes needed in parliament to avoid the government collapsing.
However, a deal with the DUP also risks destabilizing Northern Ireland by increasing the influence of pro-British unionists. They have struggled for years with nationalists, who want the British province to join a united Ireland.
Former Prime Minister John Major said he was concerned May's plan to govern with the support of the DUP could pitch the province back into turmoil by persuading 'hard men' on both sides of the divide to return to violence.
Irish nationalist party Sinn Fein said the prospect of a British agreement with the DUP was causing anxiety and fear.
While the DUP are deeply eurosceptic, they have balked at some of the practical implications of a so-called hard Brexit — including a potential loss of an open border with the Republic of Ireland — and talks will touch on efforts to minimize the potential damage to Northern Ireland.
PARTY DIVIDED ON EUROPE
Brexit minister David Davis has insisted the approach to the EU divorce has not changed, but May has recognized that a broader consensus needs to be built for Brexit and has made clear she would listen to all wings of the party on the issue.
She will have to manage conflicting demands from within her own party, including a proposal for business groups and lawmakers from all parties to agree a national position.
"We would restore faith in politics if we could show that this parliament can at least function in presenting a view in the national interest which would command a majority on a cross party basis," said pro-European Conservative lawmaker Ken Clarke.
Former Prime Minister David Cameron said May needed to listen to rival political parties, and that there would be pressure for a softer Brexit that would give greater priority to a close trading deal with the EU.
Divisions over Europe helped sink the premierships of Margaret Thatcher, Major and Cameron, and many of her lawmakers and party membership support a sharp break with the EU.
The performance of the British economy could also influence perceptions of Brexit. Data on Wednesday showed average weekly pay in the three months to April fell by 0.4 percent on the year in inflation-adjusted terms – the biggest fall since the three months to September 2014.
As European leaders tried to fathom exactly how Britain would begin the negotiations, German Finance Minister Wolfgang Schaeuble said Germany wanted a Brexit deal that would limit negative consequences for the bloc but also did not want it to weaken Britain.
The veteran conservative predicted that Britain would regret its departure from the bloc at some point in the future.
(Additional reporting by Alistair Smout and Elisabeth O'Leary; Editing by Guy Faulconbridge and Ralph Boulton)
Related:
Talks Between UK PM May's Conservatives and Northern Ireland's DUP Restart
Theresa May Meets With Macron, Reaffirms She Will Not Compromise Over Brexit
The Latest: DUP Head Arrives for Talks With UK Leader May
*************************************
Theresa May and DUP deal could be delayed until next week
BBC News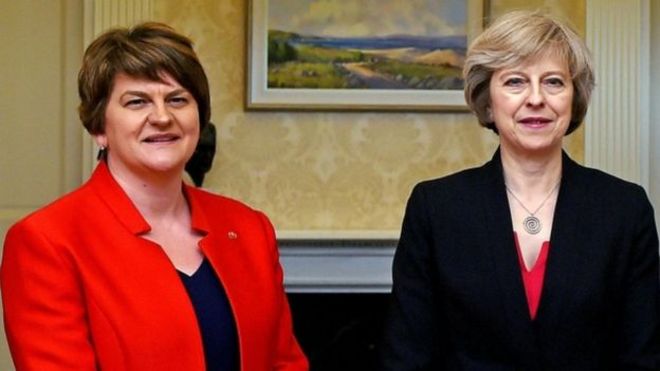 DUP sources have told the BBC an announcement on a deal with Tories has been delayed because of the unfolding tragedy of the Grenfell Tower blaze.
The two sides were close to reaching agreement to enable Theresa May to form a minority government and the talks were not in trouble, the sources added.
But they added that the London tower block fire made an announcement on Wednesday "inappropriate".
And diary commitments meant a final deal could be delayed until next week.
The DUP source told BBC assistant political editor Norman Smith the two parties were now finalising the "terms and conditions" of an agreement after Mrs May and DUP leader Arlene Foster met on Tuesday.
Downing Street sources told our correspondent talk of a delay in announcing a deal was "not coming from us."
If a deal was to be delayed it would mean the Queen's Speech, which had originally been planned for next Monday, could be delayed by at least a week.
It could also delay the start of Brexit talks.
The Conservatives are having to rely on the support of 10 DUP MPs after they fell eight seats short of winning an overall majority at the general election.
It means that Mrs May will remain as prime minister and the DUP MPs will be central to the survival of a Conservative Party administration.
What's in the deal?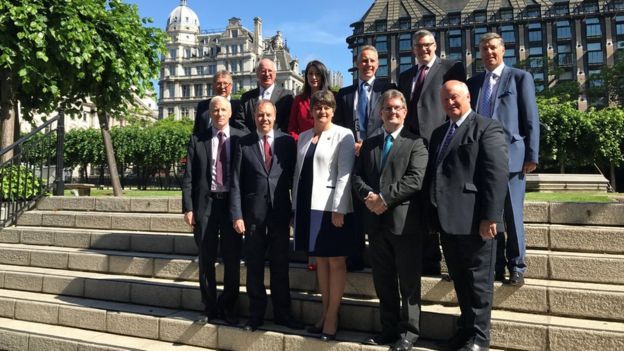 By BBC Northern Ireland political editor Mark Devenport
The DUP have been playing their cards close to their chest, but we know the areas they're talking about because of a DUP plan drawn up in 2015 in anticipation of a hung Parliament.
Things have moved on a bit since then with Brexit, but we do know they're looking at trying to lower the cost to the Northern Ireland executive of any move on corporation tax.
They've been of the view that leaving the EU should lessen some of the stipulations in relation to state aid that were being applied by the Treasury to Northern Ireland, and that might take down the bill that the Treasury would put on the executive if corporation tax was lowered.
We know other matters, such as cutting air passenger duty and increased infrastructure spending, have been discussed, but we haven't got any sense of the exact details of the deal.
I suspect it will be top loaded with economic rather than political matters.
Some political issues, such as altering the definition of a Troubles victim or doing away with allowances for MPs who don't take up their seats, might be included.
Other legacy matters, such as protecting former soldiers or police officers from prosecution, may feature at a later stage.
---
The DUP will offer support for key votes, such as backing the Queen's Speech and the Budget and opposing any votes of no confidence.
The DUP campaigned for Brexit but is also conscious that 56% of people in Northern Ireland voted to remain in the EU.
They are thought to be advocating a Brexit that does not disrupt the "frictionless border" with the Republic of Ireland.
They are also opposed to Conservative polices such as means-testing the winter fuel allowance and have campaigned for a higher National Living Wage and to restore the spare room subsidy.
The party is also likely to push for more investment in Northern Ireland, with emphasis on increased borrowing powers and looser budget controls rather than direct cash.
Prime Minister Theresa May said on Tuesday that talks with the DUP had been productive and that Brexit negotiations would begin as planned next week.
"I think there is a unity of purpose among people in the United Kingdom," Mrs May said, following a meeting with French President Emmanuel Macron in Paris.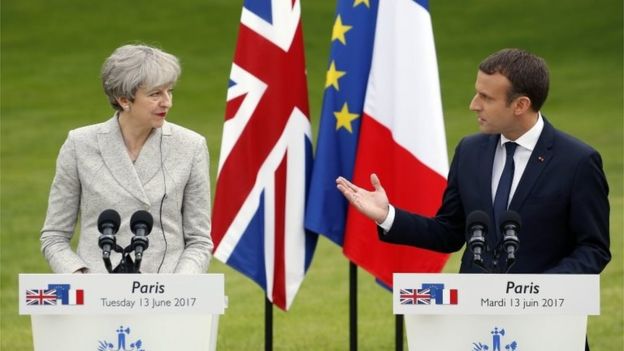 The agreement with the DUP is expected to be very different from the coalition deal agreed between the Conservatives and Lib Dems in 2010, with DUP politicians not getting cabinet jobs and their support for the majority of new legislation to be determined on a vote-by-vote basis.
Labour's shadow business secretary Rebecca Long-Bailey called it a "very dangerous deal" and said Labour was "ready and waiting to form a minority government".
She dismissed accusations of hypocrisy after it emerged then Labour leader Gordon Brown had tried to do a deal with the DUP in 2010, telling BBC Radio 4's Today programme: "It's certainly not something that [current Labour leader] Jeremy [Corbyn] would advocate, and the Labour Party is certainly not advocating that.
"As I've said, it would create a lot of instability in terms of the peace process in Northern Ireland and it's a very worrying time.
"It just illustrates the chaos that the Conservative Party are in at the moment."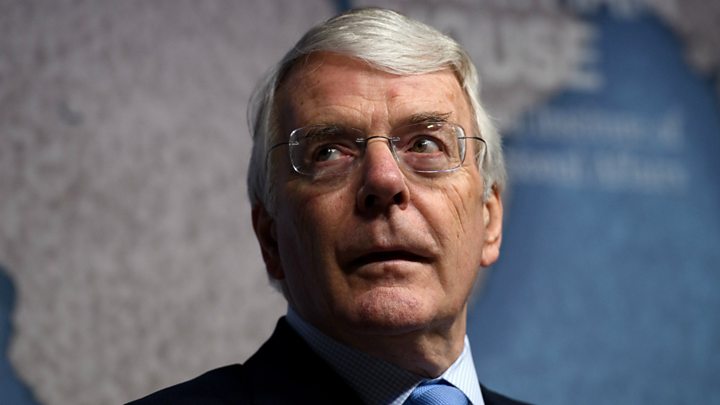 On Tuesday, ex-Conservative Prime Minister Sir John Major said he was "dubious" about the idea of a deal and its potential impact on the peace process.
Sir John told BBC Radio 4's World at One programme there was a danger the government would no longer be seen as an "impartial honest broker" in restoring the power-sharing arrangements and upholding Northern Ireland institutions.
Asked about Sir John's comments, Mrs May said she was "absolutely steadfast" in her support for the 1998 Good Friday agreement – which created the Northern Ireland Assembly – and efforts to revive the power-sharing executive.
Tags: Arlene Foster, Brexit, Britain, British economy, British Prime Minister Theresa May, Conservative Party, David Cameron, DUP, Emmanuel Macron, EU, Former Prime Minister John Major, France, German Finance Minister Wolfgang Schaeuble, Germany, hung parliament, John Major, Labour, Northern Ireland's Democratic Unionist Party, Theresa May, UK