LONDON — British Prime Minister Theresa May was rushed away under a heavy police guard after meeting residents who live near a tower block in London where at least 30 people died in a fire this week, a Reuters photographer at the scene said.
As May left, protesters who are unhappy at the government's response to the fire chased the car and shouted at her, the photographer said.
May had met residents, victims and community leaders affected by the fire to pledge 5 million pounds ($6.39 million) of support, housing guarantees and help with access to bank accounts and cash.
"The package of support I'm announcing today is to give the victims the immediate support they need to care for themselves and for loved ones. We will continue to look at what more needs to be done," May said in a statement issued by her office.
(Reporting by Hannah Mckay and William James; Writing by William Schomberg; editing by Kate Holton)
****************************************************
London tower block fire protesters storm town hall
LONDON (AFP) – 
Dozens of people attending an angry protest for victims of the Grenfell Tower fire tragedy stormed the town hall in London's richest borough on Friday, accusing the authorities of ignoring their plight."We want justice!", "Shame on you!", and "Killers!", the protesters shouted as they scuffled with security guards in the lobby of the building.
Some later left the red-brick building near Kensington High Street, a luxury shopping district, but around 30 remained inside in a tense standoff with about 30 police officers and a dozen security guards.
Hundreds of people, including singer and human rights campaigner Lily Allen, were protesting outside the town hall of Kensington and Chelsea, holding up cardboard signs reading "Justice for Grenfell".
One protester held up a "Wanted" poster for the head of the Kensington and Chelsea Tenant Management Organisation, which administers Grenfell Tower, accusing him of "corporate manslaughter".
The tower is in a working-class enclave near the multimillion-pound homes of Kensington.
"It is criminal to wrap homes in flammable plastic," read another sign after it emerged that cladding installed on the exterior walls of the tower as part of refurbishment was officially graded as not fire-resistant.
Residents had long complained about fire safety risks at Grenfell Tower during a refurbishment project completed last year, but said their concerns went unheeded.
"We are in the richest borough in the UK and in this very borough we have a building where some of the poorest live and the safety measures are totally inadequate," said Mustafa Al Mansur, one of the organisers of the demonstration.
"We need to know what commitment the council is taking to ensure this tragedy is not repeated," he said. "We need to know exactly the number of people who were there during this tragedy."
Police have said 30 people are confirmed dead after the blaze, while media reports have said more than 70 are still unaccounted for.
Local residents have accused police of hiding the true toll.
There were chaotic scenes as angry protesters shouted through a loudspeaker.
"We are in pain. We have been trodden on by people who say they are there to protect us," one woman said.
Another said: "It was a death trap and they knew it."
The protesters also held up pictures of those still missing and now feared dead.
"No justice, no peace!" the crowd shouted.
"I have friends in the tower and they are not telling us anything," Salwa Buamani, 25, told AFP.
"We are not given information about our loved ones," she added.
"We are not here to trouble people. We just want answers," said Buamani, who came to the protest with her three-year-old niece on her shoulders.
by Maureen COFFLARD
**********************************************
Grenfell Tower: Angry protesters storm Kensington Town Hall as angry crowd chases Theresa May's car
There were shouts of  "we want an inquest" and "we want justice" as the Radical Housing Network staged a rally outside the hall.
Meanwhile, angry protesters waited for Theresa May to exit the church in which she was visiting relatives of lost people and called for her to resign.
.
**************************************************
Local residents were disappointed that the prime minister did not speak to them after her visit to the St Clements' church, and her swift departure led to shouts of "shame on you" and "coward" from a large crowd of people who had waited outside the church to hear her say something.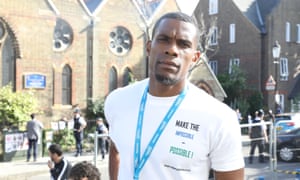 Simon McDonald, who works doing youth training with an organisation called Inspired Possibilities, and who grew up in the area, had come to volunteer his services, was disappointed that the Prime Minister didn't stop and talk to affected families outside the building. "We were looking for her to say that she is here with the community. She just needed to say a few words of comfort."
Paul Dhillon, who works near the block and who was here on the night the fire happened, was cynical about her decision to visit. "She's just doing damage limitation, because she screwed up her polls."
Layla, who lives in the block beneath the tower, and who waited in vain to see Theresa May, said she didn't think that there was anything the prime minister could have said to locals that would have made them feel better. "What could she have said? We've got so much pain and hurt. We saw it and we live on it."
Around 100 protestors held a minute's silence for the victims of Grenfell outside government offices saying the victims of recent terror attacks were treated with more respect that those in the inferno.
"There has been no minute's silence for the victims of Grenfell. We want to remind politicians that people killed by politicians are equally as valuable as those killed by terrrorists," said one speaker before the crowd fell silent for one minute.
Chris Milson, a lawyer at Cloisters Chambers, went to the area of Grenfell Tower to volunteer today, and has been left frustrated at the lack of organisation and oversight being provided.
"There are a lot of people, with a lot of goodwill but it's very fragmented – where the oversight need to be it just isn't. There are so many donations, so many volunteers but not much in the way of co-ordination, which is where the council should be stepping in."
He added: "I haven't seen this much aid out of a war zone, but the council just hasn't stepped in. There is too much in the way of donations. But the problem is how to get it to the right people, and what you do with the surplus. One man, I'm sure with the bestof intention, left a massive box full of milk – and now volunteers have to figure out what to do with a box of gone-off milk."
He said he'd been told that the council was due to meet with community centres who have been attempting to help. "There is so much goodwill, but people are having to step in where the state should be. This is one of the richest borough's in the country, but they are letting volunteer groups step in and fill the void."
Volunteers continue to steam to the area, but there appears to be no one stationed at tube stations directing donations and volunteers to where they may be needed. "People who want to help are wandering around like nomads, there's just this huge vacuum where leadership should be."
He said he had a sense that anger was growing, not just among residents but volunteers and the general public. "There is a palpable sense of anger, not just from residents but in general about the society we live in. It's kicked London in the teeth because it has brought home just how unequal the city is."
See more:
https://www.theguardian.com/uk-news/live/2017/jun/16/grenfell-tower-fire-london-police-criminal-investigation-into-tragedy-latest-updates
Related:
London: Grenfell Tower tensions could boil over as thousands set to attend 'justice' rally
London fire toll death rises to 30 — Dozens of people still missing — Police begin criminal investigation — Cladding used is banned in US buildings taller than 40 feet
"She didn't use her humanity" — UK PM Criticized Over Grenfell Tower Fire Visit, But Gets Some Defenders
Theresa May showed no 'humanity' to Grenfell fire victims, ex-Tory deputy leader says
London fire latest: Grenfell Tower anger grows as death toll could soar above 100 — Whole families missing, feared dead
At Least 65 People Missing or Feared Dead in London Fire — "I'd like to hope that it isn't going to be triple figures."
London: Grenfell Tower inferno a 'disaster waiting to happen' as concerns are raised for safety of other buildings
Death toll of 12 expected to rise in London tower block fire — Related to Dubai building fires?
Tags: Britain, British Prime Minister Theresa May, building fire, cladding, crowd chases Theresa May's car, Grenfell Tower, Kensington Town Hall, London, London tower block fire, Shame on you, Theresa May, UK