LONDON — Public fury over the London high-rise fire is mounting as exhausted London firefighters continue their grim search Saturday for victims of the inferno that killed at least 30 people.
Residents and neighbors are demanding answers for how the blaze spread so quickly after reports said contractors installed a cheaper, less flame-resistant type of exterior paneling in a renovation of Grenfell Tower that ended in May 2016.
Around 70 people are missing, according to Britain's Press Association, and identification of the victims is proving very difficult.
The Queen appears close to tears as she meets some of those affected by the Grenfell blaze CREDIT: FACUNDO ARRIZABALAGA/EPA
Queen Elizabeth II marked her official birthday Saturday by saying Britain remains "resolute in the face of adversity" after the horrendous fire and recent extremist attacks in London and Manchester.
The 91-year-old monarch said it is "difficult to escape a very somber mood" on what is normally a day of celebration. She and Prince William visited fire survivors Friday.
Rescue personnel have had difficulty reaching the top floors of the charred, 24-story tower. Officials warn that no further survivors are likely to be found.
Hundreds have been left homeless by the blaze, putting more pressure on officials in a city already plagued by a chronic housing shortage.
The government has promised a full public inquiry, but that has done little to a sense of frustration at the lack of information about how the fire moved so quickly to engulf the building.
Engineering experts and fire safety specialists believe the building's exterior cladding may have quickly fueled the blaze, overwhelming fire protection devices. British officials have ordered a review of other buildings that have had similar renovations.
The horrific fire early Wednesday morning has put increased pressure on Prime Minister Theresa May and her senior ministers at a time when her authority has been weakened by an election that saw her Conservative Party lost its majority in Parliament. May was jeered after she made a visit to the community Friday.
The tragedy has provoked a gigantic response from nearby communities that have donated food and shelter to the victim. More than 3 million pounds ($3.8 million) has been raised for the victims, and the British government has announced a 5 million-pound ($6.3 million) emergency fund.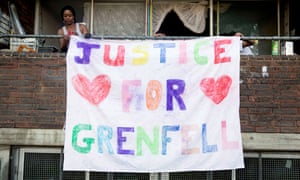 Residents of the Lancaster West estate, which is part of the same estate as the Grenfell Tower put up a Justice for Grenfell sign from their balcony. Photograph: Alicia Canter for the Guardian
Many of the displaced are living in churches and community centers. There is ample food and water, but very little privacy or proper bedding.
Scuffles broke out near the Kensington and Chelsea town hall offices Friday as demonstrators chanting "We want justice!" surged toward the doors.
Some residents had warned months ago that the tower represented a dangerous fire risk. They say their complaints were ignored.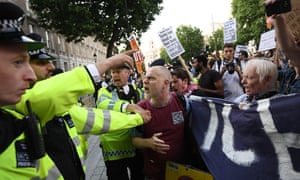 Related:
UK's PM May Rushed Away Under Police Guard After Meeting Residents Near Deadly Fire
London: Grenfell Tower tensions could boil over as thousands set to attend 'justice' rally
London fire toll death rises to 30 — Dozens of people still missing — Police begin criminal investigation — Cladding used is banned in US buildings taller than 40 feet
"She didn't use her humanity" — UK PM Criticized Over Grenfell Tower Fire Visit, But Gets Some Defenders
Theresa May showed no 'humanity' to Grenfell fire victims, ex-Tory deputy leader says
London fire latest: Grenfell Tower anger grows as death toll could soar above 100 — Whole families missing, feared dead
At Least 65 People Missing or Feared Dead in London Fire — "I'd like to hope that it isn't going to be triple figures."
London: Grenfell Tower inferno a 'disaster waiting to happen' as concerns are raised for safety of other buildings
Death toll of 12 expected to rise in London tower block fire — Related to Dubai building fires?
******************************************
About $4 Million Raised for London Fire Victims
The Associated Press
More than 3 million pounds ($3.8 million) has been raised for victims of the London high-rise fire that has killed at least 30 people and left dozens homeless.
Londoners and others have also donated huge amounts of food, water and clothing, and shelter, to survivors.
Three appeals on the JustGiving site have helped to raise the 3 million pounds, and London's Evening Standard newspaper has launched a separate appeal that has raised at least 1.5 million pounds ($1.9 million) by Saturday morning. The British government has announced a 5 million-pound ($6.3 million) emergency fund for the victims.
The inferno Wednesday morning at the 24-story Grenfell Tower has led to community anger and protests over the government's response.
Tags: Britain, British Prime Minister Theresa May, building fire, cladding, crowd chases Theresa May's car, donations, Grenfell Tower, Kensington and Chelsea, Kensington Town Hall, London, London high-rise fire, London tower block fire, Prince William, Queen Elizabeth II, Shame on you, Theresa May, UK