Senior Fellow Michael O'Hanlon of the Brookings Institution says President Trump's authorization of an additional 4,000 U.S. troops in Afghanistan is meant to "slow the gradually deteriorating military situation in Afghanistan.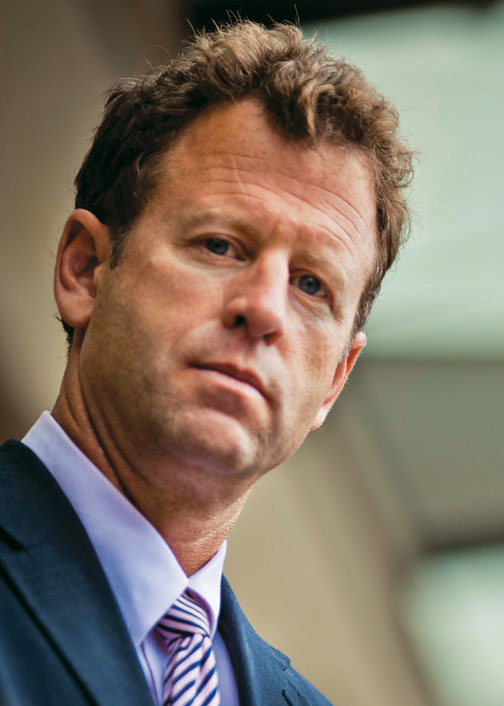 Michael O'Hanlon. Credit Jeffrey MacMillan
"The additional 4,000 U.S. troops are meant to be trainers and advisors and to give the government and military of Afghanistan to solidify itself against the Taliban," O'Hanlon said today.
He also said that Pakistan can help in the effort to reach stability in Afghanistan by closing any "safe areas" available to the Taliban in Pakistan, particularly in the Tribal Areas between Afghanistan and Pakistan.
— Peace and Freedom reporter
***********************************
WASHINGTON — When President Trump made his first major decision on the war in Afghanistan, he did not announce it in a nationally televised address from the White House or a speech at West Point.
Instead, the Pentagon issued a news release late one afternoon last week confirming that the president had given the defense secretary, Jim Mattis, the authority to send several thousand additional troops to a war that, in its 16th year, engages about 8,800 American troops.
Mr. Trump, who writes avidly on Twitter about war and peace in other parts of the world, said nothing about the announcement. But its effect was unmistakable: He had outsourced the decision on how to proceed militarily in Afghanistan to the Pentagon, a startling break with how former President Barack Obama and many of his predecessors handled the anguished task of sending Americans into foreign conflicts.
The White House played down the Pentagon's vaguely worded statement, which referred only to setting "troop levels" as a stopgap measure — a tacit admission of the administration's internal conflicts over what to do about the deteriorating situation in Afghanistan.
With a president who ran for office almost never having talked about the war, a coterie of political advisers who bitterly oppose deeper American engagement in it, and a national security team dominated by generals worried about the consequences if the United States does not act quickly, the decision could succeed in buying time for Mr. Trump and his advisers to fully deliberate over what to do in Afghanistan.
But former commanders and military scholars said that in sending troops before having a strategy, Mr. Trump has put the cart before the horse, eroded the tradition of civilian control over the military, and abdicated the president's duty to announce and defend troop deployments.
"A commander in chief keeps control of limited wars by defining missions, selecting commanders and setting troop levels," said Karl W. Eikenberry, a retired lieutenant general who was a top commander and the American ambassador in Afghanistan. "To delegate any of these is dangerous."
The decision to send additional troops represents at least a temporary victory for Mr. Mattis and Lt. Gen. H. R. McMaster, the national security adviser, over Mr. Trump's aides, including his chief strategist, Stephen K. Bannon, who had warned that sending more troops was a slippery slope toward nation building, anathema to nationalists like him who reject both the interventionist neoconservatives of the George W. Bush administration and the limited war fought by Mr. Obama.
Those objections stymied the troop proposal several weeks ago. But officials said the White House was rattled by a huge truck bomb in Kabul, the Afghan capital, that killed more than 150, as well as by fears that military trends are running against the government of President Ashraf Ghani, an American-friendly former World Bank official, to the point that it might be in danger of collapse.
General McMaster — who served in Afghanistan as the head of an anti-corruption task force and is closely allied with Mr. Mattis, another former general with Afghanistan experience — argued passionately to Mr. Trump that the military effort had to be expanded without further delay, according to one official.
"What we are seeing now is that the president has acknowledged that the Afghan mission is important, and we ought to do it right," said James Jay Carafano, a national security specialist at the conservative Heritage Foundation who advised Mr. Trump's presidential transition.
White House officials say they are still debating America's role in Afghanistan — one senior adviser said they would consider issues as basic as whether the country needs a strong central government, rather than the warlords who have historically divided power there. In the meantime, the Pentagon is moving ahead with plans to send 3,000 to 5,000 troops to try to stabilize the country.
But it is not clear what Mr. Trump's view of the strategy is, or even how involved he is in the debate. Officials said he did attend two National Security Council meetings last week — the first to discuss the troop issue, and the second to discuss the broader policy for South Asia.
Read the rest:https://www.nytimes.com/2017/06/18/world/asia/us-troops-afghanistan-trump.html?mcubz=2&_r=0
Tags: Afghanistan!, Donald Trump, H.R. McMaster, Jim Mattis, Karl W. Eikenberry, Michael O'Hanlon, military situation in Afghanistan, Obama, Pakistan, President Ashraf Ghani, stabilize the country, Taliban, tribal areas, Trump's Strategy for Afghanistan, U.S. military, U.S. troops