LONDON — British Foreign Secretary Boris Johnson says the European Union can "go whistle" if it thinks it can demand an "extortionate" payment from the U.K. to leave the bloc.
The EU says Britain has to pay a bill to cover pension liabilities for EU staff and other commitments the U.K. has agreed to. The bloc says major progress must be made on settling the bill before negotiations can start on the U.K.'s future relationship with the EU.
Estimates of the amount have ranged up to 100 billion euros ($114 billion).
Johnson said Tuesday that "the sums that I have seen that they propose to demand from this country seem to me to be extortionate."
He told lawmakers in the House of Commons: "I think 'go whistle' is an entirely appropriate expression."
*************************************
What is the Brexit 'divorce bill'?
The European Union expects the UK to make a financial settlement on exiting the EU. The full balance of this has yet to be negotiated, but it will be calculated based on the following:
The ongoing EU budget. The current EU budgetary period began in 2014 and continues until 2020 – a year after the UK is expected to withdraw. EU negotiators argue that the UK government voted on and agreed to contribute funding to, for example, long-term infrastructure projects until 2020. The UK government would rather these funding commitments ended in 2019.
Liabilities for loans. The UK backed European Union development lending to other member states, for example Ireland, the Ukraine and Portugal. The EU wants us to make funds available to cover the chance of these loans defaulting. This money would eventually be repaid as each of the loans cleared.
Pension promises. The UK would be expected to cover the pension contributions of EU officials employed during its membership period.
Other expenses. For example, two European Union agencies are currently based in the UK. The European Banking Authority and the European Medicines Agency will need to relocate after Brexit.
Balancing this bill will be:
The UK's usual rebate from EU contributions
A discount of whatever EU spending was supposed to be allocated to the UK
A share of assets, such as capital from the European Central Bank or the value of European Union buildings built during our membership
See: European Union withdrawal directives
http://www.telegraph.co.uk/news/2017/07/11/boris-johnson-accuses-eu-extortion-brexit-divorce-bill-says/
*******************************************
BBC News
Boris Johnson: EU can 'go whistle' over Brexit divorce bill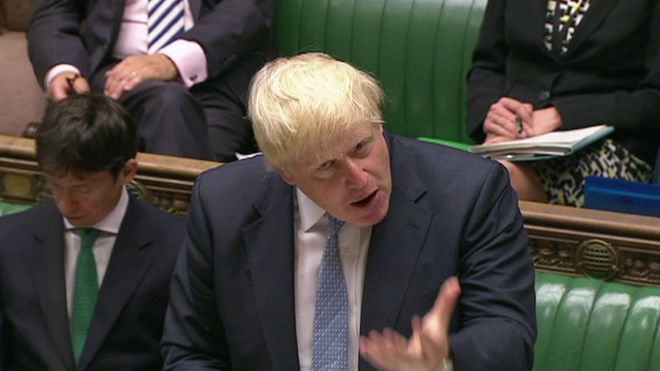 Foreign Secretary Boris Johnson has told MPs the European Union can "go whistle" for any "extortionate" final payment from the UK on Brexit. HOC
And he said that the government had "no plan" for what to do in the event of no deal being agreed with the EU.
He said: "The sums I have seen that they propose to demand from this country appear to be extortionate."
"Go whistle seems to me to be an entirely appropriate expression," he added.
Asked during Commons questions if there was a strategy, either public or private, for what would happen if there was no agreement on Brexit, Mr Johnson said: "There is no plan for no deal because we are going to get a great deal."
His comments come after No 10 sources played down suggestions that Theresa May plans to walk out of Brexit talks in September to show defiance over EU demands for a divorce bill worth tens of billions of pounds.
Mrs May has said that her view going into the Brexit negotiations was that "no deal is better than a bad deal".
Mr Johnson's comments seem to be at odds with Brexit Secretary David Davis, who told the BBC last month that the government had "worked up in detail" the "no deal" option on Brexit.
Tags: Boris Johnson, Brexit, compensation, David Davis, EU, Europe, European Union, extortion, extortionate, financial settlement, Go Whistle, House of Commons, payment from the U.K. to leave the bloc, U.K.'s future relationship with the EU