© GETTY/AFP / by Heather SCOTT | Federal Reserve Chair Janet Yellen told Senators sluggish productivity growth would have to quadruple in order for the US economy to grow by 3% as the Trump administration wants
WASHINGTON (AFP) – Federal Reserve Chair Janet Yellen warned Thursday that the Trump administration target of three percent growth will be "quite challenging" to meet.
President Donald Trump had promised during last year's campaign to push the growth rate to four percent, but administration officials have since lowered the goal to three percent, acknowledging it will take time to accomplish.
But Yellen, calling it "very disappointing," cautioned that the US economy's potential to grow is currently estimated at two percent.
Asked if it would be possible to reach three percent over the next five years, Yellen said, "I think it would be quite challenging."
She said such a high growth rate would require accelerating productivity growth to two percent from the current 0.5 percent, a big jump since increases of only a few tenths of a point are considered significant.
A three percent growth rate "would be wonderful if you can accomplish it. I would love to see it," Yellen told the Senate Banking Committee on the second day of her semi-annual testimony on monetary policy.
It could be her last time as Fed chair if President Donald Trump decides not to reappoint her for a second four-year term when her term expires February 3, 2018.
Yellen highlighted the factors holding down productivity growth, which is related to the difficulty companies report finding qualified workers, stressing the need to focus on worker training and education.
– Opioid crisis –
In what may have been a first for usually dry monetary policy discussions, Yellen warned that the opioid crisis is having an impact of the US economy, removing men in their prime from the workforce, sometimes permanently.
"Many individuals with less education are finding it difficult to be placed in jobs that are middle income jobs," Yellen said, a problem that "intensified during the recession."
"Unfortunately, this is likely tied to the opioid crisis," she said.
"We've even seen an increase in death rates due to deaths of despair, suicides, drugs," something not seen in other economies, she added.
More than 33,000 people died in 2015 from an overdose of opiates, including 20,000 from prescription drug overdoses, according to the latest figures from the Centers for Disease Control (CDC).
"This is a very serious matter," she said.
While declining to offer specific policy prescriptions, Yellen agreed that some "distortions" in the tax code also are holding back productivity growth.
"Appropriately designed tax reform could have favorable effect on productivity. Obviously it depends on the details," she said.
Worker training, increasing public and private investment, and research and development also could boost the economy's efficiency and "potential to grow," Yellen said.
– Inflation question –
With the unemployment rate near its historic low at just 4.4 percent, Yellen said she expects wages to begin to rise, which in turn would push prices higher.
But inflation remains below the Fed's two percent target at 1.4 percent, a fact that has baffled economists given the strong labor market.
Yellen said it is too early to say inflation is on a slower track, especially since the rate has been held down by lower prices for cell phone service and prescription drugs, which were only temporary.
But while the central bank expects to make gradual increases in the benchmark lending rate over time, she said that could change as more data comes in.
While such low inflation normally would keep the Fed from raising interest rates, it has instead hiked rates twice so far this year, and expects to do so once more.
by Heather SCOTT
*********************************************
.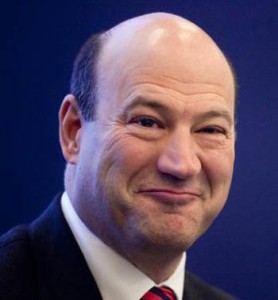 Gary Cohn says his dyslexia is a gift
"Probably the most poignant thing I heard out of a teacher that I wasn't supposed to hear, was when she told my parents if they were really lucky and spent a lot of time with me, I might grow up to be a truck driver."
Gary Cohn became the President and Chief Operating Officer of the investment firm, Goldman Sachs.  Cohn was formally diagnosed with dyslexia as a child. He was a poor student and had attended four different schools by the  time he reached the sixth grade.  He was called an "idiot" by teachers and classmates.
"The one trait in a lot of dyslexic people I know is that by the time we got out of college, our ability to deal with failure was very highly developed. And so we look at most situations and see much more of the upside than the downside. It doesn't faze us. I've thought about it many times, I really have, because it defined who I am. I wouldn't be where I am today without my dyslexia. I never would have taken that first chance."
Davis Dyslexia Association International
 https://www.dyslexia.com/famous/gary-cohn/
.
***************************************
.
Gary Cohn. Photo: Qilai Shen/Bloomberg via Getty Images
.
Sources: Cohn is Trump's top candidate to replace Yellen at Fed
If National Economic Council Director Gary Cohn decides he wants the job, he is likely to get it, sources close to the process said.
President Donald Trump is increasingly unlikely to nominate Federal Reserve Chair Janet Yellen next year for a second term, four people close to the process said.
National Economic Council Director Gary Cohn is now the leading candidate to succeed Yellen as the world's most important central banker, these people said. Yellen begins two days of congressional testimony on Wednesday, and her own future in the job may come up in questioning.
If Trump taps Cohn for the Fed, it could enrage economic nationalists in the White House and some staunchly conservative Republicans on Capitol Hill who don't like the former Goldman Sachs president's background as a Democrat who generally favors free trade.
And it would spur a backlash from progressive lawmakers who have blasted the president for picking multiple Goldman alums to run economic policy.
But sources on Capitol Hill and inside the White House and the Treasury Department said that, at least as of now, if Cohn decides he wants the job, he is likely to get it.
"It's Gary's if he wants it, and I think he wants it," one Republican close to the selection process said. A senior congressional GOP aide said that while a few Senate Republicans might express reservations about Cohn, he would probably receive widespread support.
"He would be easily confirmed," this person said. "Most of our conservative members like him."
Read the rest:
http://www.politico.com/story/2017/07/11/trump-cohn-yellen-fed-240421
Tags: Cohn is Trump's top candidate to replace Yellen at Fed, defeatists, dministration officials have since lowered the goal to three percent, Donald Trump, dyslexia, Federal Reserve Chair Janet Yellen, Gary Cohn, Gary Cohn is not a defeatist, Gary Cohn says his dyslexia is a gift, Janet Yellen, National Economic Council Director Gary Cohn, U.S. economic growth, US economy