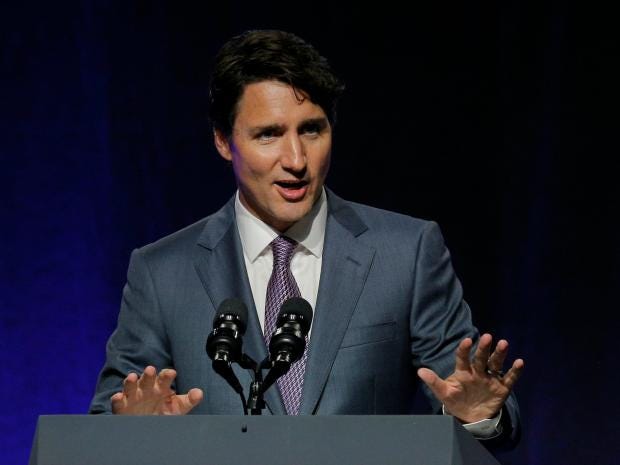 Justin Trudeau has made a barely disguised jab at Donald Trump's inward-focused 'America First' doctrine, imploring governors from across the US to promote  a "thinner border" with Canada.
Becoming the first Canadian Prime Minister to speak at the National Governors' Association – he told the the US governors gathered in Providence, Rhode Island, that the US-Canada relationship was "a model for the world" and both sides must continue to work to "get it right".
"Sometimes getting it right means refusing to take the politically tempting shortcuts. More trade barriers, more local content provisions, more preferential access for homegrown players and government procurement, for example, does not help working families over the long term or even the midterm," he said.
Mr Trudeau to be referring to the US stance on the North American Free Trade Agreement (Nafta) between the US, Canada and Mexico, which Mr Trump has threatened to rip up if he can't make it "fairer" to America.
The Canadian leader said isolationism between the nations could lead to "a race for the bottom" that hurts workers in all nations.
"Canada doesn't want to go there. If anything, we'd like a thinner border for trade, not a thicker one," Mr Trudeau said.
He also urged the governors to get involved in the federal government's negotiations on the agreement to protect their own citizens.
"To boil this down to one point: Canada is the [America's] biggest, best customer — by far," Mr Trudeau said.
Nafta went into effect in 1994 and allows for tariff-free between the three nations, but Mr Trump repeatedly called it "a horrible deal" for the US, "a defective agreement," and "the worst trade deal maybe ever" at various points on the campaign trail and in office.
On 18 May, the administration informed Congress of its intent to re-negotiate the deal, which could start as soon as mid-August.
Though the US Chamber of Commerce have acknowledged the need to "modernise" the agreement, it also acknowledged that 14 million American jobs directly depend on it.
Mr Trump accused Canada and other countries of "dumping" lower-priced goods in the US market, pushing out American competitors and wants to eliminate the portion of Nafta that allows those disputes to be brought in front of a panel of judges.
"Free trade has worked…but Nafta isn't perfect," Mr Trudeau acknowledged, adding that the agreement can be "updated…as it has been a dozen times".
Mr Trudeau, along with nearly every leader around the world, has split with the US president over climate change as well.
Mr Trump withdrew the US from the Paris Agreement, signed by almost 200 countries in an effort to reduce carbon emissions and help poorer countries adapt to an already-changed planet.
Technically, the US will only be withdrawn on the eve of the 2020 US presidential election, but for all intents and purposes Mr Trump has said the federal government would not contribute to global funds of domestic efforts to meet targets the Obama administration agreed to in December 2015.
However, nearly a 1000 states, city mayors, and CEOs in the US have pledged in some way to work towards achieving those targets.
UN Secretary General Antonio Guterres was optimistic about the sub-national actors' actions.
Among those states committed to combatting global warming are Washington and California. Neither governor was in attendance at Mr Trudeau's speech due to concerns in their state legislatures.
However, Washington Governor Jay Inslee's Communications Director Jamie Smith told The Independent that Mr Inslee and Mr Trudeau met and "spent quite a bit of time discussing clean energy and climate change and how states like Washington are moving forward on aggressive carbon reduction policies."
Mr Inslee is helping to lead the US Climate Alliance along with California Governor Jerry Brown and New York's Andrew Cuomo.
Ms Smith also said that Mr Inslee thinks "there are multiple issues where the states will have to pick up the mantle of leadership and collaboration with other nations" in light of the Trump administration's "America First" policies.
"Trade and climate change are two of the big ones," she noted, adding that Washington state "stand[s] as ready as ever to work together on climate, create jobs and grow our economy, and embrace people from around the world who are seeking refuge or opportunity."
For Mr Brown's part, he has organised a separate climate summit centred around the Paris Agreement to be held in San Francisco in 2018.
He announced Global Action Climate Summit in a video message to the public at the G20 summit in Hamburg, Germany.
"[Mr Trump] doesn't speak for the rest of America," Mr Brown said in the video announcement.
http://www.independent.co.uk/news/world/americas/us-politics/justin-trudeau-canada-prime-minister-donald-trump-nafta-us-governors-climate-change-paris-agreement-a7842331.html
Tags: America First, California Governor Jerry Brown, Canada, Canadian prime minister, Donald Trump, Justin Trudeau, Mexico, NAFTA, North American Free Trade Agreement, Paris agreement, U.S., US Climate Alliance, Washington Governor Jay Inslee
This entry was posted on July 16, 2017 at 9:22 am and is filed under Uncategorized. You can follow any responses to this entry through the RSS 2.0 feed. You can leave a response, or trackback from your own site.