Venezuelan opposition hopes for big turnout in protest vote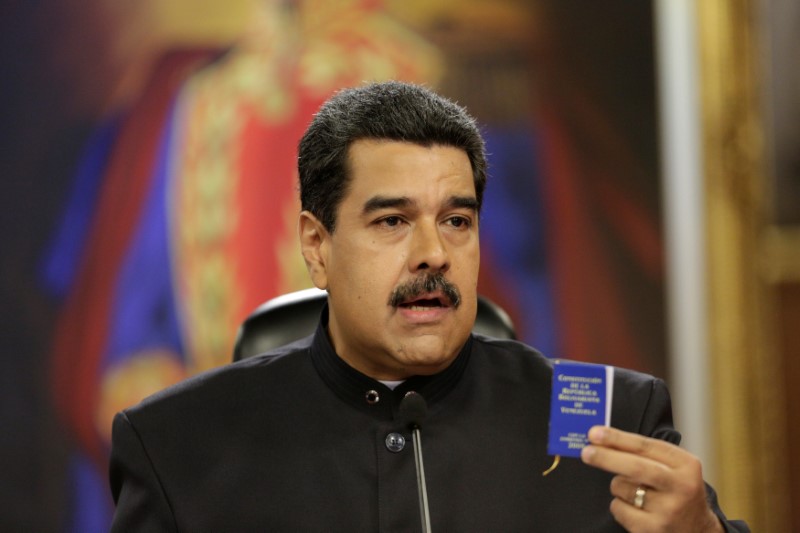 File photo: Venezuela's President Nicolas Maduro holds a copy of the country's constitution as he talks to the media during a news conference at Miraflores Palace in Caracas, Venezuela June 22, 2017. REUTERS/Marco Bello
By FABIOLA SANCHEZ

CARACAS, Venezuela (AP) — Venezuela's opposition called for a massive turnout Sunday in a symbolic rejection of President Nicolas Maduro's plan to rewrite the constitution, a proposal that's escalating tensions in a nation stricken by widespread shortages and more than 100 days of anti-government protests.
Maduro has called a July 30 vote to elect members of a special assembly to retool Venezuela's 1999 constitution. The opposition says the vote is structured to pack the constitutional assembly with government supporters and allow Maduro to eliminate the few remaining checks on his power, creating a Cuba-style system dominated by his socialist party.
Maduro and the military dominate most state institutions but the opposition controls the congress and holds three of 23 governorships. The country's chief prosecutor has recently broken with the ruling party.
"This fraudulent constitutional assembly will create a majority that will shut congress, throw democracy out the window, wipe out state governors and fire the chief prosecutor," said former Bolivian President Jorge Quiroga, who flew to Caracas Saturday with a group of former Latin American presidents to support the opposition vote. "Tomorrow, democracy and freedom are in play."
The opposition is boycotting the constitutional assembly. Instead, it has asked Venezuelans to oppose Maduro's plans by showing up at 2,000 sites across the country to fill out ballots featuring three yes-or-no questions. Do they reject the constitutional assembly? Do they want the armed forces to back congress? Do they support the formation of a government comprised of Maduro backers and opponents?
The symbolic referendum has no legal impact; it will serve as a show of support whose success or failure will be measured in how many millions of people participate. Democratic Unity, a coalition of some 20 opposition parties, has printed 14 million ballots for voters inside and outside the country of 31 million people. Few expect turnout that high but analysts say participation by more than eight million people would significantly hike pressure on the government two weeks before the constitutional assembly.
The government calls the opposition vote a manipulation aimed at destabilizing the country, and has been urging its supporters to participate in the constitutional assembly, which it calls a way of restoring peace to Venezuela.
"Some comrades and brothers may be worn out by the right's great media campaign. Now they've invented this July 16 thing to put the burden on their own people and evade their responsibility," socialist party Vice President Diosdado Cabello said Saturday. "That's how the right is, manipulative, fooling their own people."
Polls show that barely 20 percent of Venezuelans favor rewriting the late Hugo Chavez's 1999 constitution — about the same level of support they have for Maduro.
The government has nonetheless called for its own nationwide exercise Sunday, a rehearsal for the July 30 assembly that will pull backers into the streets.
Opponents of Venezuela's government blame it for turning one of the region's most prosperous countries into an economic basket case with a shrinking economy, soaring inflation and widespread shortages. The government blames the crisis on an economic war waged by its opponents and outside backers. The petroleum-rich nation has been hit hard by falling world oil prices.
Clashes between protesters and police have left at least 93 people dead, 1,500 wounded and more than 500 behind bars.
Edinson Ferrer, head of the Justice First opposition party, said he didn't expect violence between government backers and opponents Sunday because the polling sites for the two voting exercises were far enough apart to avoid clashes. He said some 50,000 poll workers would help organize the opposition event.
_____
Fabiola Sanchez on Twitter: https://twitter.com/fisanchezn
******************************************************
Reuters
Venezuela opposition holds unofficial plebiscite to defy Maduro
Venezuela's President Nicolas Maduro speaks, during a meeting with supporters at Miraflores Palace in Caracas, Venezuela, on May 19, 2017. Reuters Photo
CARACAS (Reuters) – Venezuela's opposition holds an unofficial referendum on Sunday to increase pressure on President Nicolas Maduro as he seeks to create a legislative superbody that his adversaries call the consolidation of a dictatorship.
The symbolic poll, which will also ask voters if they want early elections, is intended to further dent Maduro's legitimacy amid a crippling economic crisis and three months of anti-government protests that have led to nearly 100 deaths.
The opposition has cast the vote, which begins at 7 a.m. local time at some 2,000 centers around the country, as an act of civil disobedience to be followed by "zero hour," a possible reference to a national strike or other escalated actions against Maduro.
But the vote does not appear to augur a short-term change of government or a solution to the country's political stalemate.
Maduro, 54, says Sunday's plebiscite is illegal and meaningless. Instead, the leftist leader is campaigning for an official July 30 vote for the new assembly, which will be able to rewrite the constitution and dissolve state institutions.
"(Even with) rain, thunder or lightning, Sunday's poll will go ahead!" said opposition leader Henrique Capriles in a Friday evening broadcast. "We Venezuelans are going out to vote for the future, the fatherland and the freedom of Venezuela."
Voters will be asked three questions: if they reject the constitutional assembly, if they want the armed forces to defend the existing constitution and if they want elections before Maduro's term in office ends in 2018.
Some public employees, under government pressure not to participate in opposition events, are seeking creative ways to vote in the plebiscite without being noticed. [L1N1K41VV]
The vote will also include participation of the swelling ranks of Venezuelans who have moved abroad to escape the OPEC nation's increasingly dire economic panorama.
The opposition is hoping millions will turn out and promises the results will be available on Sunday evening.
But the opposition faces some major obstacles.
It will not have access to traditional electoral infrastructure for the hastily convened plebiscite, and the elections council – which the opposition calls a pawn of Maduro – is simultaneously holding a test-run for the July 30 vote.
Also, state telecommunications regulator Conatel has ordered radio and TV stations not to use the word "plebiscite" on air and has told them to pull opposition ads for the vote, according to Venezuela's main organization of media workers.
Street Violence
A high turnout would reflect widespread national dissatisfaction with Maduro and boost the opposition campaign to remove him, while low attendance would give the ruling Socialist Party a boost for the constitutional assembly.
Government officials say the plebiscite violates laws requiring elections to be organized by the elections council.
"We are not going to let the Venezuelan right wing impose themselves and harm the people," said Socialist Party Vice President Diosdado Cabello during a Saturday rally for the constitutional assembly.
The vote comes against the backdrop of near daily opposition protests, in many of which masked youths with stones, Molotov cocktails and homemade mortars have battled riot forces using tear gas, water cannons and rubber bullets.
The unrest has caused fatalities among both demonstrators and security forces, mostly from gunshots, as well as hundreds of arrests and thousands of injuries since April.
Last week, seven National Guard troops were injured by an explosion along an avenue in Caracas, which the government blamed on the opposition.
And on Friday, a video circulating on social media showed a man being punched, kicked, stomped and hit in the head with weapons and riot shields after being thrown on the ground by a half-dozen security officials. He was then loaded onto a motorcycle and driven away with blood on his face.
A second video shows men in uniform smashing the windows of a car after what appears to be a scuffle with a woman on the sidewalk. Reuters was unable to independently confirm the veracity of the videos.
Maduro has repeatedly refused to recognize the authority of the National Assembly since the opposition won it in a 2015 landslide election, which his critics call evidence he is eroding democratic institutions in order to retain power.
The former union organizer says the country is victim of an "economic war" and that opposition protests are an effort to overthrow him with U.S. connivance.
Additional reporting by Andreina Aponte, Writing by Brian Ellsworth; Editing by Andrew Cawthorne and Cynthia Osterman
Tags: anti-government protests, armed forces, constitutional assembly, Maduro, Socialist Party, Venezuela, Venezuela opposition holds unofficial plebiscite to defy Maduro