ATHENS, Greece — The mayor of Athens says more than 60 stores have been damaged in the city's busiest shopping area following a violent protest organized by anarchist groups.
George Kaminis visited Athens' central Ermou Street early Tuesday, and said the violent protesters were trying to bring the city's commercial activity "to its knees."
Late Monday, dozens of youths carrying hammers and metal bars smashed storefronts before being dispersed by police who used tear gas. Thirteen people were detained for questioning and later released, and one other was arrested on unrelated charges.
The protest was sparked after an Athens court rejected a motion to suspend a sentence for a 29-year-old teacher who was convicted of being a member of militant anarchist group. More protests are planned later Tuesday.
************************************
Shop owners in central Athens are clearing up after after around 100 protesters marched through the area throwing rocks and smashing windows.
The protest followed a court's rejection of an appeal by a 29-year-old student against her conviction of belonging to a radical anarchist group.
"We heard a group of protesters. Suddenly we heard bang, bang, bang we ran out of the shop and we saw that everything was broken," said shop worker Giannis.
Tourist Tzasem Ahmet said: "I saw a group of people trying to break everything … It's so sad. I could not do anything. I saw them and I couldn't do anything."
Who are the Conspiracy of Fire Cells?
Members of the Conspiracy of Fire Cells first surfaced on January 21, 2008, with a wave of 11 firebombings against luxury car dealerships and banks in Athens and Thessaloniki. Monthly waves of arson have been followed by proclamations expressing solidarity with arrested anarchists in Greece and elsewhere.
In September 2009, following an escalation to the use of crude time bombs, four suspected members of the group were arrested. In November 2010 two more suspects were arrested while attempting to mail parcel bombs to embassies and EU leaders and organizations.
The organization was designated as a terrorist group on October 13, 2011, by the U.S. Department of State.
Unsafe conviction?
The student at the centre of the protest denies any involvement with the group. The woman, referred to in the local media by her first name, Irianna, had asked for her 13-year jail sentence to be suspended. She was convicted after a partial fingerprint was found on a gun clip discovered in an arms cache.
Her lawyer argues that Irianna was only implicated because her boyfriend was a suspected member of the group, although he was later cleared, and that the DNA evidence connecting her to the ammunition is not up to scrutiny. Irianna, who worked as a teacher, argued that her career and academic ambitions are being damaged by being kept in jail.
However, the court ruled in a majority decision to continue enforcing the jail sentence after the prosecutor argued that if she is freed, there is a high probability of the 29-year-old reoffending.
http://www.euronews.com/2017/07/18/protesters-rampage-through-shopping-area-in-central-athens
**************************************
Hamburg: G20 violence could cost German insurers $13.8 million
DAILY SABAH WITH ASSOCIATED PRESS
ISTANBUL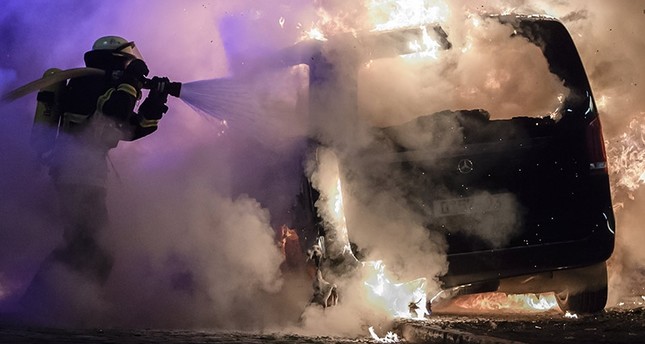 Firefighters extinguish the fire of a burning car during riots at the G20 summit in Hamburg, Germany, 08 July 2017. (EPA Photo)
A group representing German insurance companies said Tuesday that the rioting that accompanied the Group of 20 summit earlier this month could cost insurance companies up to 12 million euros ($13.8 million).
Host city Hamburg saw three nights of violence amid anti-globalization protests as leaders of the world's biggest economic powers met July 7-8.
The German Insurance Association said in an initial estimate that insured damage totaled as much as 12 million euros, with damaged cars accounting for up to a third of that sum. It also includes damage to houses and companies.
On the eve of the summit, a fire at a luxury Porsche car dealership in the north of the city damaged eight vehicles. Porsche estimated the damage cost more than $1.3 million.
Chancellor Angela Merkel promised immediately after the summit to work with Hamburg authorities to help people affected by the riots. The federal and city governments have set up a "hardship fund."
An ugly street violence marred Germany's hosting of the G20 summit, which took place in northern city of Hamburg on June 7-8. Anti-globalization protesters set dozens of cars ablaze, looted shops and markets, hurled Molotov cocktails and stones, and destroyed public and private property they came across. Thousands of police officers, including heavily armed special forces, were deployed on the streets as the security forces failed to contain the violent demonstrators.
Overall, 476 officers suffered injuries ranging from cuts and firework burns to eye damage from laser pointers. Police said they had arrested 186 people and took 225 into custody.
Tags: anarchists, Athens, G20 violence, greece, Hamburg, smashed storefronts