BANGKOK — Thailand should ensure those involved in trafficking migrants are brought to justice, rights groups said on Tuesday, ahead of a verdict in a major trafficking trial involving 103 defendants that has been beset by allegations of intimidation.
Thai and Myanmar nationals were arrested in 2015 following the discovery of graves in jungle camps used by traffickers to hold migrants near the Thailand-Malaysia border.
The grim discovery prompted a Thai crackdown on smuggling and trafficking networks which led to smugglers abandoning boatloads of migrants at sea. That led to a regional crisis involving Malaysia, Thailand, Myanmar, Bangladesh and Indonesia which initially refused the boats permission to land.
The trial, which began in 2015, has been beset by allegations of threats against witnesses, interpreters, and police investigators. The verdict reading at a Bangkok court begins on Wednesday and is expected to last three days.
Rights groups say the arrests in 2015 were just the tip of the iceberg and that regional smuggling and trafficking networks continue to operate with impunity.
A lead investigator in the case fled Thailand in 2015 and sought political asylum in Australia citing threats to his life.
"It hasn't been without its challenges. Throughout the trial we saw threats against witnesses, we saw interpreters and investigators under threat," Amy Smith, an executive director of rights organization Fortify Rights, told Reuters on Tuesday.
"We also documented physical assault on witnesses that were involved in the trial," said Smith. "Although these irregularities don't invalidate the judgment, it does raise concern about the fairness of the trial."
Many of those abandoned at sea in 2015 were Rohingya Muslims escaping persecution in Myanmar's troubled Rakhine state which has seen renewed violence in recent months.
The defendants include 21 Thai government officials, including a senior army general. They stand accused of trafficking Rohingya and Bangladeshi nationals.
All deny the charges against them.
The justice ministry initially provided protection for around a dozen witnesses in the trial.
Reuters was not immediately able to contact the ministry for comment on Tuesday.
Despite the crackdown, which has made smuggling more dangerous, people-smuggling across the Thai-Myanmar border has risen, Reuters reported in May.
Last month the U.S. State Department left Thailand on a Tier 2 Watchlist, just above the lowest ranking of Tier 3, in its annual Trafficking in Persons (TIP) Report because it did not do enough to tackle human smuggling and trafficking.
(Reporting by Amy Sawitta Lefevre, Panarat Thepgumpanat and Panu Wongcha-um; Writing by Amy Sawitta Lefevre; Editing by Michael Perry)
Related:
Thailand: Police weigh defamation case against investigator who fled to Australia amid human trafficking revelations, people starved to death, corruption, mass graves
Thailand: Thai man sentenced to 35 years for smuggling and trafficking of Rohingya migrants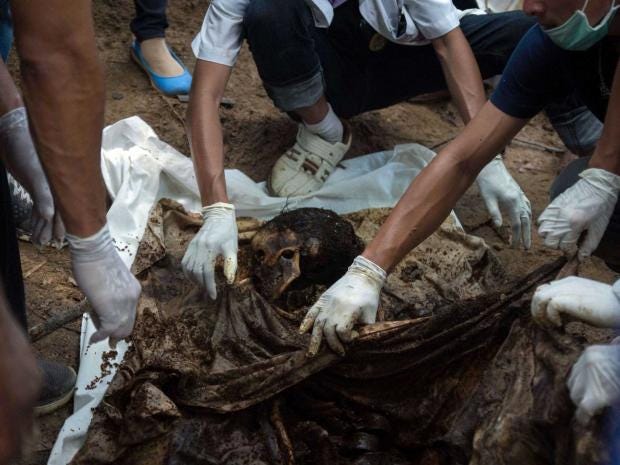 Forensic teams examine one of the bodies AFP
http://www.independent.co.uk/news/world/asia/mass-grave-discovered-in-trafficked-migrants-prison-camp-on-thai-border-10220499.html
Lawless Seas: Men enslaved on Thai fishing boats appeal to government for wages — Human Rights — Human Trafficking — Slavery — Vietnam, China, the Philippines, Indonesia, Thailand and others fighting over seafood
Eyes on Thailand: Corruption and Nepotism Charges Come To Light Against Military Government While Joshua Wong Detention to Please China and Sex Slavery Investigation Add To Worries
More Than 45 Million People Trapped in Slavery Through The World, Walk Free Foundation's Global Slavery Index Reports
Thailand: Thai man sentenced to 35 years for smuggling and trafficking of Rohingya migrants
Global Slavery Index 2016: Hong Kong ranks alongside North Korea and Iran as one of worst places in world at dealing with modern slavery
Thailand's Crooked Military Government Takes Another Blow: Myanmar's army chief questions murder verdict
Rape, Cannibalism, Slavery and Robbing the Defenseless of Their Body Parts — Islamic State Evil Completes Another Year of Its Caliphate
Filipino fishermen caught in the middle of China-Philippines territorial dispute (Also Vietnamese fishermen)
South China Sea Fight: China Attacks Filipino Fishermen — "There's a war ongoing in the seas. Everyone needs fish and fish stocks are being depleted."  (March 2016)
South China Sea: Chinese Ships Again Harassing Filipino Fishermen — Despite Love Making From Philippine President Duterte — Filipino Fishermen Can't Even Fish in Their Own Ocean if They Beg?
South China Sea: According to Philippine President Duterte, the rights of Filipino fishermen are non-negotiable — Duterte wants to plan a visit to China to make "Demands" — Says Chinese businessmen will see him often
Tags: Bangkok, Bangladesh, Bangladeshi, human trafficking, Indonesia, Malaysia, Myanmar, people-smuggling, Rohingya Muslims, Thailand, Thais, Trafficking in Persons, trafficking migrants