Al Jazeera
Reaction follows German threat to slap sanctions and decision to issue travel advisory amid row over activists' arrest.
Mevlut Cavusoglu, Turkey's foreign minister. Reuters photo
Mevlut Cavusoglu, Turkey's foreign minister, has accused Germany of harbouring "terrorists" after the country stepped up a travel advisory for Turkey and considered slapping sanctions over its arrest of human rights activists.
Germany told its citizens on Thursday to exercise caution if travelling to Turkey, with Sigmar Gabriel, foreign minister, warning that his government could no longer guarantee its citizens' safety in the face of "arbitrary" mass arrests.
The warning came after Turkey arrested six human-rights activists, including a German national, on accusations of "terrorism".
READ MORE: Rejected asylum – From Karachi to Germany and back again
Germany, Turkey's chief export partner, called the allegations absurd.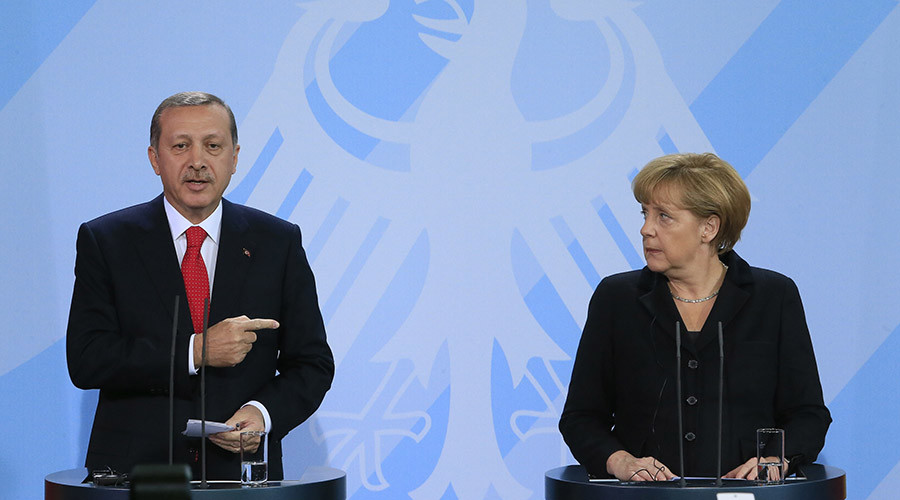 File photo: German Chancellor Angela Merkel (R) and Turkish Prime Minister Tayyip Erdogan. © Tobias Schwarz / Reuters
Gabriel said Germany would review state guarantees for foreign investment in Turkey, and reconsider its support for billions in European Union financial flows to Turkey.
Germany's Bild newspaper, citing government sources, reported that the country was also putting arms projects involving Turkey on hold.
Stance 'unacceptable'
Cavusoglu called Germany's stance "unacceptable".
"As a country providing shelter to PKK and FETO terrorists in its own territory, statements by Germany are just double standards and unacceptable," he said on Twitter, referring to the Kurdistan Workers Party and the network of the US-based religious leader Fethullah Gulen, blamed by Turkey for last year's failed coup.
Germany and Turkey have clashed over numerous issues in recent months, including the pre-trial detention of a Turkish-German journalist, Deniz Yucel, and Germany's refusal to extradite asylum seekers Turkey alleges were involved in the coup attempt.
The latest row broke out after a Turkish court on Tuesday ordered six rights activists, including German national Peter Steudtner and Amnesty International's Turkey director Idil Eser, to remain in custody for allegedly aiding a "terror" group.
Gabriel broke off his holiday to deal with the crisis.
He said Steudtner "never wrote about Turkey, he had no contacts in the political establishment … and never appeared as a critic."
He said any German national travelling to Turkey could suffer the same fate.
Gabriel also accused President Recep Tayyip Erdogan of trying to muzzle "every critical voice" with mass arrests.
Erdogan says the crackdown, in which roughly 50,000 people have been detained and 150,000 sacked or suspended from the judiciary and journalism to academia, was essential after the failed coup.
Many companies have also been seized on allegations of links to "terrorism".
Without legal certainty
Gabriel said he could not advise companies to invest in a country without legal certainty where "even completely innocent companies are judged as being close to terrorists".
"I can't see how we as the German government can continue to guarantee corporate investments in Turkey if there is the threat of arbitrary expropriation for political reasons."
Germany still wanted to rebuild relations with its long-time ally, he said, but added that Erdogan's government must first "return to European values".
Juergen Hardt, a senior member of Chancellor Angela Merkel's ruling conservative party, said the EU candidate country had now "left the path to Europe".
Gabriel, left, and Cavusoglu have engaged in a war of words over the Turkish arrests [File: AP]
"No one invests in a country … in which the judiciary has been degraded to be a helper of the ruling AKP party," he said.
Cavusoglu hit back at Gabriel's remarks, saying threats and blackmail would find no answers in Turkey, and that Germany and Turkey needed to focus on their long-term mutual goals instead.
"We don't see such threats against Turkey as worthy of a serious country," Cavusoglu said in Cyprus.
The foreign ministry in Ankara said Turkey would not make concessions on its judicial independence and struggle against "terrorism" "for financial matters such as loans, funds or the [European] Customs Union".
READ MORE: Germany to withdraw troops from Turkish base
For his part, Ibrahim Kalin, Turkey's presidential spokesman, accused Germany of "great political irresponsibility" in stepping up its travel warning.
He suggested Gabriel's remarks were intended to win votes at national elections in two months. "They need to rid themselves of this abdication of reason and think rationally," Kalin said.
Gabriel's warnings to private as well as business travellers could deal a blow to Turkey's tourism industry. So far this year, bookings from Germany have accounted for about 10 percent of Turkey's tourists.
List of companies
The German newspaper Die Zeit reported on Wednesday that Turkish authorities had, several weeks ago, handed their German counterparts a list of 68 German companies they accused of having links to Gulen.
They included chemicals manufacturer BASF, which confirmed it was on a list that had been passed to it by German police but declined to comment on the allegations.
Mehmet Simsek, Turkey's deputy prime minister, said on Thursday the reports were untrue.
Germany was Turkey's top export destination in 2016, buying $14bn worth of Turkish goods.
It was also the second biggest source of Turkish imports, at $21.5bn. Only China, at $25.4bn, exported more to Turkey.
Source: News agencies
http://www.aljazeera.com/news/2017/07/turkey-accuses-germany-harbouring-terrorists-170720193753832.html
*******************************************
Germany overhauls Turkey policy
Germany is sharpening its policy toward Turkey in response to jailings of journalists and human rights activists. The new tone together with an increased travel warning has been met with outrage in Ankara.
Germany's foreign minister interrupted his vacation on the North Sea to return to Berlin to deliver the most strongly worded statement yet against Turkey's imprisonment of German journalists and human rights activists.
"We want Turkey to be a part of the West, or at least remain in its current position, but it takes two to tango," Sigmar Gabriel at a press conference in Berlin. "I cannot make out any willingness on the part of the current Turkish government to follow this path with us. For that reason Germany is forced to reorient its Turkey policy. The first consequences will be new travel advisories for German citizens in Turkey."
Gabriel said that Germans traveling to Turkey were incurring "risks," and the ministry website recommended Germans should exercise "heightened caution" when visiting Turkey since "consular access" to Germans detained in Turkey had been "restricted in violation of the obligations of international law."
Read more: Germany reviews export credits to Turkey over blacklisted firms
Gabriel said that the measures were being taken after consulting with both conservative chancellor Angela Merkel and Social Democratic chairman and chancellor candidate Martin Schulz. Although they stopped short of a travel warning against Turkey, they do represent an increased frostiness between the two countries.
'Obviously unfounded accusations'
The re-calibration of Germany's Turkey policy came after a court in Istanbul ordered six human rights activists, including Peter Steudtner from Berlin, to investigative custody on Tuesday. Turkey accuses them of supporting terrorism.  Gabriel specifically mentioned Steudtner.
"These accusations are obviously unfounded and have simply been dragged out irrationally," the foreign minister said, adding that Steudtner had taken no position on current Turkish politics and was quite possibly present in the country for the first time.
The Amnesty International representative was arrested earlier this month at a conference in Istanbul while teaching Turkish colleagues about IT security and non-violent conflict resolution. German journalist Deniz Yucel has been held in investigative custody since late February. Seven other Germans are also currently in such custody.
Gabriel said that Germany had showed patience in the ongoing row with Ankara and hadn't responded to incendiary comparisons between the Federal Republic and Nazi Germany. He said Berlin had tried to restart relations with Turkey, but had been "repeatedly disappointed."
"The government and the coalition parties will be discussing further consequences," Gabriel said, adding that a range of financial sanctions were also under consideration.
Access to German detainees
On Wednesday, Turkey's ambassador to Germany was summoned to the German Foreign Ministry and warned that Berlin does not accept the detention of its citizens. German Justice Minister Heiko Maas has said that Germany must take a tougher stance towards Turkey, but cautioned that diplomatic relations also had to be maintained.
"We have to keep in mind that German citizens are sitting in Turkish jails, and we need access to them," Maas told the DPA news agency. "I think it would be a mistake right now to give Turkey any arguments to deny us that access."
Turkey has accused Germany of interfering in its internal affairs. There has been speculation that Erdogan is using the German detainees essentially as hostages in an attempt to force Berlin to deport Turkish citizens in Germany whom Ankara considers terrorists.
Other German politicians have called for a range of measures to punish Turkey from general economic sanctions to a cancellation of the deal between the EU and Turkey on refugees.
Turkish non-delight
The Turkish government criticized Gabriel's remarks and the announced change in the German position. Turkish Foreign Minister Mevlut Cavusoglu meanwhile reacted by accusing Germany of harboring terrorists:
Cavusoglu said on Twitter said on Twitter that "As a country providing shelter to PKK and FETO terrorists in its own territory, statements by Germany are just double standards and unacceptable," referring to the outlawed, militant Kurdistan Workers Party (PKK) and the religious-inspired network of US-based cleric Fethullah Gulen that Ankara blames for the July 15, 2016 failed coup.
Erdogan's spokesman, Ibrahim Kalin, meanwhile said: "We strongly condemn statements that German citizens who travel to Turkey are not safe and that German companies in Turkey should have hesitations and concerns."
The Chairman of the Commission for Foreign Affairs Taka Ozhan, a member of Erdogan's AKP party, repeated Turkish accusations that Germany is harboring Turkish citizens who are trying to overthrow the government – in particular, Kurdish separatists and members of the Gulen movement.
"What we're seeing in Germany at the moment is a crisis of principals," Ozhan said in a statement to Deutsche Welle's Turkish division. "The question is whether terrorism is supported or not…The Terrorists think 'Once we get to Germany, we're home safe.' That has to change."
The number of Turks applying for asylum in Germany dramatically increased last year amidst a government crackdown after the failed Turkish coup on July 15, 2016. Since then, tens of thousands of people have been arrested and more than 100,000 have lost their jobs in Turkey.
http://www.dw.com/en/germany-overhauls-turkey-policy/a-39766611
Tags: AKP party, BASF, Erdogan, European Union, Fethullah Gülen, FETO, German companies, Germany, human rights activists, Kurdistan Workers' Party, Mehmet Simsek, Merkel, Mevlut Cavusoglu, Nazi Germany, PKK, Sigmar Gabriel, Steudtner, trade, Turkey, Turkey's imprisonment of German journalists