Reuters
JULY 24, 2017 / 4:30 AM
WARSAW (Reuters) – Polish President Andrzej Duda said on Monday he will veto two of three bills reforming the country's judiciary system, easing worries that the ruling Law and Justice party will undermine the division of powers.
"I have decided that I will send back to Sejm (lower house of parliament), which means I will veto the bill, on the Supreme Court, as well as the one about the National Council of the Judiciary," Duda said after days of mass street protests.
"What we had was not a reform, but appropriation of the courts. I congratulate all Poles, this is a great success, really," Katarzyna Lubnauer, head of the parliamentary caucus of the opposition party Nowoczesna.
Polish currency zloty immediately rose against the euro, as investors saw the decision as lowering the political risk in Poland.
Observers say Duda's decision puts him at odds with the de facto leader of the country, Jaroslaw Kaczynski, who is the leader of PiS but has no formal government post.
Reporting by Marcin Goclowski, editing by Larry King
****************************************
BBC News
Poland's President Duda vetoes judicial reforms after protests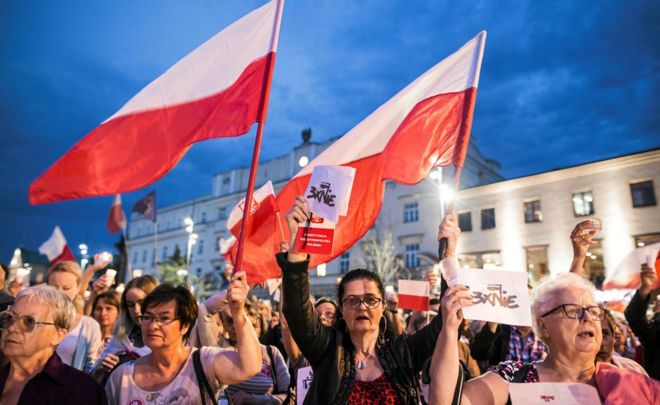 Polish President Andrzej Duda has announced he is vetoing a controversial law to replace Supreme Court judges with government nominees.
Three key judicial reforms have been passed by Poland's parliament, prompting days of demonstrations across the country.
Before they became law, they required approval by the president.
The changes have also set Poland's right-wing government on a collision course with the European Union.
"As president I don't feel this law would strengthen a sense of justice," Mr Duda said in a statement broadcast on national TV.

He had already intervened last week in an attempt to find a compromise and the laws went through parliament at the weekend.
The Law and Justice (PiS) government rejected claims that the reforms were a move towards authoritarian rule.
Tags: Andrzej Duda, authoritarian rule, Jaroslaw Kaczynski, Law and Justice, National Council of the Judiciary, Nowoczesna, PiS, poland, Poland's judiciary reform, Polish President Andrzej Duda, Sejm, supreme court