Bloomberg News
By Piotr Bujnicki, Dorota Bartyzel, and  Adrian Krajewski
July 24, 2017, 4:18 AM EDT July 24, 2017, 5:39 AM EDT
Duda strikes down bills on Supreme Court, Judicial Council

Zloty rebounds having suffered its worst day of 2017 on Friday
Poland's president vetoed part of a controversial overhaul of the judiciary that's brought tens of thousands of demonstrators into the streets and pitted the nation's government against its partners in the European Union and the U.S.
Going against the ruling party which backed his presidency, Andrzej Duda struck down bills that would have replaced Supreme Court judges and revamped the Judicial Council that makes key personnel decisions. Protests have been held for eight days amid anger the reforms would curb courts' independence. The EU threatened sanctions if the reforms take effect. The zloty rebounded after its worst day of 2017 on Friday.
Read more: Poles Rally for Eighth Night Backing Court Independence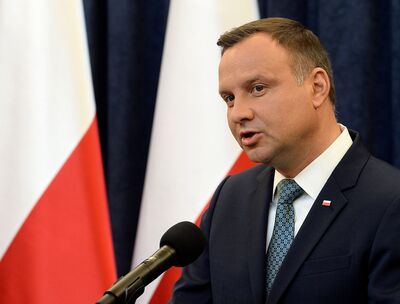 "Poland's legal system does need a thorough reorganization, but above all it needs to provide a sense of security," Duda said Monday in televised comments. "And no change of the legal system should open a divide between society and the state. I needed to make this decision immediately as the proposed changes caused huge emotions."
Signing the reform package into law would have risked further enraging protesters in one of the biggest political standoffs in Poland since communism fell in 1989. Since regaining power in October 2015, the ruling Law & Justice party has challenged democratic principles enshrined in the EU treaty and sparked warnings about a drift toward authoritarian rule. The U.S. State Department had expressed concerns over the revamp, which Senator John McCain called "one step back for democracy."
'A Breather'
"Duda's veto surely offers a breather but it depends a lot on whether the ruling party will continue with the attempts to control the judiciary or they will back down," said Paul Ivan, a Brussels-based analyst at the European Policy Center. "They could back down for a while but the situation remains very unstable."
The zloty snapped a four-day drop and bonds rallied as Duda's vetoes were seen as sought to cool political tensions. The Polish currency gained 0.6 percent against the euro having slumped 1.5 percent last week, the biggest losses since November.
"At least for some time the president's decision should calm the situation," said Marcin Sulewski, a Warsaw-based economist at Bank Zachodni WBK SA.
Partial Victory
Duda's vetoes marked only a partial victory for the protesters. He told lawmakers to rewrite the two bills he rejected within two months and he said he'd approve a final piece of legislation giving politicians more control of lower courts.
Former Solidarity leader Lech Walesa called that "a bad decision," urging more protests, though he welcomed Duda's other vetoes. "It was a difficult decision for President Duda. It's reassuring that the nation is awakening. There is always time to improve things," he told TVN24.
Law & Justice legislator Jacek Sasin said he was disappointed by Monday's development, which marks the biggest policy split to date between the ruling party and Duda.
"Yes, there were protests, but that's how it is in a democratic country," he told TVP Info. "There are also millions of those who voted for Law & Justice and the president, also because we have flagged judicial reform. Today's Polish judiciary has uncontrolled remnants of communism. The president's decision means it will stay that way for some time longer."
— With assistance by Andra Timu
https://www.bloomberg.com/news/articles/2017-07-24/polish-president-duda-to-veto-part-of-judiciary-legislation
Related:
Tags: Andrzej Duda, Court Independence, EU threatened sanctions, European Union, Judges, Judicial Council, Lech Walesa, poland, Polish currency, supreme court, U.S.