WASHINGTON — A United States Navy spy plane had to take evasive action to avoid crashing into a Chinese fighter jet that suddenly pulled up in front of the American plane in contested skies above the East China Sea on Sunday, the Pentagon said.
Two Chinese fighter planes intercepted the Navy EP-3 surveillance plane, approaching at high speeds from beneath the American plane, said Capt. Jeff Davis, a Pentagon spokesman.
When the planes were only a few hundred feet apart, one of the Chinese planes slowed down and flew directly in front of the Navy plane, prompting the American pilot to take what Captain Davis described as "evasive action." He said the episode took place in international airspace between the East China Sea and the Yellow Sea, west of the Korean Peninsula.
A number of small islands in the East China Sea are claimed simultaneously by China, Japan and Taiwan, and Beijing has made a policy of disputing the presence of American spy planes that come near disputed islands there as well as those in the South China Sea.
The United States has backed China's neighbors in challenging those claims, as well as China's military buildup on disputed islands. American ships and planes often traverse those seas and skies to exercise what the Pentagon has called their right to move through international airspace and waters.
Defense officials said that the United States has complained about the episode to Beijing, but Captain Davis also appeared to take pains to avoid escalating the issue. He made a point of characterizing it as out of the ordinary for China.
"This is uncharacteristic of the normal safe behavior we see from the Chinese military," Captain Davis told reporters at the Pentagon. "There are intercepts that occur in international airspace regularly, and the vast majority of them are conducted in a safe manner."
He called Sunday's encounter "the exception, not the norm."'
During last year's presidential campaign, Donald J. Trump labeled President Barack Obama as weak in defending international waters off the coast of China, where Beijing has engaged in a sharp military buildup to reclaim land, install runways and haul equipment onto reefs and shoals it claims as its own. But since taking office, amid mounting tensions with North Korea, the Trump administration has shown deference to Beijing.
Keywords:
air to air intercept, China, Chinese fighter jets, Chinese J-10 fighter jets, Chinese SU-30 jets, Constant Phoenix, dangerous airmanship, dangerous intercept, Djibouti, East China Sea, EP-3, freedom of navigation, intercept, international law, Japan, North Korea, P-3 Orion surveillance aircraft, Permanent Court of Arbitration, Philippines, Qingdao, South China Sea, South Korea, U.S., U.S. Navy, USS Carl Vinson, USS Nimitz, USS Ronald Reagan, WC-135W
Related:
Chinese fighter jets 'nearly cause a collision while buzzing a US Navy spy plane over the East China Sea (July 24, 2017)
South China Sea: China Denies "Unsafe" Air Intercept, Continues To Push Sea and Air Claims in Defiance of International Law  (May 24, 2016)
Chinese jets come within several hundred feet of US plane over South China Sea
Beijing denies intercepting US 'sniffer plane' over Yellow Sea
The U.S. Air Force's WC-135 Constant Phoenix sniffer plane in a file photo. (Yonhap)
Chinese fighter jets intercept US military plane over East China Sea in 'unprofessional and unsafe manner'
An SU-30 fighter jet CREDIT: EPA
Related:
South China Sea: Latest U.S. "Freedom of Navigation" Sailing Could Be Showing Support for Nations Who Wish to Pull Away From China's Massive Claims
South China Sea: U.S. Seems Unable To Slow China's Advance
China warns U.S. to remove warship from South China Sea, claims America is trespassing on its territory
Philippines: A look into Duterte's reasons for martial law in Mindanao
Challenging China, US launches first South China Sea operation under Trump
In first under Trump, U.S. warship challenges Beijing's claims in South China Sea
US warship sails near South China Sea reef claimed by Beijing
China's Xi Says Navy Should Become World Class
Xi Jinping's War Threat To The Philippines: China Shows It Will Dominate the Philippines to Get Whatever It Wants
Journalists in the Philippines Remind Us of Their Constitutionally Guaranteed Right to Hold Leaders to Account: "Consent of the governed depends on the limits placed on the government."
Philippines' Duterte mulls imposing martial law nationwide — "Martial law of Mr Marcos was very good," Duterte said — (The most lawless nation in Asia goes one step beyond…)
Philippine President Duterte Is Against Martial Law — So Why Does He Keep Bringing it Up?
Common interest of Singapore and China greater than any difference of views: DPM Teo Chee Hean
South China Sea: Vietnam and Indonesia Battle Over Fish; Both sides have "hostages" to exchange — One Vietnamese boat sunk
South China Sea: Who Gets The Ocean's Wealth? (Smart money is on China right now)
President Duterte Once called The Philippine Police "Corrupt To The Core" — When will it get better? — Maybe When China Takes Over
China's President Xi Jinping Wasn't Trying to Bully the Philippines When He Threatened War — Philippine Foreign Secretary Says — "Better Ask Vietnam" Expert Says
South China Sea: China's Real Choice to The Philippines: Ignore International Law, Or Face War — Is This How The One Belt One Road System Will Be Built? On Coercion?
Duterte: China warned the Philippines of war over South China Sea
"Marriage Built on Coercion"– Philippine President Rodrigo Duterte says Xi Jinping warned of war in the South China Sea if the Philippines tried to enforce an arbitration ruling and drilled for oil
South China Sea: Japan, New Zealand Support International Law, Arbitral Ruling, Angering China
Duterte Agitated About Hitler Comparison — "There are three million drug addicts [in the Philippines]. I'd be happy to slaughter them."
Philippine President Duterte called 'serial killer president' by European newspaper — Philippine Catholic Church leaders weigh in — China will welcome Duterte ("They Like His Style" — "He's not afraid to kill his own people")
Philippine Lawmakers Want To Drill For Oil In The South China Sea — A Move Likely To Anger China, Upset President Duterte — Some say "skirt the issue of sovereignty"
Duterte goes soft on Chinese 'harassment' of Filipino fishermen
China's Overfishing is Killing The Global Fishing Industry, Depleting our World's Oceans
South China Sea: Beijing Won't Allow Another Duterte Flip-Flop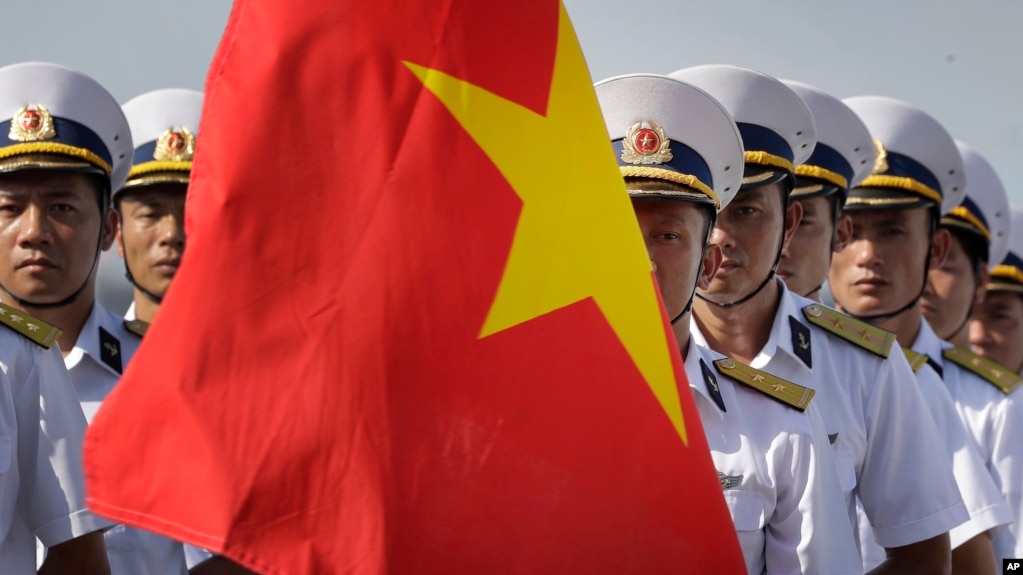 U.S. delivers patrol boats to Vietnam — Cooperation in maritime law enforcement and humanitarian assistance between U.S. and Vietnam
Vietnam Takes Asia Lead in Figuring Out Trump Policy on South China Sea
China's Threat Of War Against Philippines Is Baseless Scare Tactic — Deception, coercion, intimidation, lies and threats are to be expected. As they say in Vietnam, "This is just China." (Contains links to several earlier related stories)
China's Leader Offers Billions for New Silk Road Initiative
Vietnam, China and the New Silk Road
China's Quest for The South China Sea is About Entitlement
Philippines: We will not give up our South China Sea claims despite China "Belt and Road" participation
China's Overfishing is Killing The Global Fishing Industry, Depleting our World's Oceans
Philippine minister starts damage control after Duterte's China war remark — "Now we are on the 'One Belt, One Road,' and can't get off?"
China's Belt and Road to Nowhere — Can anyone just say no? — Cutting through China's propaganda
Philippine President Duterte Skips China's Belt and Road Forum opening ceremony
Philippine Love Affair With China — Kowtowing to China Could End in Drowning in Sorrows
China's take-over of the South China Sea is complete; One Belt One Road project within reach
For about five years China has been loudly proclaiming "indisputable sovereignty over the South China Sea." China has said, everything north of the "nine dash line" shown here, essentially, belongs to China.  On July 12, 2016, the Permanent Court of Arbitration in The Hague said this claim by China was not valid. But China chose to ignore international law.
Tags: China, Chinese fighter jet, Chinese military, East China Sea, EP-3, Japan, South China Sea, surveillance plane, Taiwan, Trump administration, U.S. Navy, United states Navy, unsafe airmanship, unsafe intercept