WASHINGTON – Islamic State (IS) terrorists making inroads in the Philippines, Chinese aggression in the South China Sea and North Korea's nuclear capabilities are three major challenges facing US forces in the Pacific, the chief of the US Pacific Command, Navy Adm. Harry Harris Jr., said.
Commander, U.S. Pacific Command, Navy Adm. Harry Harris Jr.
He told a military forum in Washington on Friday the world needs Chinese help to defuse North Korea's nuclear threat, but China also must work to tone down its own aggressive behavior in the water and in the air.
While most interactions between US and Chinese aircraft and ships are professional and safe, there have been instances – like the one this week – where Chinese pilots acted irresponsibly and dangerously, he said.
Harris was referring to an incident over the East China Sea on Wednesday when two Chinese fighter jets came within 150 feet  of a US Air Force radiation detection plane. One of the jets was reported to have flown inverted, or upside down, directly above the US plane.
"Some might find it odd for me to advocate cooperation with China on one hand while criticizing Beijing on the other, but as I like to say, great powers can walk and chew gum at the same time," Harris said.
The Chinese are building up combat power and positional advantage in an attempt to assert de facto sovereignty over disputed maritime features and spaces in South China Sea, Harris was quoted as saying in a Defense Department news dispatch.
"They are fundamentally altering the physical and political landscape by creating and militarizing manmade bases," he said.  "Fake islands should not be believed by real people."
Referring to IS, Harris said the terror group was a clear threat that must be defeated.
While the Middle East and North Africa are its main operating areas, IS is trying to expand and is having some success in Southeast Asia, particularly in Marawi in Mindanao where fighting between IS-inspired militants and security forces is now in its 10th week.
It is the first time IS-inspired forces have banded together to fight on this scale in the region, he said. "It's clear that foreign fighters are passing their ideology, resources and methods to local, home-grown, next-generation radicals."
Marawi should be a wake-up call and a rallying cry for every nation in the Indo-Asia-Pacific region, Harris said.
"Only through multinational collaboration can we eradicate ISIS and other violent extremist organizations before they spread," he said.
The US has just delivered two new Cessna-208 aircraft to the Armed Forces of the Philippines (AFP), which Harris said would significantly enhance the AFP's counterterrorism operations with the capability to locate terrorist groups operating in Mindanao and the Sulu archipelago.
The aircraft are part of the more than $300 million in military aid granted to the Philippines in the last five years, the Defense Department said.
On North Korea, Harris said it was "a clear and present danger" to global peace and stability.
Kim Jong un's regime is not only a threat to South Korea, Japan and the United States, but "to the entire world because North Korea's missiles point in every direction," he said.
"It's the reason why we call for all nations to implement far stronger economic sanctions against Pyongyang."
Cooling down
In Beijing also on Friday, the foreign ministry said the situation in the South China Sea is already "cooling down," contrary to claims by countries not involved in the regional maritime dispute.
"We don't think that there is a so-called tense situation in the region as played up and exaggerated by some countries," Chinese Foreign Ministry spokesman Lu Kang said in a press briefing.
"Not a single regional country is involved in hyping up tension in the South China Sea," he added.
Chinese Foreign Ministry spokesman Lu Kang. (By KIM KYUNG HOON for REUTERS)
The statement was in response to remarks made in Australia on Thursday by British Foreign Minister Boris Johnson that they would send two aircraft carriers to exercise freedom of navigation in unidentified areas in the region.
Lu said countries outside the region are stirring up trouble and interfering in affairs of other countries.
"At present, countries in the region are working together to safeguard and promote regional peace, stability and prosperity, yet we see some countries outside the region who insist on stirring up trouble while the situation is trending towards calm in the South China Sea," he said.
"Whoever they are, under whatever pretexts and whatever they say, their precedents of interfering in other regions on high-sounding reasons but only leaving behind chaos and humanitarian disaster warrant sharp alert of regional countries and people," he added.
Johnson is expected to attend the upcoming meeting of foreign ministers of the Association of Southeast Asian Nations (ASEAN) and its dialogue partners in Manila next week.
Other non-ASEAN foreign ministers expected at the ASEAN meeting are Chinese foreign minister Wang Yi, United States Secretary of State Rex Tillerson, Australian Foreign Minister Julie Bishop, Russian Foreign Minister Sergey Lavrov and Japanese Foreign Minister Fumio Kishida.
Wang was on an official visit to the Philippines last week upon the invitation of Foreign Affairs Secretary Alan Peter Cayetano.   – With Janvic Mateo, Paolo Romero
http://www.philstar.com/headlines/2017/07/30/1722837/philippines-missiles-scs-top-us-pacific-concerns
Related:
'Philippines not giving up territory to China' — Joint oil exploration in the South China Sea
Philippines: North Korean delegation visits Manila ahead of regional security meeting — ASEAN Joining China and North Korea?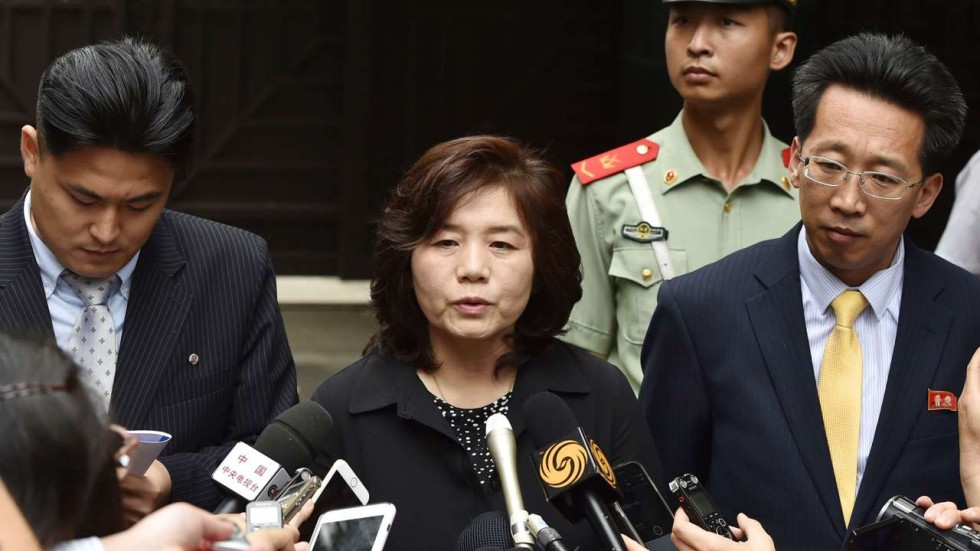 North Korea's Vice Foreign Minister Choe Hui Choi in Beijing, China in June of 2016. Kyodo Photo
Sri Lanka sign into controversial $1 billion port deal with China along world's busiest east-west shipping route
Iran rules out halt to missile tests — Says U.S. Navy fired warning shots — Accuses the U.S. Navy of unprofessional behavior
Top India, China National Security Advisors Meet But Fail To Resolve Mountain Military Standoff
China, Russia responsible for N.Korea threat: Tillerson
Western nations express displeasure at Iran's space launch; US levies sanctions — Iran likely close to North Korean-type ICBM capability
Vietnam asks Indonesia to investigate South China Sea shooting
North Korea Tests Another ICBM, Claims All of U.S. in Strike Range
Tags: ASEAN, Australia, Australian Foreign Minister Julie Bishop, Belt and Road, Boris Johnson, Britain, China, Chinese Aggression in the South China Sea, Chinese aircraft operations, Chinese fighter jet, Chinese Foreign Minister Wang Yi, Chinese Foreign Ministry spokesman Lu Kang, Chinese military, Daesh, dangerous intercepts, disputed maritime features, East China Sea, EP-3, humanitarian disasters, international law, Is, Islamic state, Japan, Marawi, Maute, nine dash line, North Korea, North Korea's Vice Foreign Minister Choe Hui Choi, Pacific, Permanent Court of Arbitration, Philippines, rule of law, Russian Foreign Minister Sergey Lavrov, South China Sea, surveillance plane, Taiwan, Trump administration, U.S., U.S. Navy, UK, United states Navy, United States Secretary of State Rex Tillerson, unsafe airmanship, unsafe intercept, Vietnam