SYDNEY — Security has been increased at Australian airports after police foiled "Islamic-inspired" plans for a bomb attack on an aircraft during counter-terrorism raids in which four men were arrested on Saturday, the Australian Federal Police (AFP) have confirmed.
"In recent days, law enforcement has become aware of information that suggested some people in Sydney were planning to commit a terrorist act using an improvised device," AFP commissioner Andrew Colvin said during a press conference with Prime Minister Malcolm Turnbull on Sunday, adding:
"We do believe it is Islamic-inspired terrorism. Exactly what is behind this is something that we will need to investigate fully.
"At this time we don't have a great deal of information on the specific attack, the location, date or time. However, we are investigating information indicating that the aviation industry was potentially a target …"
Five properties were searched on Saturday across the Sydney suburbs of Surry Hills, Lakemba, Punchbowl and Wiley Park. The commissioner said four of those searches may continue for days.
An AFP spokesman told Reuters the men had not been charged as of Sunday morning.
Turnbull said advice from Australian security and intelligence agencies had led to increased security measures at Sydney airport on Thursday, while the country's other domestic and international airports were affected from Saturday.
"Some of the measures will be obvious to the public, some will not be," Turnbull said.
Colvin said travellers could expect an increased police and security agency presence at airports.
"You can expect longer delays to make sure that more screening is being done on baggage, both hold luggage as well as hand luggage," adding that travellers should allow more time to get through security.
Australia, a close ally of the United States, has been on heightened alert for attacks by home-grown militants returning from fighting in the Middle East, or their supporters, since 2014.
Authorities say they have thwarted a number of potential attacks since then but there have been several "lone wolf" assaults, including a cafe siege in Sydney that left two hostages and the gunman dead.
About 100 people have left Australia for Syria to fight alongside organizations such as Islamic State, Australia's immigration minister said last month.
(Reporting by Benjamin Cooper; Editing by James Dalgleish)
See also:
Police foil plot to 'bring down plane': PM (Includes video)
http://www.skynews.com.au/news/top-stories/2017/07/30/four-arrested-in-terror-raids-across-sydney.html
*******************************************
BBC News
Counter-terrorism police in Australia have stopped a suspected plot to bring down an aeroplane, Prime Minister Malcolm Turnbull has said.
He was speaking after four people were arrested in raids across Sydney.
Investigators said they had seized materials in the raids that could have been used to make an improvised explosive device.
Mr Turnbull said the raids had been a "major joint counter-terrorism operation".
He said extra security was in place at domestic and international airports.
The raids took place in the Sydney suburbs of Surry Hills, Lakemba, Wiley Park and Punchbowl, Australian broadcaster ABC reported.
Australia's national terror threat level remains at "probable".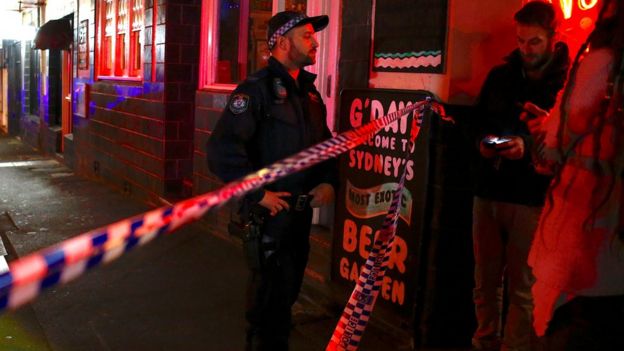 Australian Federal Police Commissioner Andrew Colvin said the four men arrested were allegedly linked to a Islamist-inspired plot.
"In recent days, law enforcement has become aware of information that suggested some people in Sydney were planning to commit a terrorist attack using an IED (improvised explosive device)," he told a news conference.
He said police did not yet have information on "the specific attack, the location, date or time", adding that he expected the investigation to be "long and protracted".
ABC reported that a woman in the Surry Hills area, who said her son and husband had been arrested, denied that they had any links to terrorism.

Timeline: Australia's terror threat
June 2017: In Melbourne, gunman Yacqub Khayre kills a man and holds a woman hostage during a siege at an apartment building. Three police officers are injured after Khayre engages them in a firefight. He is shot dead.
December 2016: A large police operation foils a terror plot to bomb landmarks in Melbourne on Christmas Day. Prime Minister Malcolm Turnbull describes the plan as an "Islamist terrorist plot".
September 2016: Police charge a 22-year-old man with committing a terrorist act and attempted murder in southwest Sydney. They say he was inspired by the Islamic State (IS) group. Officers say the attacker repeatedly stabbed a 59-year-old man in a suburban park and then tried to stab a policeman.
October 2015: Fifteen-year-old Farhad Jabar Khalil Mohammad shoots a civilian employee of the New South Wales Police dead before being killed by constables at the police headquarters in Parramatta, Sydney.
December 2014: Man Haron Monis, a self-styled cleric originally from Iran, takes 17 people hostage in a cafe in the centre of Sydney. Monis and two hostages are killed after a 16-hour siege. A psychiatrist later tells an inquest into the siege that Monis had a severe personality disorder that enabled him to inflict huge harm on others.
Tags: airports, Australia, Australian airports, Australian Federal Police Commissioner Andrew Colvin, aviation industry was potentially a target, bomb attack on an aircraft, counter-terrorism operation, home-grown militants, Islamic-inspired group, Islamic-inspired terrorism, Islamist-inspired plot, Lakemba, lone wolf, Middle East, Prime Minister Malcolm Turnbull, Punchbowl, Surry Hills, Sydney Airport, Syria, terrorism, Wiley Park