Reuters
July 31, 2017
HONG KONG (Reuters) – China has asked Anbang Insurance Group, whose chairman was detained last month, to sell its overseas assets, Bloomberg reported on Monday, citing unnamed sources.
Bloomberg did not provide details.
Anbang spokespeople in Hong Kong did not have an immediate comment. China's insurance regulator did not immediately respond to a request for comment.
Best known overseas for its 2015 purchase of New York's landmark Waldorf Astoria hotel, Beijing-based Anbang has been one of China's most aggressive dealmakers in recent years and pursued a string of high-profile foreign acquisitions.
After a spate of successful deals worth over $30 billion, however, Anbang had begun to run into roadblocks even before the June detention of Chairman Wu Xiaohui, failing to close on a handful of investments and facing criticism over its opaque shareholding structure.
One source familiar with the matter told Reuters all of Anbang's overseas dealings – ongoing purchases and refinancing work on existing assets – had already been halted since Wu's detention for investigation, adding all daily operations were now reported to the insurance regulator.
The hefty prices paid by Anbang for trophy assets like the Waldorf would make it difficult for the group to secure a quick sale without deep discounts, financial sources told Reuters on Monday. Even at keen prices, political uncertainties could discourage buyers, they said – and that may prove a headache for Anbang's lenders.
Anbang said in June that its chairman was temporarily unable to fulfill his duties, hours after Chinese magazine Caijing reported that the chairman had been taken away for investigation.
People familiar with the matter later confirmed he had been detained.
Reporting by Julie Zhu and Kane Wu in HONG KONG and Shu Zhang in BEIJING; Writing by Clara Ferreira-Marques; Editing by Neil Fullick
****************************************
China Asks Waldorf Owner Anbang to Sell Assets Abroad, Sources Say
Bloomberg News
July 31, 2017, 3:15 AM EDT July 31, 2017, 3:44 AM EDT
Government said to ask Anbang to bring proceeds back to China

Anbang says it currently has no plans to sell overseas assets
Chinese authorities have asked Anbang Insurance Group Co., the insurer whose chairman was detained in June, to sell its overseas assets, according to people familiar with the matter.
The government has also asked Anbang to bring the proceeds back to China after disposing of holdings abroad, said the people, who asked not to be identified because details are private. It is not clear yet how Anbang will respond, the people said.
"Anbang at present has no plans to sell its overseas assets," the company said in a WeChat message. "Currently, Anbang's various businesses and operations are all normal, and the company has ample cash and sufficient solvency capabilities." A representative for China's insurance regulator had no immediate comment when reached by phone.
Anbang was among the most prominent of Chinese insurers that went on a buying binge across the globe, fueled by soaring sales of investment-type insurance policies, with its 2014 acquisition of New York's Waldorf Astoria hotel catapulting it into the public eye. Chairman Wu Xiaohui has been detained for questioning since mid-June, while the policies fueling its growth have been all but banned by regulators.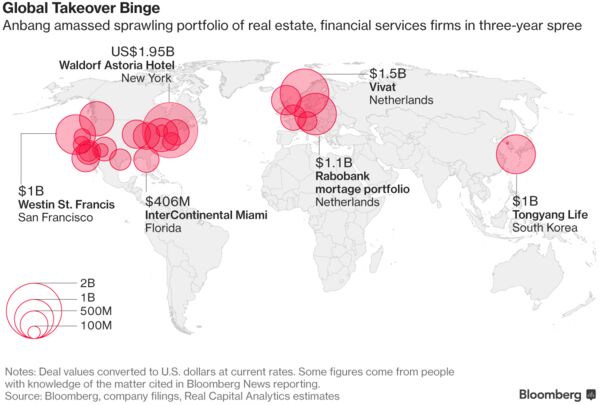 Several prolific Chinese buyers of foreign assets have come under regulatory scrutiny recently as leaders sought to limit capital outflows and clamp down on pricey, debt-funded deals. The other firms include Fosun International Ltd., HNA Group Co., Dalian Wanda Group Co., and the buyer of the AC Milan soccer club, whose acquisition loans have been under the scrutiny of the nation's banking regulator.
At a twice-a-decade conference on financial regulation convened by President Xi Jinping this month, policy makers pledged to rein in corporate borrowing and said that preventing systemic risk was an "eternal theme."
Anbang's rise in recent years was fueled by sales of lucrative investment products that offered among the highest yields compared with peers. China's insurance regulator this year started clamping down on what it termed "improper innovation" and tightened rules on high-yield, short-term investment policies. Anbang and other aggressive insurers such as Foresea Life got caught up in the crackdown.
Anbang's woes – a QuickTake Q&A explainer
One Anbang product, called Anbang Longevity Sure Win No. 1, boosted the firm's life insurance premiums almost 40-fold in 2014 by offering yields as high as 5.8 percent. That helped provide fuel for the firm's more than $10 billion of overseas acquisitions since 2014 and equally ambitious investing in the domestic stock market.
In October 2014, Anbang agreed to buy the landmark Waldorf Astoria in New York for $1.95 billion, a record for a single American hotel. Anbang bought real estate and financial services companies in Asia, Europe and North America, including the purchase of Strategic Hotels & Resorts as well as an office building in midtown Manhattan to house Anbang's U.S. headquarters.
— With assistance by Steven Yang, Fox Hu, and Dingmin Zhang
https://www.bloomberg.com/news/articles/2017-07-31/china-is-said-to-ask-waldorf-owner-anbang-to-sell-assets-abroad
Tags: Anbang, Anbang Insurance Group, Bloomberg, Caijing, China, China's insurance regulator, corruption, overseas assets, Waldorf Astoria, Wu Xiaohui